September campus events table. 1st column University, 2nd column event name, 3rd column date, 4th column time, 5th column location.

| | | | | |
| --- | --- | --- | --- | --- |
| | | | | |
| | Meet the Banks (Finance Industry Networking & Career Chats) | | | |
| | SEC Engineering Career Fair | | | |
| | | | | |
| | University Recruiting Exposed | | | |
| | | | | |
| | COE Resume Review & Visa Office Hours | | | |
| | | | | |
| | | | | |
| | SEC Engineering Career Fair | | | |
| | EECS Career + Internship Fair | | | |
| | Mays Corporate Engagement and Networking Session | | | |
| | | | | |
| | McCombs BBA Trivia and Networking Mixer | | | |
| | Corporate Open House - Women Engineers | | | |
| | Corporate Partners Industry Roundtable for Finance & Accounting | | | |
| | The Ideal Candidate Panel | | | |
| | Corporate Partners Industry Roundtable: STEM | | | |
| | One CAREERFest 2023 with CAU Alumni | | | |
| | STEMTown (Technology Career Fair) | | | |
| | Visa Info Session + Girls Who Code | | | |
| | Rawls College of Business IT Students Austin Office Visit | | | |
| | Fall 2023 Engineering and Technology Career Fair | | | |
| | Friends of Computer Science Career Brunch | | | |
| | STEM Job and Internship Fair | | | |
| Atlanta University Center | | | | |
| | | | | |
| | Networking Reception - MBA Career Connections | | | |
| | | | | |
| | Friends of Computer Science Internship Panel | | | |
| University of Southern California | Viterbi Career and Internship Fair | | | |
Virtual events table. 1st column host , 2nd column Event name, 3rd column time

| | | | |
| --- | --- | --- | --- |
| | | | |
| | | | |
| University of Southern California | Virtual Undergraduate Career Fair Day 1 - USC Marshall | | |
| University of Southern California | Virtual Undergraduate Career Fair Day 2 - USC Marshall | | |
| | | | |
Explore Life At Visa
What's it like to work at Visa and help connect the world through the most advanced digital payment network? Our interns and grads, from engineering to marketing and beyond, can tell you. Read on to learn about their experiences and advice.
Top 10 reasons you'll want to work for Visa
Not satisfied with the status quo? Neither are we. Let's explore new, innovative territory together.
Apply to programs
Whether you aspire to be an engineer, designer, marketer, or anything in between, you'll make your mark at Visa dreaming up new ideas and gaining exposure to some of the most advanced technology in the industry. Our programs help both current students and new graduates develop a foundation for the rest of their careers.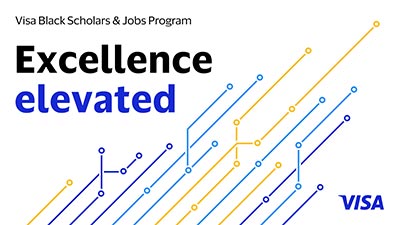 Visa Black Scholars and Jobs Program
The Visa Black Scholars and Jobs Program, in partnership with the Thurgood Marshall College Fund (TMCF), is a program designed for college-bound Black and African American high school students in the United States. Upon graduation, all scholarship recipients who have met their commitments will be guaranteed a full-time job with Visa. Eligible high school seniors applying or intending to enroll as a full-time undergraduate in any four-year accredited college or university in the U.S. can receive a needs-based scholarship up to $20,000 per year (up to four years), year-round training and mentorship and internship opportunities.
Join the early careers talent community
The Early Careers talent community is an excellent way to connect with other professionals in your field and learn even more about life at Visa. And, if our recruiters find something right for your interests, they'll contact you.
We can't wait to return to campus and meet you in the future. In the meantime, check out and sign up for our virtual events.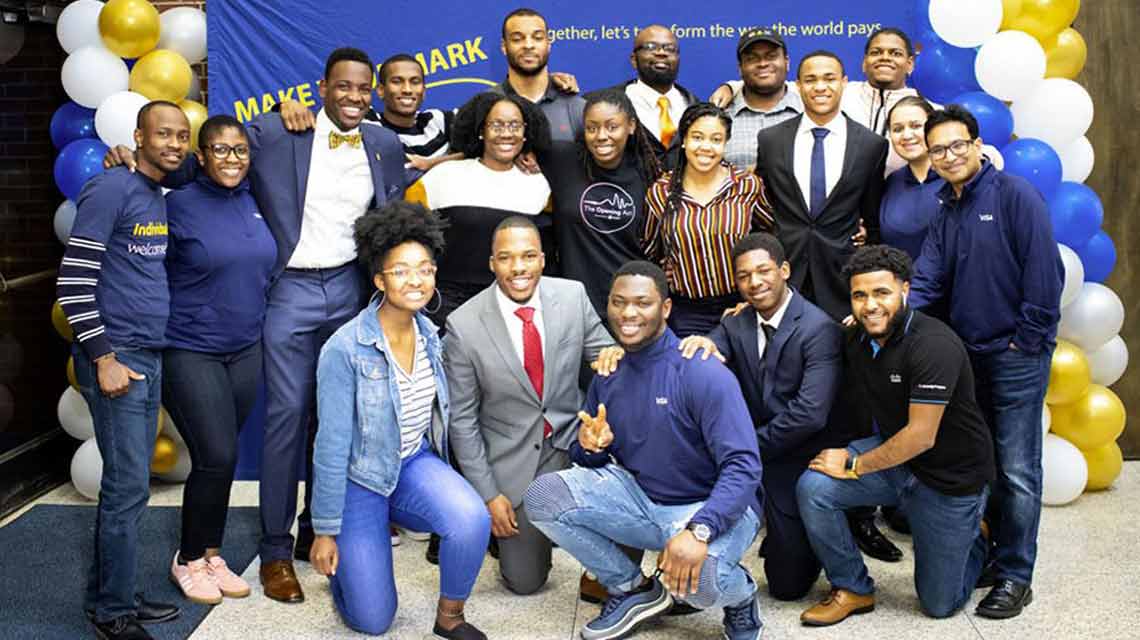 Visa Week at North Carolina A&T State University
Join Visa and you're instantly part of something special. That's because we're on a mission to promote economic growth around the world, drive digital innovation, and do meaningful work that creates financial literacy and increases opportunities for millions of underserved people. Make a difference here and you'll have an impact everywhere. We are also on a journey toward inclusion, diversity and racial justice – learn more about our commitments.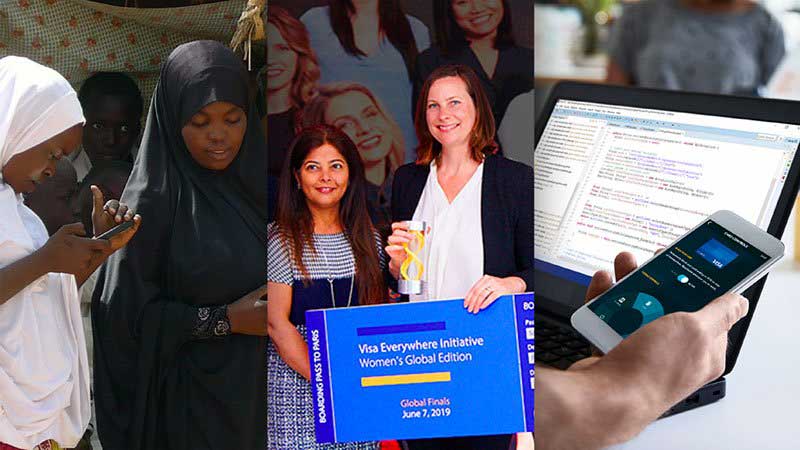 Small and micro businesses
Helping businesses thrive, helps people thrive. The Visa Foundation committed $210 million to support small and micro businesses, and COVID-19 emergency relief programs following the spread of COVID-19.
Through a Visa Foundation grant, Visa employees had the opportunity to allocate a $50 microloan to a small and micro businesses in need through Kiva.org. Visa also co-designed and funded the Inclusive Fintech 50 competition, Visa Everywhere Initiative and Fast Track Program – initiatives that recognize innovative early-stage startups seeking to deliver financial services to 1.7 billion unbanked people.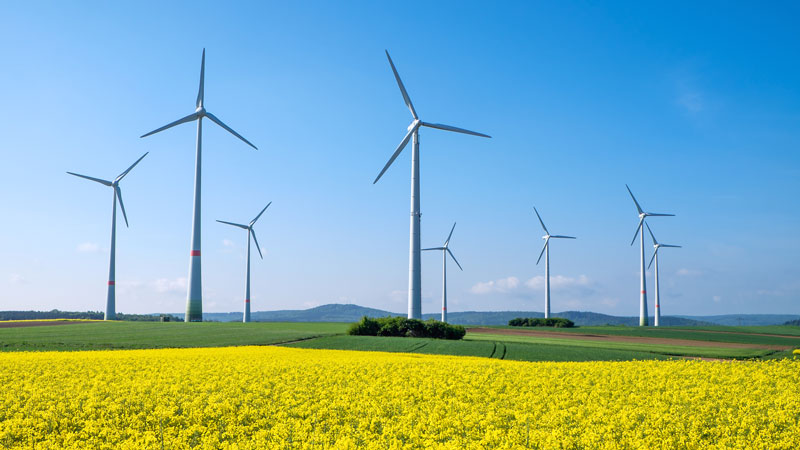 Environmental and social impact
Visa operates responsibly, employs environmental best practices, and is a leader for sustainability and on environmental matters.
We recently met our goal to use 100% renewable electricity by 2020 and approximately 70% of Visa's global square footage is green-certified. We're also inspiring and empowering the sustainable living movement, with efforts including being founding partners to launch Brands for Good as well as Travalyst, a sustainable tourism initiative, the release of a 25-country "Healthy and Sustainable Living Study" and expanding initiatives to help employees live more sustainably at work and at home.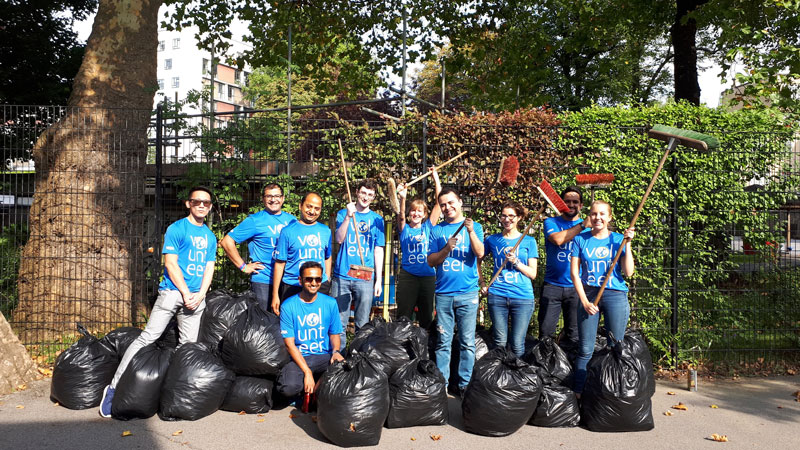 Community
Visa is committed to the wellbeing of communities in the 200+ countries and territories in which we operate.
We empower our employees to give back through global programs like the Dollars for Doers program, Volunteer Time Off (VTO) and unique opportunities to help small businesses. Employees can spend up to 16 hours of work time each year volunteering with a qualified nonprofit and earn up to $1,500 for charity by volunteering. Visa also matches employee donations up to $10,000. In FY21, employees raised $14.5M (+Visa match) for charities of their choice.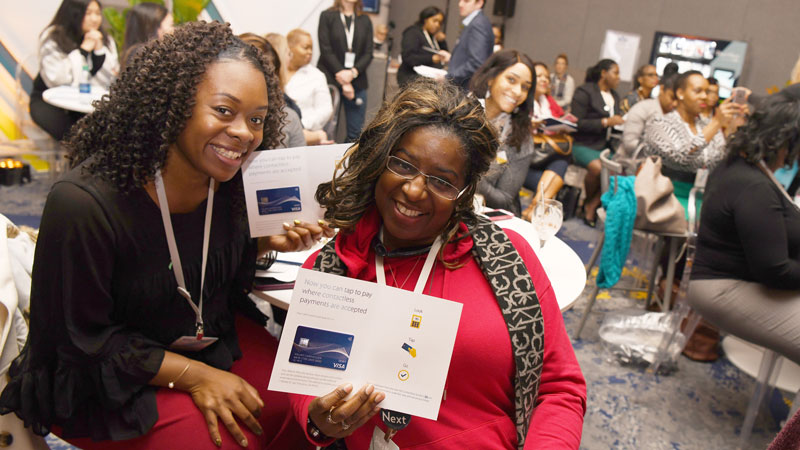 Women's Economic Advancement
As a part of our ongoing commitment to women entrepreneurs, Visa launched a global initiative – She's Next, Empowered by Visa – to support women small business owners as they fund, run and grow their businesses. We also expanded our partnership with IFundWomen, a marketplace for women-owned businesses and the people who want to fund them, to provide $10,000 grants, mentorship and digital training to Black women-owned small businesses in the U.S. The Visa Foundation launched its $200 million Equitable Access Initiative, which will support small business owners, with a focus on women's economic advancement.