Visa Checkout's single sign-on turns shoppers into buyers
A hassle-free, quick, and secure checkout process increases conversion and gives you and your customers added fraud protection.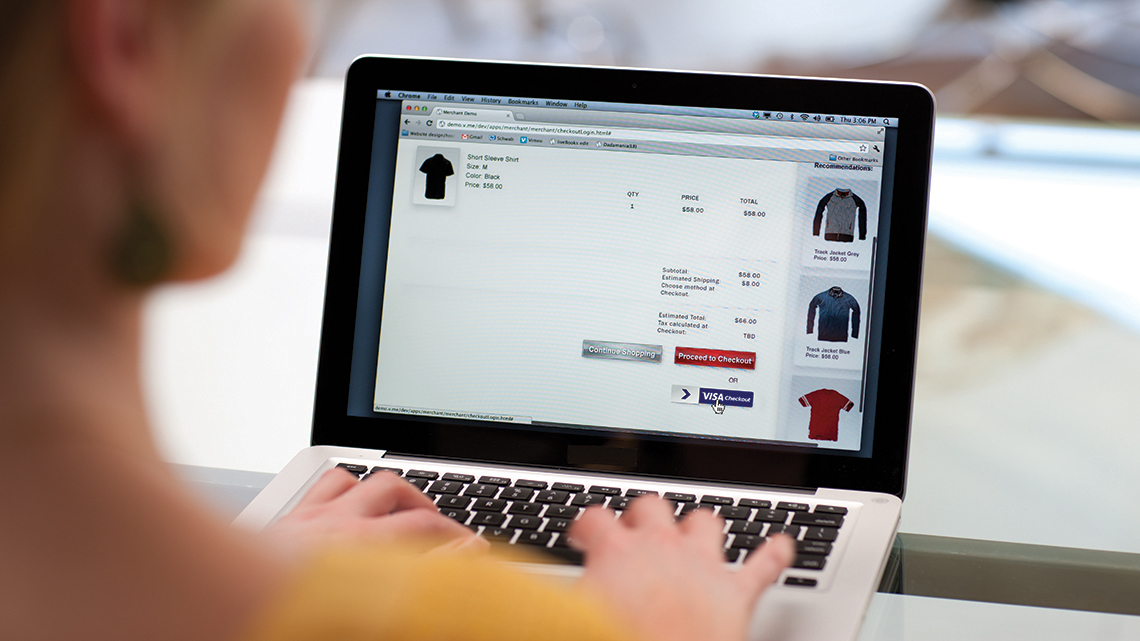 Visa Checkout-enrolled customers have a 43% higher conversion rate when compared to traditional checkout customers.1
Visa Checkout takes the friction out of online commerce by allowing customers to make purchases quickly and easily from their smartphone, tablet, laptop or PC via a stored debit or credit card data in a secured account. Advanced tools, such as device fingerprinting and authentication capabilities, can help reduce the risk of fraudulent transactions and ensure a seamless shopping experience for your customers.
Visa Checkout offers these additional benefits for community issuers:
Visa Checkout is the only online payment solution that leads with your brand. Showcasing the cardholders' card art right on the Visa Checkout button increases shoppers' trust and drives higher conversion while strengthening issuer brand association with the payment experience.
For every 1,000 Visa Checkout transactions, a participating issuer is estimated to accrue $16-24 in free premium brand impressions with their cardholders.2
Visa Checkout uses multiple layers of security, including fraud-monitoring systems to help keep payment information safe. Visa Checkout's risk management tools have resulted in a superior fraud performance when compared to the overall ecommerce segment.
Visa Checkout boosts cardholder satisfaction. It provides an effortless and trustworthy experience for customers, according to a recent survey.3 95% said sign-up was easy; 96% felt secure; 9/10 planned to continue using the service.

Visa works closely with community issuers to market Visa Checkout to their customers and to help drive consumer enrollment through an easy, streamlined enrollment experience. Visa's approach aims to mitigate disintermediation risk, provide opportunities for issuer participation and branding, and help Visa issuers differentiate themselves from their competitors through deep integration with the Visa Checkout platform. Visa Checkout offers benefits to stakeholders across the payment value chain. Maintaining the four-party model, Visa Checkout service preserves revenue streams for community issuers, merchants and acquirers while driving value for consumers and the developer community.
Sources:
1comScore 2015 Visa Checkout Study, commissioned by Visa. Based on data derived from the comScore research panel of one million U.S. PC/laptop users measuring panelists' purchases at 15 e-commerce domains, June—December 2015.
2Estimate of value is based on internal Visa analysis and CPM figures provided by eMarketer's The US Financial Service Industry: Digital Ad Spending Forecast and Trends reporter (2015). Applicable to participating Visa Checkout issuers who have provided comprehensive card-art.
3Millward Brown Visa Checkout Customer Experience, March 2015, commissioned by Visa. Based on data from an online survey of 1,241 US consumers.