Importance of U.S. national parks to tourism industry
At least one in eight foreign tourists visit the U.S. national parks in the summer—a nearly $10 billion economic boost
July 24, 2017 – Foreign tourists visiting the U.S. national parks, which just celebrated their centennial, provide a significant economic boost to the U.S. tourism industry in the summer—on average, one dollar spent at the national parks generates $5 in nearby areas and about $50 in the U.S. overall, according to Visa estimates. In other words, foreign tourist spending generates more than $725 million in areas near the parks and at least $7.5 billion in other areas, such as international gateway cities while in transit to the parks.
By leveraging the millions of transactions that flow across the Visa network, combined with park visit data published by the U.S. National Park Service, Visa is able to provide a view into foreign travel patterns and spending in and around the iconic U.S. national parks that was previously unavailable due to the limitations of traditional data sources.
Like U.S. travelers, most foreign tourists (one in eight) visit the parks in the summer (June-August), accounting for more than 40 percent of the annual total visits. The parks are most popular with European travelers—about one in two Europeans include a stop at a national park in the summer. However, most foreign national park visitors are from Canada, representing more than a quarter of all foreign visitors.
Short- and long-haul visitors to U.S. national parks spend differently
As host to many domestic and overseas travelers, U.S. national parks welcomed more than 76 million visitors in 2016. Though most national park visitors were from the U.S., one cross-border group stood out: Canada accounted for more than one-quarter of all cross-border national park visitors last year.
In the 2016 peak summer season alone (June-August), nearly 690,000 Canadian travelers visited national parks, representing the largest group of non-U.S. visitors to the parks. However, size was not the sole differentiating characteristic of this group; inter-park travel for Canadian ("short-haul") travelers was also different from overseas ("long-haul")—e.g. Chinese, German or Danish—travelers.
For example, when visiting the Grand Canyon (in Arizona), overseas travelers—including 82 percent of Chinese visitors—tended to visit Nevada and California during the same vacation. By comparison, only 38 percent of Canadian visitors to the Grand Canyon did the same. For Canadian travelers, the effort—financial and otherwise—required to visit U.S. national parks is relatively low and does not warrant the "grand tour" that long-haul travelers often plan.

Canadian visitors to Grand Canyon did the AZ-CA-NV "grand tour" less often than other cross-border travelers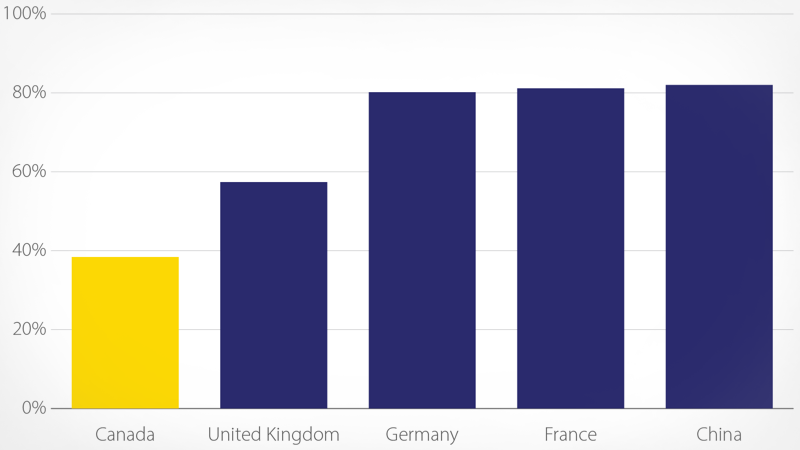 Spending across individual market segments reflects this trend, suggesting how and where short-haul Canadian visitors spend. Of Canadian Grand Canyon visitors who purchased lodging, the majority (54 percent) chose Nevada—presumably, Las Vegas—over Arizona (43 percent). Similarly, most who rented a vehicle (57 percent) also opted for Nevada instead of Arizona (23 percent), indicating that many of these travelers may view the Grand Canyon as a casual day trip out of Nevada, rather than a destination in and of itself.
Fuel spend is even more revealing: while only about 32 percent of Canadian visitors to the Grand Canyon overall rented cars, nearly 85 percent purchased fuel in four different states, on average. This reinforces the short-haul quality of these visitors, many of whom likely drove their own cars to the national parks. The variance in spending patterns between short- and long-haul foreign travelers provides new opportunities for tourism merchants to target tourists according to their travel needs. Offering incentives such as auto and fuel rewards to short-haul travelers, for example, could prove more effective than packaged travel deals.
Methodology
Visa International Travel (VISIT) database is a proprietary model that combines Visa's cardholder data with publicly-available cross-border arrival statistics. The database provides a comprehensive view into high-frequency cross-border travel flows, currently encompassing the top 82 origin and destination countries, which collectively account for more than 80 percent of global travel.
VISIT combines unique counts of Visa cardholders that register a face-to-face transaction at a merchant outside their home country in a given calendar month with other transaction data such as average spend per cardholder, card usage patterns at lodging merchants and others. Visa uses this data to econometrically model official arrival statistics compiled by various government sources and to generate estimates that fill in the large gaps existing in the cross-border travel data.
Contact Visa Consulting & Analytics
Please contact your Visa Representative to find out more how we can help or send us an email.