Reaching U.S. minorities to close the financial services gap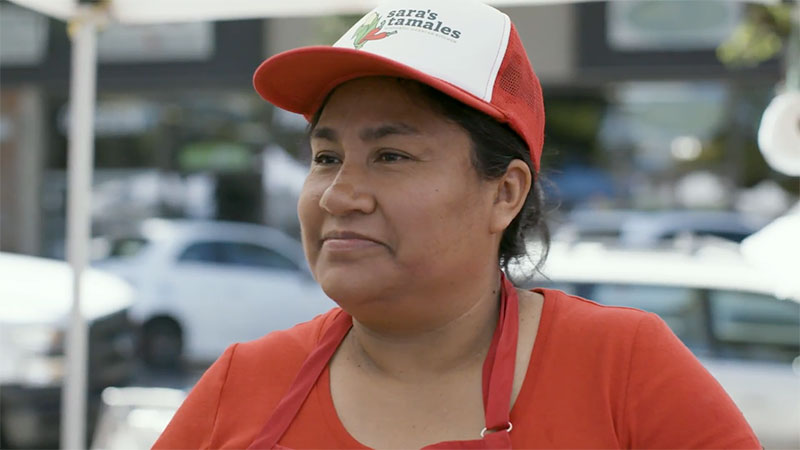 A tamale maker turns a $500 loan into a thriving business
Sara's Tamales in Portland, Oregon, is a small operation built on a big dream—a dream that seemed far-fetched not long before owner Sara Rodriguez launched her business.
"When you don´t have the opportunities, the money and the help, you feel that you are not capable of achieving anything," she told Visa as she ladled a hearty filling into purple dough, a recipe she had perfected from her family in Mexico.Nearly 50 percent of Hispanic and African-American households in the United States are underbanked, according to the Federal Deposit Insurance Corporation (compared to 26 percent of U.S. households overall). That means millions of families are not able to save money to weather a job loss, access a loan to start a business or buy a car that could help them secure a job. Instead, many turn to costly alternative financial services.
"They didn't want to lend us any money," Rodriguez said about two banks she and her husband initially approached to start a tamale business, something they attempted when job opportunities were scarce and putting food on the table for their family became increasingly difficult.
Point West Credit Union in Portland came through and offered Rodriguez a $500 loan, which allowed her to buy a business license, food and supplies to start a modest tamale cart. Her first customers trickled in by chance and then through word of mouth. Soon her tamales were in high demand, but she needed more capital to expand.
Sara's story is similar to those of millions of others across the country who lack access to the mainstream financial services that can help them succeed. That is why Visa and Filene Research Institute launched the Reaching Minority Households Incubator, a program that identifies, tests and replicates successful financial products and services that address the needs of minority households.
Visa invested $1.2 million to help financial institutions like Point West pilot new products as and expand existing products and services (like the loans Sara received) to more minority households. The program, launched in 2016 with Filene Research Institute and the Ford Foundation, created a testing environment with 40 financial institutions across the U.S. and Canada.
During the 18-month testing period, the incubator issued more than 58,000 loans totaling roughly $80 million and impacting about 18,000 households, including the Rodriguez family.
Through the incubator, Sara received another loan from Point West. She bought a car so she could expand her client base and make deliveries to grocery stores. She also invested in marketing her business and improving its packaging and design.
"As one of the world's largest payment networks, Visa has long been committed to bringing greater financial inclusion to people around the world. We saw a real opportunity to work with our bank and credit union partners right here in the U.S. to make a positive impact in minority communities," said Bill Sheedy, executive vice president of corporate strategy, M&A, and government relations at Visa Inc. "The Reaching Minority Households Incubator showed us that with the right focus and product mix, financial institutions can effectively reach underbanked minorities and do so sustainably."
The incubator also created an environment for participating financial institutions to learn best practices from each other, sharing stories and case studies of what worked—and sometimes, what didn't.
"Meeting the needs of financially vulnerable populations and pursuing financial stability do not have to be mutually exclusive pursuits." said George Hofheimer, chief knowledge officer at Filene. "Financial institutions are at the front lines of changing the disparity in access to basic financial services for minority households. Providing products like those tested in the incubator can be a win-win-win for the customer, financial institution, and community."
On a recent spring day, Sara sat at the dinner table with her family. Her four children gathered around her. She reflected on how proud she is to see her business grow and provide her family with a stable financial situation. Her thriving business has helped them buy their first home, and they are planning to open their first restaurant.
"This program really helped us," Rodriguez said. "We could do what we did because of the loan. It meant everything to us."