Tapping to pay is about to be even easier for U.S. consumers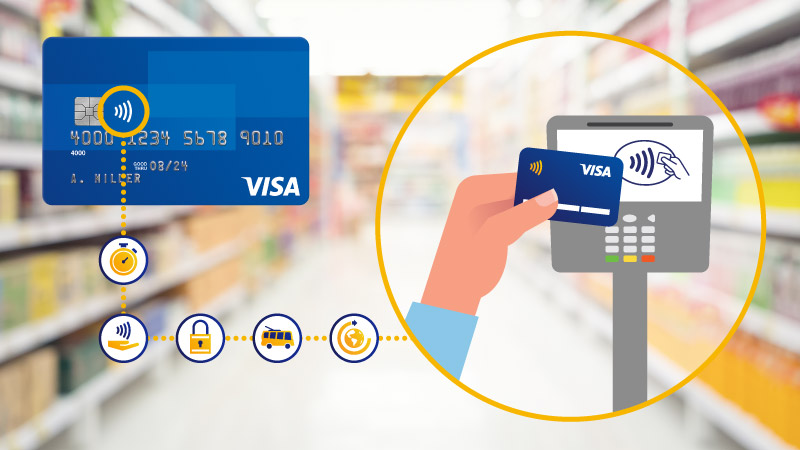 Visa expects more than 100 million contactless Visa cards in the U.S. by the end of 2019
Millions of Chase customers in the U.S. will soon be able to speed through checkout with a tap of a contactless Visa card. While contactless payment technology has been widely used in places like Canada, the U.K. and Australia, it's new for most American consumers. What do they need to know to take advantage of this convenient and secure way to pay?
1. It's fast and easy 
A single, simple tap with a contactless-enabled Visa card, mobile phone, smart watch or other wearable device is all it takes to make a payment. All these forms of payment use short-range wireless technology, known as Near Field Communication, to initiate fast, secure transactions between the card or device and the checkout terminal. 
2. It's widely accepted in the U.S. 
Customers can tap their card or device to pay where they see the Contactless Symbol at a checkout terminal. More than 50 percent of all in-person Visa transactions happen at a contactless-enabled merchant in the U.S. The numbers rise at high-transaction volume merchants with low average purchase amounts where the speed and convenience of tapping to pay can save valuable time. According to AT Kearney, 79 percent of quick service restaurants, 77 percent of drug stores and pharmacies and 61 percent of food and grocery stores in the U.S. employ the technology. 
3. It's secure
Contactless Visa cards are built on secure EMV® Chip technology, which has already helped reduce counterfeit fraud at U.S. chip-enabled merchants by 75 percent since 2015. Tapping to pay with a contactless Visa card offers the same level of advanced security as inserting or "dipping" a card. Every EMV® Contactless transaction delivers a dynamic, one-time code to the checkout terminal that protects payment information and authorizes payment.
4. It's coming to transit
Public transit riders can soon save time by tapping their card, phone or device to enter at transit turnstiles, eliminating the need to take time to pay for or reload a travel card or ticket. In London, half of all tube and rail journeys are made using contactless payments—about 17 million rides per week. Many transit authorities in major U.S. cities including New York MTA and Massachusetts Bay Transportation Authority are now planning to enable the technology so that all riders have to do to ride is tap.
5. It's widely available around the world
Outside the U.S., more than 40 percent of Visa transactions at checkout occur with a tap. Adoption is high in Australia (more than 90 percent), the U.K. and Canada (more than 50 percent). With the largest credit issuer in the U.S. committing to bringing the ability to tap to pay to customers in the U.S., and Visa expecting more than 100 million contactless Visa cards in market by the end of 2019, consumers and merchants alike can look forward to tapping into fast, simple and secure payments at checkout.