Three can't-miss small business benefits
Entrepreneurs can access faster payments, merchant discounts and more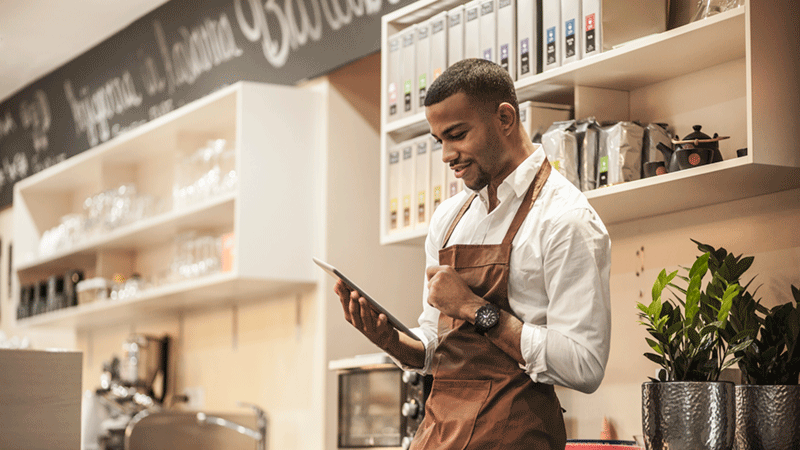 More than 30 million small and medium-sized businesses (SMBs) in America employ 47.5 percent of the private workforce. Visa supports this important segment with offers and services they can use to help accelerate their growth. Got a small business of your own? Read on for resources.
1. SMBs can earn up to $600 annually in Yelp advertising credits
Nearly 40 percent of small business owners report that expanding advertising to attract and retain customers is a top challenge, according to Visa research. U.S. small business owners who enroll in a special offer with Yelp and spend a minimum of $150 on monthly Yelp advertising using their Visa Business card can earn $50 per month in extra ad credits to be used on the Yelp platform (up to $600 annually). Given that Yelp is already used by hundreds of thousands of U.S. small businesses, that $600 could go a long way to help build revenue. Click here for offer terms.
2. Make the most of merchant discounts
Growing a small business means spending on lodging, fuel, office hardware, catering and even flowers. Visa SavingsEdge provides enrolled Visa business cardholders access to savings on business services and goods at participating merchants. Enrollment is free for Visa small business cardholders and savings require no coupons or codes as they are applied as credits on future statements.
3. Pay and be paid faster
Visa Direct is a processing capability that allows safe and convenient delivery of funds directly to financial accounts using card credentials, almost like "reversing" the flow of transactions to push money back to cards. Stripe's Instant Payouts feature utilizes Visa Direct to help small businesses send money in real-time[1] to employees, contractors and service providers for wages, expenses and other payments. Lyft, Care.com and goPanache.com are just a few of the companies using Stripe's Instant Payouts Feature. Learn how these offerings can help your business.
__________________________________________________
[1] Actual fund availability depends on receiving financial institution and region. Visa requires fast-funds enabled issuers to make funds available to their recipient cardholders within a maximum of 30 minutes of approving the transaction. Please refer to your Visa representative and the Visa Direct Original Credit Transaction Global Implementation Guide for more information.