Visa commits $1M in food assistance to federal workers impacted by shutdown
Grants and matching funds will support food assistance for workers and their families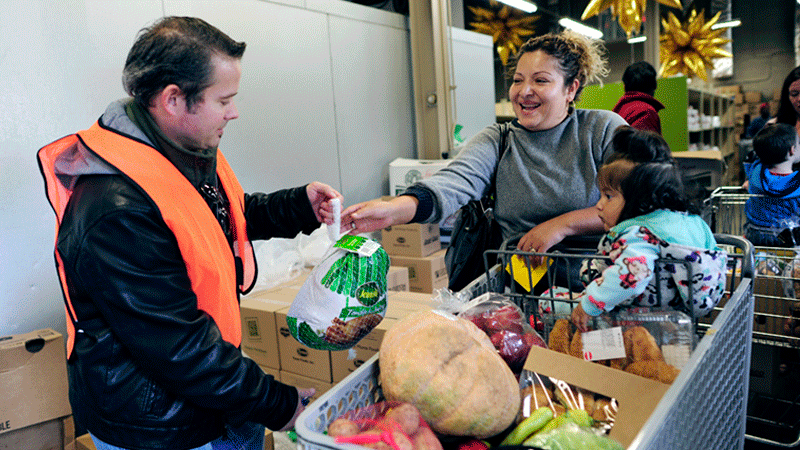 Today Visa and the Visa Foundation announced our commitment to help those impacted by the partial government shutdown in the United States, including a contribution from the Visa Foundation of $1 million to Feeding America's Shutdown Response Fund. Feeding America® is the largest hunger-relief organization in the U.S., and its Shutdown Response Fund aims to help local food banks in the communities that are facing the greatest increase in food assistance needs as the federal government has been partially closed for more than a month. Many of these local food banks have already been responding through pop-up and mobile food pantries.
In addition to the Visa Foundation grant, Visa Inc. will be double-matching employee donations to Feeding America and encouraging employees to volunteer at local area food banks.
"Hardworking Americans including TSA agents, members of the Coast Guard, park rangers, security guards, federal prison employees and more are among the furloughed federal workers not getting paid because of the partial government shutdown," said Andy Wilson, Chief Development Officer at Feeding America. "We are so grateful to the Visa Foundation, Visa¸ and its employees for their commitment to our country's public servants and their families, and their assistance to help them to get through this difficult time as they continue to keep our country safe."
How to get involved
Visa encourages those who would like to help to consider a donation to a local food bank or Feeding America.
Cardholders with specific questions about their accounts related to the partial government shutdown should contact their issuing banks or financial institutions to inquire about programs they may have to extend credit relief to consumers affected by the shutdown. Visa is a technology company that operates a global processing network that makes electronic payments possible; Visa is not a bank and does not issue cards, extend credit, or set rates and fees for consumers.