Visa to help tackle workforce skills gap
Visa CEO Al Kelly joins newly-launched American Workforce Policy Advisory Board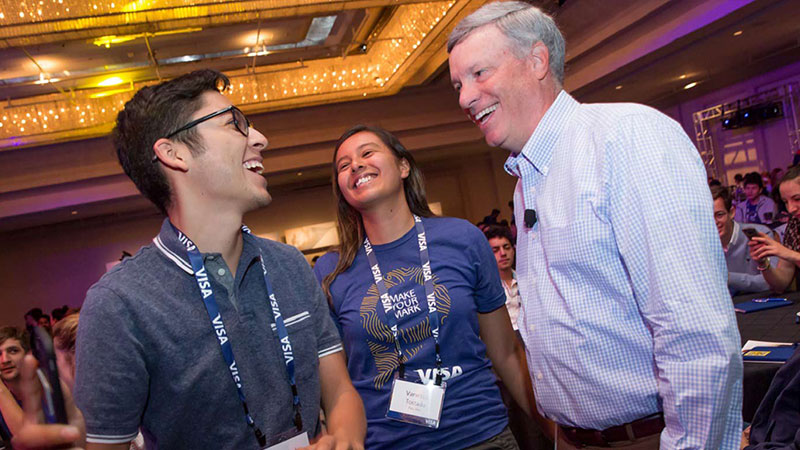 In the 21st century digital economy, it has never been more important for the private sector and public institutions to work together to prepare our workforce to fill in-demand jobs. Increasingly, the skills job seekers possess do not match the experience required for specialized jobs that are available. According to the Brookings Institution, a Washington D.C. research group, nearly two-thirds of the 13 million jobs created in the U.S. from 2010-2017 required medium or advanced levels of digital skills.
To help address this challenge, Visa CEO Al Kelly will serve on the American Workforce Policy Advisory Board, a 25-member advisory committee led by the White House and the U.S. Department of Commerce. Mr. Kelly joins other private sector leaders, including Apple's Tim Cook and IBM's Ginni Rometty, as well as experts from government, higher education, labor, and business groups. The board will advise the Administration on ways the private sector and educational institutions can combat the ongoing skills crisis and enable workers to access to demand-driven education, continuous training, and work-based learning opportunities.
"At Visa, we offer a range of training opportunities to support our employees' continued growth and development," said Visa CEO Al Kelly. "As a member of this new advisory board, I will lend my passion for skills development to a public policy discussion that is critical to the health and competitiveness of the American workforce and the American economy."
In addition to its CEO's participation on the American Workforce Policy Advisory Board, Visa is one of 200 companies that signed a White House Pledge to America's Workers. Together, these companies—including Walmart, Home Depot, UPS, FedEx, Mastercard, Microsoft, IBM and others— have committed to expanding programs that educate, train and reskill American workers from high school age to those near retirement. In total, the companies that have signed the pledge have promised to reach more than 6.5 million workers combined.
Visa has long understood that a ready and able workforce is critical to remaining competitive, committing to numerous programs and partnerships that strengthen STEM skills and prepare current and future employees for success. One of Visa's signature training efforts is Visa University. Launched in 2016, Visa University offers in-person and online curriculum designed to support and train employees for future success. In 2017 and 2018, more than 600 new college graduates enrolled in specially designed onboarding boot camps and online learning paths, which provided them knowledge and strong technology skills to jumpstart their careers at Visa. Resources accessed through Visa University accelerate productivity and performance, enable individual growth and mobility, and drive tech transformations through learning within the organization.
The American Workforce Policy Advisory Board will hold its first meeting on March 6.