How will credit unions help shape the future?
Attendees of the CUNA Government Affairs Conference discuss innovation, inclusion and preparation for tomorrow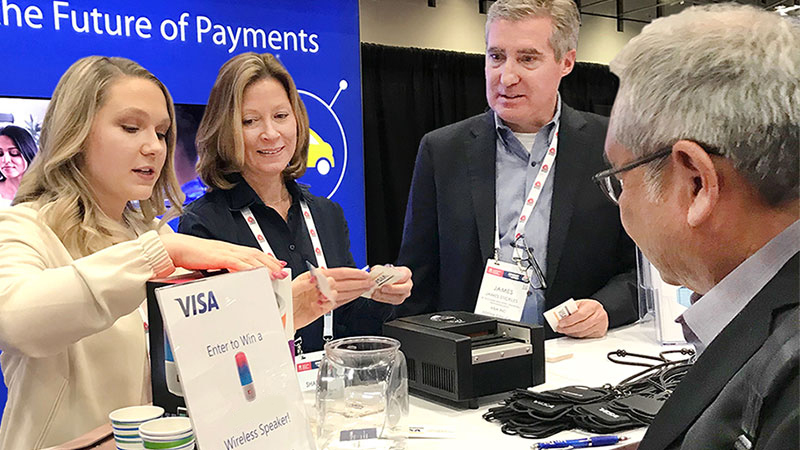 More than 5,000 credit unions serve millions of Americans with affordable, convenient financial products and services, according to the Credit Union National Association (CUNA). Key trends impacting these important not-for-profit banking institutions were discussed by credit union leaders, political, media and business advocates at last week's annual CUNA Governmental Affairs Conference (GAC) in Washington D.C., the credit union industry's largest advocacy event. Here, we highlight three major trends to come out of GAC.
Trend #1: Members crave innovation
Credit union leaders shared their #CUdifference over social media during GAC by highlighting programs and initiatives that cater to their unique membership bases. CUNA (Credit Union National Association) President and CEO Jim Nussle addressed in his keynote the need to amplify the credit union movement while also remaining relevant in an ever-changing marketplace[1]. Top of mind were consumer preferences like digital payment options, including contactless payments.
Credit unions are helping to lead the industry's shift toward tapping to pay at checkout. The benefits of issuing contactless cards, such as offering members a fast, easy and secure way to pay while helping credit unions differentiate their product offering, are clear. But ultimately, member preference will drive the decision to offer contactless cards. A top indicator of where that preference is headed: 78 of the top 100 Visa merchants (by transactions) in the United States already offer the ability to tap to pay at checkout, which means now is a good time for credit unions to consider their strategy for issuing contactless cards. In fact, Visa expects more than 100 million Visa contactless cards to be issued in the U.S. by the end of 2019. To start, credit unions should think holistically about issuance, education and marketing strategies that will increase member awareness and foster education of contactless payments in your local communities.
Trend #2: Inclusion efforts are helping to close gaps
Credit unions continue to show a commitment toward expanding access, bridging gaps and removing barriers to financial opportunities and resources for the underserved. Credit union leaders were recently honored at the Visa-sponsored NCUF Herb Wegner awards dinner for driving innovative solutions in their communities and progressing the credit union movement and mission.
This year's Outstanding Organization Award went to the Nusenda Credit Union Foundation, a nonprofit dedicated to better serving low-income communities in New Mexico, where Nusenda Credit Union is based. The Nusenda Foundation was able to scale and expand one of its existing loan programs, now known as the Co-Op Capital Program, where members are offered micro-loans through their employers.
Credit unions looking to expand access to affordable and reliable financial services for hard-to-reach consumers have many options. In 2016, the Filene Research Institute, Ford Foundation and Visa launched the Reaching Minority Households Incubator and tested various programs focused on solving specific challenges facing minority households. One of the most successful was the ITIN Lending program. The ITIN Lending Implementation Guide shares best practices and tools to help financial institutions serve the needs of the financially vulnerable and grow their consumer base.
Looking inside the hallways of credit unions is equally crucial to ensure that the employee base, leadership team and executive board reflect a diverse membership base. Strengthening the talent pipeline is increasingly a priority among credit union leaders. Visa has worked with the Filene Research Institute and its War for Talent Center of Excellence to research the talent gap among graduates pursuing credit union careers, informing strategies to attract, develop and retain top emerging talent. Cultivating young leaders with programs like Filene's The Crasher Program allow early-career professionals to participate in conversations and events geared toward shaping the future of credit unions. This year's 100 "Crashers" attended GAC, marking the biggest Crash GAC class yet.
Trend #3: Preparation is key to addressing cybersecurity
No credit union is immune to cyber threats, which is why the best defense is a proactive one to ward off potential attackers. They need to identify risk, establish organizational resources and implement tools and technologies to mitigate and control risk.
GAC discussions centered on fostering a cyber-aware culture among credit union employees and reinforcing security standards. Credit union leaders, ahead of their meetings with elected officials on the Hill, emphasized the importance of security and the need for credit unions to have a voice in regulatory reforms and standards to reflect the unique challenges and infrastructures they face.
Visa continues to bolster its security offerings as the payment landscape evolves, consumer preferences change and digital payments become ubiquitous.
Learn more on Visa's Community Issuers page.
_______________________________________
[1] Cooperative superpowers are 'our best asset', March 11, 2019: https://news.cuna.org/articles/115697-nussle-cooperative-superpowers-are-our-best-asset