Four generations of entrepreneurs shape leader's work ethic, style
Visa's Chief Marketing and Communications Officer Lynne Biggar shares stories from her family's business during National Small Business Week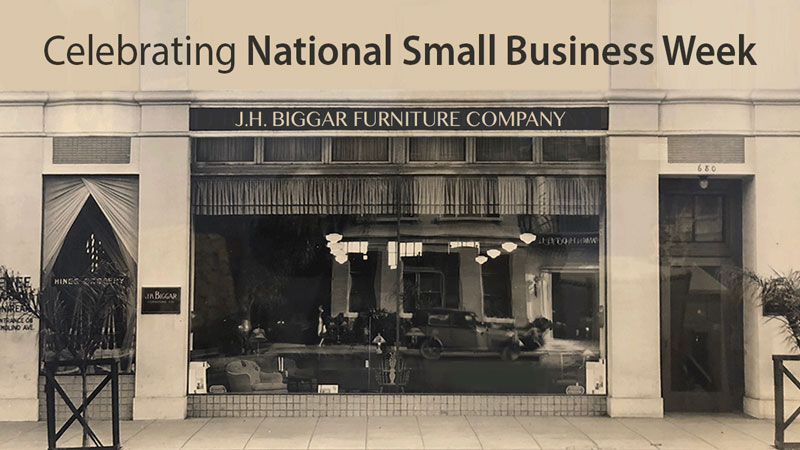 Small businesses are the backbone of local economies around the world, representing up to 70% of total global employment [1], with more than 30 million small businesses in the United States alone. Visa shows its commitment to small businesses through offers and services, She's Next, Empowered by Visa and the sponsorship of National Small Business Week.
Visa's Chief Marketing and Communications Officer Lynne Biggar grew up in a family-owned business and shares how those experiences inform her work with this important segment today. We caught up to talk about her family, leadership lessons, pricing merchandise and more. 
You come from a family of entrepreneurs. Can you share a few influential experiences that you still think about?
Biggar: I was part of the fourth generation of a family-owned furniture business called JH Biggar Furniture Company, founded by my great grandfather in 1926 in Pasadena, California. It was a well-known chain of retail and manufacturing throughout Southern California for 65 years until the decision to sell in the early 1990's. It was also the source of my summer jobs, the first of which was when I was in junior high school. Here are three observations that stuck with me.
First, I learned about leadership. My father was the CEO and I saw how hard he worked for the business and how dedicated he was to its employees. This work ethic and leadership focus was therefore instilled in me from a young age and helped shape how I show up at work even to this day.
Second, I learned about the business. I worked in the company for several months after I finished college and ran a small P&L [business unit] related to home design. At an early age, I got a taste for how hard that can be, how to make trade-offs, how to price and move merchandise. I also learned that your taste isn't everyone else's!
Third, I learned about customer service. Some of my summer jobs were customer-facing, so I learned at an early age how to engage, listen well and to be proactive in solving problems. First impressions are important, and each of us is a representative of the organization where we chose to work.
How have your experiences with entrepreneurs influenced your career journey and leadership at Visa?
Biggar: I've retained a sensibility for the challenges and opportunities of business owners. As a result, in my life outside of work, I have been and continue to be actively involved in helping friends who are starting businesses or contributing my time to smaller nonprofits. In smaller organizations, every individual's contributions count every day and I've taken that into every role I have had since then. 
Working in a family business also shaped my leadership style. I'm not going to be the kind of leader to stand on the shore and bark orders at the team rowing the boat across the river. I am going to get in that boat and row just as hard as everyone else. That's from my early experience. I don't know any other way!
What specific efforts at Visa supporting the small business market excite you the most?
Biggar: I am thrilled about what Visa does for small businesses on a daily basis, from the smallest microbusinesses to those trying to get to the next level. In the last year alone, we've helped women-owned small businesses through She's Next, Empowered by Visa, driven acceptance through our Great British High Street Campaign and launched the first ever Visa Everywhere Initiative: Women's Global Edition focused on FinTech and Social Impact. And there is so much more we can do!
_______________________________________
[1] United Nations, citing data provided by the International Council for Small Business (ICSB)