Tap to pay is taking off
Contactless payments are fast, easy, secure, and growing globally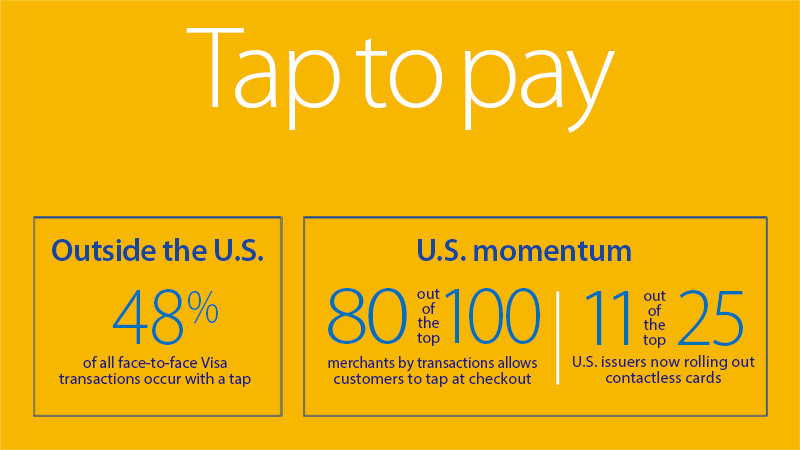 Just as people expect fast experiences in all aspects of daily life—from finding the quickest way to order dinner, the shortest line at the checkout counter, or the fastest way to deliver a gift—they also expect fast, easy and secure transactions to pay for those experiences. Tapping to pay with a contactless card or device has proven to meet these consumer expectations in today's age of convenience, helping consumers breeze through checkout with a single tap.
Last year at Visa Payments Forum, Visa's annual conference for customers and partners, a major discussion was the expansion of tap to pay in the United States. As this year's event begins in Chicago, Visa is excited to share that tapping to pay is becoming a reality across the U.S. and continues to gain momentum globally. Here's a look at the trends:
Globally, adoption continues to see strong growth with nearly half of all face-to-face Visa transactions occurring with a tap outside the U.S. In the last year, nearly 50 countries have seen a 10 point or greater increase in tap to pay penetration of all domestic face-to-face transactions. This includes:
In Europe, more than two-thirds of face-to-face Visa transactions occur with a tap
In Canada and CEMEA (Central Europe, Middle East, Africa) nearly 60 percent of face-to-face transactions occur with a tap
In Asia Pacific it is more than one-third
The U.S. is no longer an outlier. Adoption of EMV chip technology in the U.S. helped accelerate contactless adoption, combining speed with the security consumers have come to expect and trust. Today, 80 out of Visa's top 100 merchants by transactions in the U.S. currently offer customers the ability to tap to pay at checkout. U.S. consumers are getting more ways to tap with 11 out of the top 25 U.S. issuers now rolling out newly available contactless cards. Much like other markets around the world, consumers have quickly embraced the speed and convenience of tapping to pay.
As the NYC MTA prepares to implement contactless technology at subway turnstiles and bus terminals across the city, Visa expects consumer adoption will continue to accelerate. TransLink in Vancouver saw more than seven million taps of contactless cards and mobile devices by 700,000 unique credit cards in the first year since launch. Visa continues to work with transit authorities to introduce innovative new payments systems as tapping to pay is proving to be just as impactful to merchants, helping speed service and throughput.
As more people get a chance to experience contactless payments as part their daily routines, tapping to pay will become second nature for convenience-driven consumers everywhere.