Why curious people are more interesting and do better in life
Three "C's" of leadership from a recent college commencement address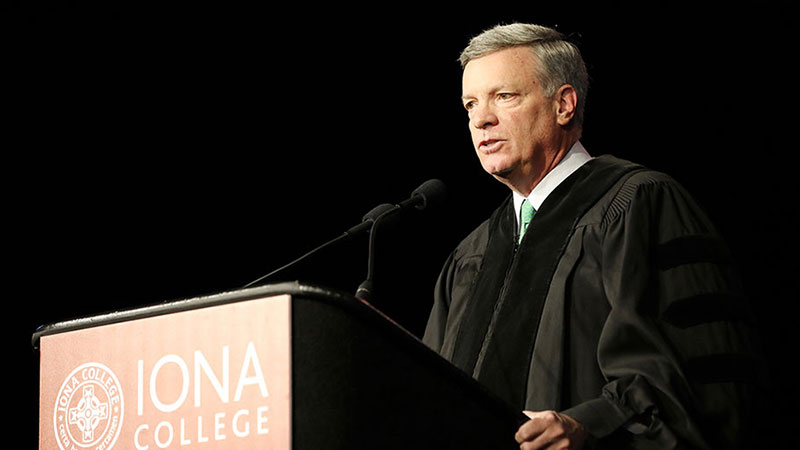 I had the recent privilege to speak to 685 baccalaureate degree candidates and their families and friends at the 75th commencement ceremonies at Iona College. I received my own bachelor's degree from Iona in Computer Science 39 years ago, followed by an MBA a year later.
It felt great to be back at my alma mater. With four kids of my own who have recently graduated college and one who is close to beginning university life, my hope was to share some practical advice about living a happy and productive life with the new graduates.
I frequently give a speech that I call the 10 Cs of Leadership. Every "C" is a basic concept I have found useful in my own career journey. Here are three that I shared with the audience at Iona, and continue to apply in my own role at Visa.
Curiosity.
While I have never done the research, I assert that curious people are more interesting and do better in life than people who are not. At the simplest level, stay up on the news in your town, in your country and around the world and read all you can about your field of interest and the company you work for and its competitors.
But curiosity is more than staying current. It is looking around corners, trying to connect dots, asking more questions and trying to unearth insights. Whether you become or aspire to be a coach or a teacher or an entertainer or a lawyer or a scientist, or something else, there are more things to learn, more to do, more ways to do things, and better ways to do things.
Curiosity is the key to discoveries – big and small. Curiosity is a way to distinguish yourself and curiosity makes your work more fulfilling.
Courage.
I just recently tried zip lining for the first time in my life and I am very scared of heights. That decision was not courageous; it was stupid because I was miserable and scared to death.
Courage is about speaking up; being a truth seeker; and stepping up when challenges surface. As your life and career move along, it is about making tough decisions and leading well and confidently when there is no real playbook.
Heroes surfaced big time on Sept 11, 2001 and the days and weeks that followed. Courage has been on display recently by many people in Venezuela in the terrible situation in that country. Courage is on display every day in less visible ways inside teams, inside companies, inside universities, inside governments, etc.
I encourage you to be courageous. Speak up when things are wrong or unjust or unfair or stupid. Take a stand. Defend others who cannot or are unwilling to defend themselves.
Communication.
It is really hard to be successful in life without focusing on your communication skills. Start with the basics – look people in the eye, have a sturdy handshake, call people by their name whenever you can; check your spelling and grammar in your emails; and don't write emails in casual informal way until you really know someone.
I know, as my own children have told me, that is it is more efficient to type the letter "u" than the three letters, "y" "o" "u" but resist that temptation as you start your career or you look for your first job.
Above all else - commit to yourself. Do what makes you happy; be energized by how you spend your time and who you spend it with. You are in charge of your life; you are CEO of your career. Own it. To make a difference in the world; to be the best father, mother, husband, wife, partner, and friend, it starts with you being happy and motivated.
Visa is always looking for unique and talented individuals to be a part of our global team. Our work is mission driven, helping individuals, businesses and economies to thrive. If you're a new graduate looking for your first job or a professional curious about the innovative projects we're tackling that impact billions of people across the globe, check out the opportunities we have here for you.
Find a curated list of opportunities for interns and new college grads at vi.sa/apply.
For a full list of opportunities currently available across the globe go to visa.com/careers.