Millions of fans expected at the Olympic Summer Games Tokyo 2020
Exclusive sponsorship includes commitment to growing digital payments throughout Japan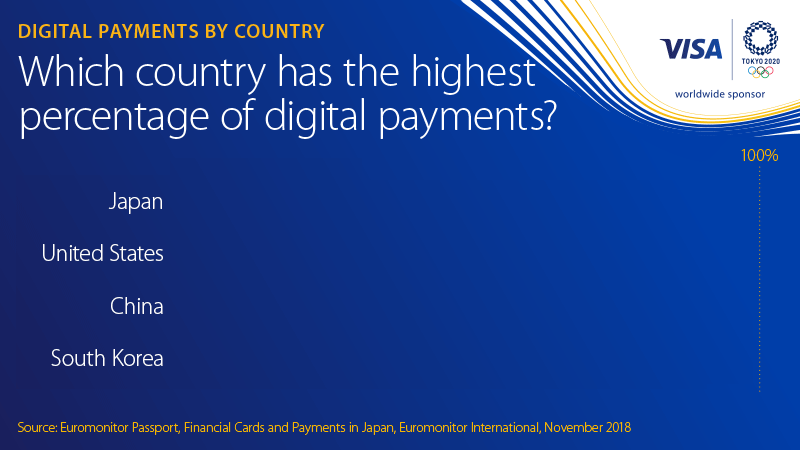 The Olympic Games Tokyo 2020 open exactly one year from today. The international event is estimated to attract visitors to Japan from around the world, with predictions of total arrivals for 2020 as high as 40 million by the government of Japan[1]. 
As the exclusive payment technology sponsor, Visa will implement fast and secure payment experiences throughout the host country's cities, venues, and Olympic Village. But those experiences won't end after the Olympic flame goes out. Visa is also committed to supporting the Japanese government's "Cashless Japan" imperative to increase the country's digital payment ratio to 40 percent [2] by 2025. 
This effort includes working closely with a wide range of merchants to upgrade and enable contactless point-of-sale (POS) prior to the start of Tokyo 2020, working more closely with Japanese fintechs to build and deliver new digital commerce experiences on Visa's payments network and trialing technologies not yet commercially available to lay the groundwork for the future. The opportunity in Japan is significant, given only about one-fifth of all payments in Japan use digital methods. 
_____________________
[1] Japan National Tourism Association, annual data as of Dec 31, 2017
[2] http://www.kantei.go.jp/jp/singi/keizaisaisei/pdf/miraitousi2017_t.pdf