Visa puts fintechs on Fast Track to payments innovation
Visa continues global commitment to fintechs with launch of Fast Track in the U.S. offering resources, access to the power of Visa's network and a first-class partner community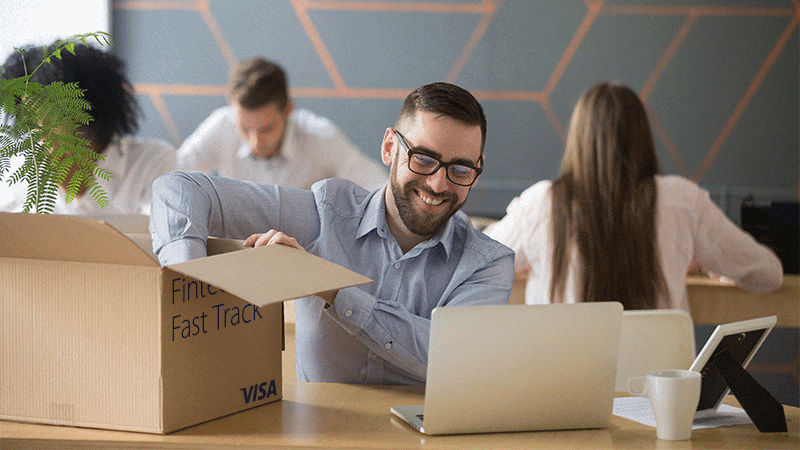 The United States is a massive market for innovating in the space of banking and financial services, with fintech investment in the U.S. more than doubling to $52.5 billion last year alone.
Visa understands that fintechs are a key enabler in leading the charge to transforming the digital payments ecosystem, helping to change the way the world pays, and money moves. It takes strong partnerships across each area of the ecosystem to deliver new user experiences, which is why Visa is committed to continuing to champion the fintech community around the globe, through investment, partnership, and key business priorities. As one of the world's original fintechs, Visa is a natural partner to the community, bringing global scale, a recognizable brand, security, reliability and sophisticated capabilities.
Today, Visa is focused on partnering and investing in fintechs bringing to market new digital payment experiences across a broad spectrum of verticals.
As part of this, Visa is announcing the expansion of its Fast Track program in the U.S., offering fintechs access to resources, expertise, a strong partner community and the security, speed and scale of a global network that will help fintechs grow their businesses.
Why partner with Visa through the Fintech Fast Track program?
Fast Track brings together all the pieces a fintech needs to get up and running, streamlining the process to issue a card or connect to Visa's network in weeks, versus what can sometimes take months to accomplish. Key benefits of the program include:
Access to the Visa Network and Experts: Fintechs have access to a variety of resources, including the reach, capabilities and security that VisaNet offers, thereby helping fintechs scale more quickly. Fast Track provides fintechs with program experts, to help move them through the process quickly and to support them with services like Visa consulting, analytics and design.
Commitment from Leading VC Firms: Last year, venture capital-backed fintechs raised a record $39.6 billion from investors globally, up 120 percent from the previous year.[1] As part of the launch of Fast Track in the U.S., Visa is working with leading venture capital firms to automatically qualify their portfolio companies into the U.S. Fast Track program. Some of these early participating VCs include: Andreessen Horowitz, Nyca Partners, Ribbit Capital and Trinity Ventures.
Path to Strong Partner Community: Fast Track is possible in the United States thanks to collaborations with leading companies who provide services across the payments spectrum—from card issuance, to push payments integration, to Payment Card Industry (PCI) Compliance, as well as Know Your Customer (KYC) and Anti-Money Laundering (AML) support. Visa is launching Fast Track in the U.S. in collaboration with Alloy, BBVA Open Platform, Cross River Bank, Galileo, Green Dot, Marqeta, Netspend (TSYS' Consumer Segment), Stripe, TabaPay, TSYS, Q2, and Very Good Security. Visa DPS will also support certain partners' participation in the program.  
Whether it is changing the way people invest, manage money, receive loans, or send real-time payments to friends and family, fintechs are transforming the global payments ecosystem at a rapid pace and Visa is a big part of this.
Visa's Fast Track program—already available in Europe, Africa, the Middle East, Latin America and Asia Pacific—has successfully helped Visa propel the growth of the fintech industry around the world.
Learn more about Visa's Fast Track program and its strategy to partner with this important and rapidly expanding sector.
____________________
[1] CB Insights: "Fintech Trends Report," 2019