Beyond a resume gap: how opening doors for returners is good for business
The global cultural movement on women's empowerment is gaining momentum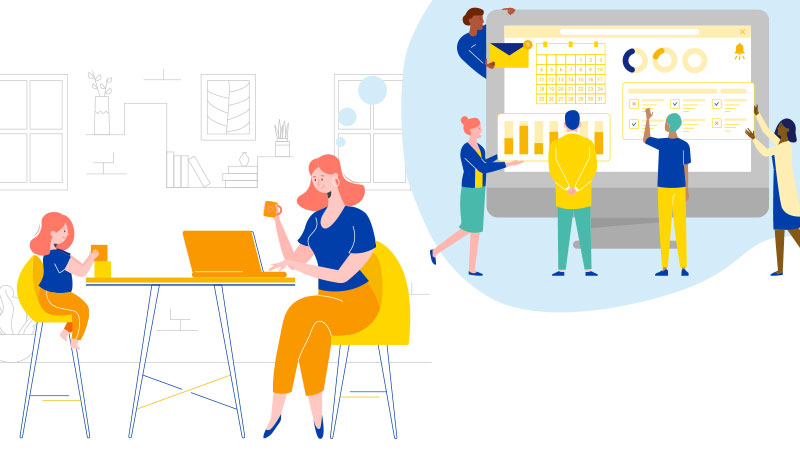 Many women at some point in their careers will make the decision to leave their jobs to step into a caretaking role, whether that's to care for a new baby or support a sick relative or aging parent. Numerous studies tell us that the career penalties that come with caring for loved ones impact women more than men and can have a lasting impact on their future job success and earning potential.
Research indicates that women returning to work after a leave faced career challenges, unconscious biases from colleagues and the decline of professional relationships. Ninety-three percent of women who take a career break say they want to return, but the reality is that only 40 percent go back to full-time jobs[1]. This break away from work has a long-term effect, ranging from social stigmas to issues around the work achievement gap and equal opportunities and inclusion in the workplace. This means women are dealing with being potentially overlooked or misjudged in the recruitment process, are earning less and are performing work without compensation in the form of caring for their families and homes.
But it's not all bad news. Women are taking major strides in changing the narrative around the caretaker penalty and fighting back against silent workplace bias. One of the most important ways women can do this is by sharing their stories. With Visa's "Money is Changing" campaign, you can hear from real women about how they are re-thinking their approach to money—from negotiating a raise to starting a business.
As this global cultural movement on women's empowerment continue to gain momentum, Visa wants to help bring more equality to the workplace. Supporting "returners" is something that isn't just good business, but also good sense. There is tremendous untapped potential that caregivers can bring to the table, having gained valuable experience and skills fulfilling one of the toughest jobs.
Our annual Ready to Return events give "returners" the resources and networking opportunities they need to help get their careers back on track. Our goals for the program are much more ambitious than job placement—we want to shift behavior when it comes to bias, inclusivity, and what we define as talent within an organization. Whether you're taking a big step of returning back to the workforce after an extended time away, starting a new business or reinventing your career path entirely, we want to support women in the wide variety of choices they will make throughout their lifetime. A career, just like our personal lives, is most often not a predictable, linear path but moves in directions we don't anticipate or realize we can go until an opportunity, a mentor or a circumstance brings us to it. We know that when businesses align its values with employee values, it enhances both employee engagement and satisfaction.
For female entrepreneurs who are blazing their own trails toward gender, pay and work equity, we support their endeavors through She's Next, Empowered by Visa, Visa's global initiative to empower women-owned small businesses. We have events coming up in D.C. and LA, where you can hear and learn from other female entrepreneurs to help you grow, sustain, and advance your business.
What motivates me to bring energy and passion to my work each day is that at Visa, we can truly do well by doing good. We have the scale and ability to make it matter globally. We are here to listen and engage in meaningful conversations about gender role expectations and to advocate for new ways of thinking about women at work, at home and in the world. And we will continue to explore ways in which we can empower women in their life choices, whether that is launching their own business or returning to work.
______________________________
[1] According to research published in the Harvard Business review.