She's Next, empowered by Visa Goes Global
Latest event held at World Economic Forum in Africa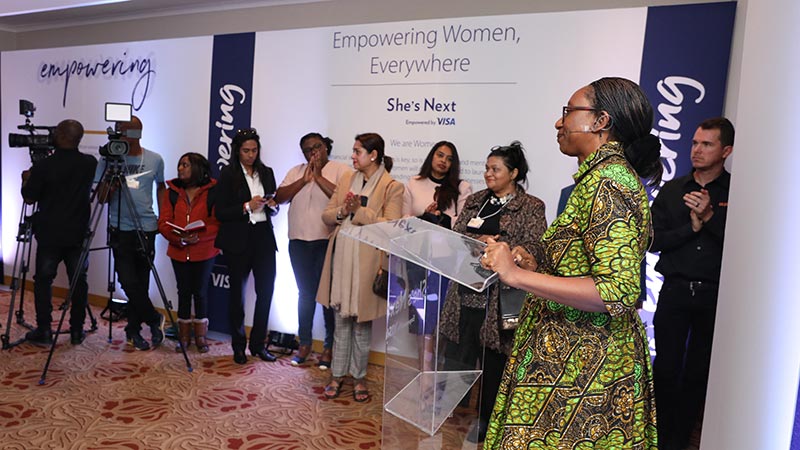 The number of women entrepreneurs is surging worldwide, and nowhere moreso than Africa, where 26% of women start or manage a business.[1] Riding the energy of this global movement, today in Cape Town, Visa proudly launched She's Next, Empowered by Visa in Africa, to encourage female micro- and small-business owners across the continent.
The inaugural global expansion of She's Next, announced at the 28th World Economic Forum on Africa in Cape Town, is part of Visa's ongoing commitment to support female entrepreneurs and help empower them to successfully meet the many challenges that remain as they seek to run, fund and grow their businesses.
I grew up on the continent — my mother was an entrepreneur, so I know the challenges and opportunities firsthand. In emerging markets, 70% of women-business owners are underserved when it comes to financial services. There is a financing gap of about $300 billion per year.[2] At Visa, we are guided by our mission to connect the world through the most innovative, reliable, and secure payments network — a woman selling cloth in Lagos can accept a digital payment with the same trust and security as a family paying for a hotel in Cape Town or London.
Because women typically reinvest up to 90% of their income in the education, health and nutrition of their families and communities — compared to up to 40% for men — investing in women's businesses is one way that Visa can help transform societies.[3]
She's Next in Africa will harness the power of Visa's global brand and network to build awareness of these women entrepreneurs and invest in them to provide them with tools to build their businesses. Launched earlier this year in the U.S. with electric events in New York and Atlanta, participants in Cape Town today got a taste of our signature pop-up experiences with practical tools, resources and insights from top experts in the region and networking opportunities for female entrepreneurs.
Broadcasting live on CNBC Africa, a roundtable panel of experts from Visa, local and national subject matter experts and partners explored how today's sweeping technology changes are shaking up business models and creating unprecedented opportunities and challenges for small businesses, especially for the rising legions of female entrepreneurs.  
The powerhouse panel included Arancha Gonzalez Laya, Co-Chair of the 28th WEF on Africa and Executive Director of the International Trade Centre; South Africa Minister of Communications Stella Ndabeni-Abrahams; and entrepreneur Monique Ntumngia from Cameroon, founder of The Green Girls Organization, which trains women and girls in African rural communities to generate energy from the sun and waste. Ntumngia was the social impact challenge winner in the Visa Everywhere Initiative: Women's Global Edition, which invites women entrepreneurs to tackle big FinTech and Social Impact challenges.
Joining them was my colleague Aida Diarra, Visa's Senior Vice President and Group Country Manager for Sub-Saharan Africa, whose team is spearheading our efforts with She's Next, Empowered by Visa in Africa.
Empowering Women and Entrepreneurs
My recent travels across the continent reconfirmed the importance of our mission to help businesses, consumers and economies thrive – by sustaining the role of female entrepreneurs. The She's Next, Empowered by Visa in Africa initiative continues the success of Visa-supported programs focusing on small business and female entrepreneurship globally that speak to our brand and business mission to strive to make a difference in the world.
In the U.K., our Great British High Street Awards recognize and celebrate achievements on the UK's high streets and support local communities. Our expanded commitment to women's soccer has resulted in a platform that supports and inspires athletes on and off the field amidst the global gender equality movement.
We celebrate every woman's success through our Money is Changing marketing campaign highlighting a diverse spectrum of women and the practical steps they have taken to challenge existing money taboos.
Looking ahead, She's Next, Empowered by Visa will again join forces with fashion designer Rebecca Minkoff's Female Founder Collective for events in September in Los Angeles and Washington, D.C.
In D.C., we'll enlist key lawmakers, policy experts and other influential leaders in our signature high-octane bootcamp as attendees gain tips, advice and key learnings for running a company that would otherwise be out of reach.
Learn more about what's next for She's Next, Empowered by Visa. 
________________________
[1] https://www.gemconsortium.org/report/gem-20162017-womens-entrepreneurship-report
[2] https://www.ifc.org/wps/wcm/connect/news_ext_content/ifc_external_corporate_site/news+and+events/news/bridging-gender-gap