What's next for She's Next, Empowered by Visa
From budgeting to accounting to hiring, new Practical Business Skills portal is latest resource for small business owners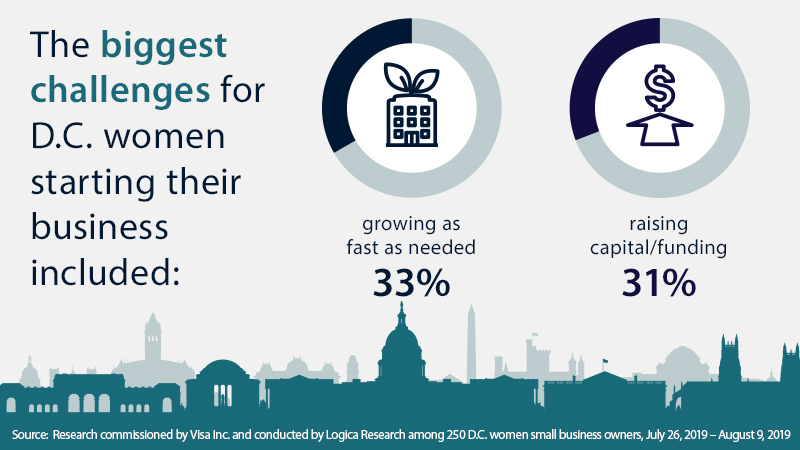 The rate of women starting their own businesses has increased by 15.4 percent in the last three years[1], yet female entrepreneurs continue to face more challenges than their male counterparts, especially when it comes to raising capital. Nearly three-quarters of women starting their own businesses reported difficulty in securing financing while more than 60 percent said they were self-funded in a survey commissioned by Visa.
She's Next, Empowered by Visa, which launched in January 2019, is an effort to support and champion women business owners as they build, sustain and advance their businesses. The initiative connects female founders with industry experts who can help them with the knowledge and tools to grow their business through funding, lending, personal development and marketing.
She's Next workshops have already taken place in New York, Los Angeles, Atlanta and Cape Town, South Africa. Today, the She's Next initiative landed in Washington D.C., where hundreds of female entrepreneurs engaged in workshops about building their brand, money management, payments technology and the fundamentals of leadership. 
To support these female founders — and small businesses more broadly — today Visa also launched Practical Business Skills, a one-stop portal with free educational resources and interactive tools (in English and Spanish) to help business owners start, manage and grow their businesses. The new program is focused on helping micro and small businesses thrive at every stage of their journey so they can better manage their money and make confident, informed business decisions.
Small business owners are essential to global economies, fueling job creation, innovation and diversity and inclusion. Visa's mission is to help them propel their businesses forward with programs like She's Next, educational resources like Practical Business Skills and expense management and payments tools like Visa Business Reporting, which helps small businesses improve cash flow and Global Loyalty & Offers Solutions, which help small businesses attract and engage customers for the long-term.
For more information about the She's Next, Empowered by Visa initiative, and to download resources, gain customer insights and subscribe to the global network, visit visa.com/shesnext. For more information on Practical Business Skills, visit www.practicalbusinessskills.com. 

_________________________________________
[1] State of Entrepreneurship 2019, Kauffman Foundation