Small-but-mighty teams can make a global impact
Technologist Kristina Mariscal discusses the value of diversity, mentorship and creative problem-solving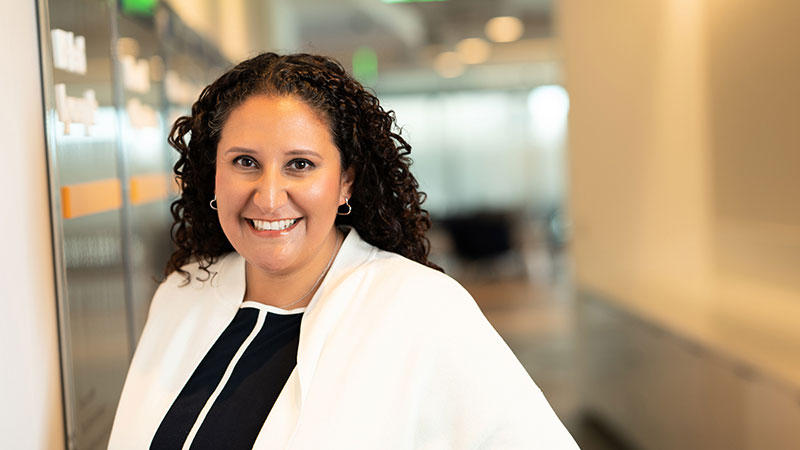 When Kristina Mariscal first heard from a friend about opportunities in tech at Visa, she was confused. "Visa is a tech company?" Although she had worked in technology in the San Francisco Bay Area for years, she was not familiar with Visa's mission to connect the world through the most innovative, reliable and secure digital payment network. As she learned more, Kristina found more to be surprised about, and discovered something important about herself.
What do you get to do at Visa?
I work in our Corporate IT group leading the Executive Support and Global Wireless teams. We provide technology support for Visa's senior executives and mobile services for people across the company.
What surprised you most when you joined?
The size of our workforce is much smaller than I thought. Visa is one of the world's most recognizable brands. Billions of payment devices use our technology across the globe. Other global tech companies like us might have hundreds of thousands of people working there, but Visa has under 20,000 employees. I was able to get connected to the right people soon after I joined, which helped me get up to speed and start making an impact quickly.
What first made you curious about technology?
It wasn't "what." It was "who." My mom worked on mainframe computer systems for a large bank. We had computers in the house and I was always tinkering. As a kid, I never appreciated what a trailblazer she was in her field. She was an immigrant, self-taught and has an incredible work ethic. She taught me how to overcome obstacles.
How does your perspective influence the way you approach your job?
I'm a woman of color, a Latina in tech and unfortunately there just aren't many of us – just 2 percent of the tech workforce.* At Visa, it's never felt like a barrier. My perspective is valued and respected here, and I've discovered how powerful it can be to share it.
I'm focused on building diverse and inclusive teams because I've seen the impact that has on our ability to succeed. People come to us when they're frustrated and need help, so it's our responsibility to be exceptional in what we do to fix the problem as well as how we respond. The most successful people in this field don't get there just by being smart and having great ideas. The top performers can work with a variety of people and use different perspectives to resolve issues.
Kristina and members of her Executive Support team in San Francisco, California
What do you like most about working at Visa?
The whole company is moving in the right direction of thinking globally and acting locally, and we get to apply that approach to our work in Corporate IT as well. Visa's workforce is small compared to other big tech companies, but we have people all around the world. My teams need to be flexible in how we provide service. Connecting with people internationally during their working hours is the easy part. Are they using our technology differently than in other parts of the world? Are they connecting from remote locations where they may not have sufficient bandwidth? Are there cultural nuances to consider as we partner with them to solve the issue? Everyone needs to have an open mind to provide exceptional support to our customers.
What advice do you give to other women of color in technology?
Surround yourself with people that believe in you and remind you that you belong. I've had some incredible mentors, leaders and role models in my life. I recognize how important mentorship and sponsorship has been in helping me develop, especially when it came from other women. These people are family members, bosses, friends, and when things get hard the lessons they've taught you will kick in. Be sure to continue the cycle – be that mentor and sponsor for those just starting out. This is how we can increase representation and help others be successful.
You have options in where you work, so pick a place where you feel good about what you're contributing to. It's always nice when your personal beliefs align to the work that you do, and that's something I find special about Visa. We're ethical and our leadership team takes a stand on issues that are important to me, so it's easy to give my best at work every day.
* Latinas made up 2 percent of the computing workforce in 2018 according to the National Center for Women and Information Technology. 2 percent of Latinas held science and engineering positions in 2015 according to the National Science Foundation.