Holiday sales season looks merry and bright
U.S. consumers, especially millennials, plan to spend more on gifts this year than last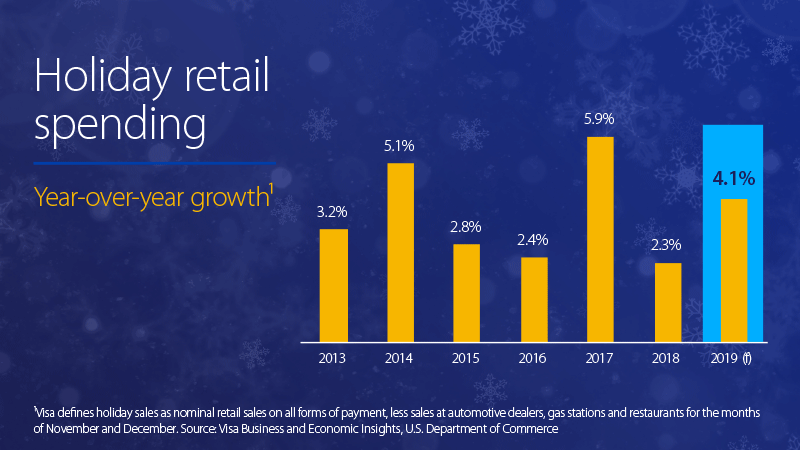 Wrapping up a solid year for consumer spending is a new forecast from Visa Business & Economic Insightsthat suggests U.S. holiday spending* will grow 4.1 percent (YoY) on all forms of payment. (The expected growth reflects an acceleration from the 2.3 percent gain in 2018.)
Consumers, in fact, report that they expect to spend $618 on average for gifts, up from $608 last year according to Visa and Prosper Analytics survey data.
View the text version
Despite slowing growth in the job market, holiday spending tailwinds can be attributed to modest inflation and average hourly earnings rising 1.9 percent from last year. After-tax income growth is also up three percent over last year's levels and fewer consumers are reporting that they expect income growth to slow.
Still, some factors could shift this confidence, including a government shutdown around the holidays and exacerbated trade tensions.
View the text version
Thanksgiving weekend is revving up to be one of the strongest in years, barring those events. Sixty percent of holiday shoppers reported that they plan to shop on Thanksgiving Day, Black Friday or Cyber Monday, a significant jump from 51 percent back in 2013.
Online shopping could also get a boost this holiday season, especially from millennial shoppers. Those under 35 were twice as likely as consumers aged 35-54 and three times as likely as consumers 55+ to say they will spend more on holiday gifts this year than last year. Roughly half of this group will do the majority of their holiday spending online.
View the text version
Get more on U.S. holiday spending by downloading the full report from Visa Business Economic Insights.
*Visa defines holiday sales as nominal retail sales on all forms of payment, less sales at automotive dealers, gas stations and restaurants for the months of November and December.