Got a small business? Visa can help
Check out this list of nine resources to start and grow your business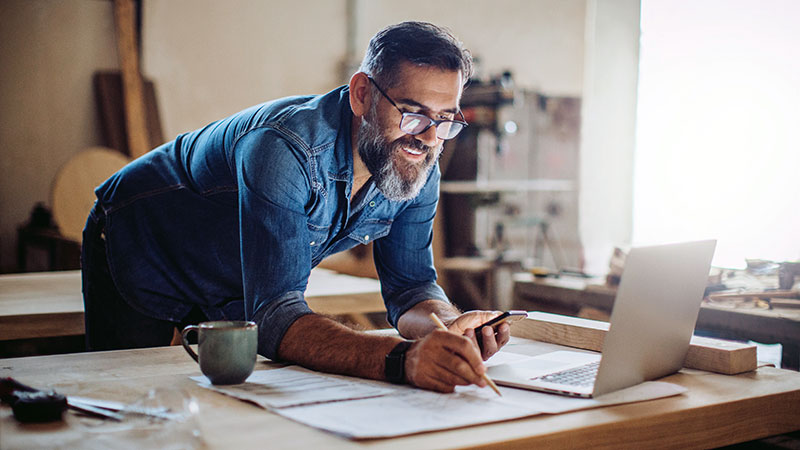 More than 30 million small and medium-sized businesses (SMBs) in America employ 47.5 percent of the private workforce[1],making them a crucial segment of local economies around the globe. Whether you are starting your first business or expanding one you've had for years, read on for nine resources that can help you do everything from accepting payments to growing your customer base to getting discounts.
1. Gain VIP benefits with the Visa Infinite Card: Visa recently expanded our business card product suite to support the growing number of small businesses in the United States. Visa Infinite Business is a premium product that addresses specific challenges and needs of SMBs to help protect their business, earn and redeem travel perks and enjoy enhanced everyday services. The new Visa Infinite card portfolio provides high-spend SMBs in the U.S. with travel and purchase protection (on rental cars, for example), travel and lifestyle benefits (VIP discounts on hotels and air, for example) and other business-centric benefits.
2. Earn up to $600 annually in Yelp advertising credits: Nearly 40 percent of small business owners report that expanding advertising to attract and retain customers is a top challenge, according to Visa research. If you enroll in a special offer with Yelp and spend a minimum of $150 on monthly Yelp advertising using your enrolled Visa business card you can earn $50 per month in extra ad credits that you can use on the Yelp platform (up to $600 annually). Given that Yelp is already used by hundreds of thousands of U.S. small businesses[2], that $600 could go a long way to help you build revenue. Click here for offer terms.
3. Make the most of merchant discounts: Growing a small business can mean spending on lodging, fuel, office hardware, catering and more. Visa SavingsEdge provides enrolled Visa business cardholders access to savings on qualifying business purchases made on an enrolled Visa business card at participating merchants. Enrollment is free and no coupons or codes are required to earn savings since they are applied as credits on future statements.
4. Engage with your customers in unique ways: Visa Commerce Network gives SMBs a way to create new experiences for their customers to help grow sales and build loyalty. Visa Commerce Network connects the transactional dots between a Visa cardholder and their purchases at participating local merchants. For example, Uber and Visa Commerce Network have partnered to reward Uber riders, specifically those that have enrolled their Visa cards into the Visa Local Offers program within the Uber app, when they shop at participating local merchants. Additionally with Visa Local Offers, enrolled Visa cardholders can get rewarded for spending. When making purchases online or in person at participating stores and restaurants with an eligible Visa card on their Uber account, they can earn Uber Cash.
5. Accept digital payments with Authorize.net: Get up and running fast with Visa's award-winning payment solution. Accept credit cards, contactless payments and e-checks in person and on the go; they're all backed by Visa's industry-leading security and fraud detection tools. There's convenient 24/7 support to help you along the way, too. Learn more about the features and benefits of Authorize.net.
6. Pay and be paid faster: Visa Direct allows secure and convenient real-time[3] payments delivered directly to the recipient's financial account using card credentials. Stripe's Instant Payouts feature uses Visa Direct to help small businesses send money in real-time to employees, contractors and service providers for wages, expenses and other payments. Learn more.
7. Future-proof your business: Contactless payments can vastly improve your customers' checkout experience. More consumers are choosing to tap to pay for the convenience, speed and security (contactless technology uses the same EMV security as chip cards[4]). Learn how small business owners can benefit from this rapidly growing technology.
8. Track your business expenses the easy way: Visa Business Reporting is a simple yet powerful desktop and mobile tool to help access and track your business card transaction data. You can manage your cash flow more efficiently by monitoring expenses and track spending on your computer or download the mobile app.
9. Access financial tools through She's Next, Empowered by Visa: Nearly three-quarters of women starting businesses report difficulty in obtaining financing and more than 60 percent say they are self-funded, according to a state of female entrepreneurship study commissioned by Visa. She's Next is a global initiative to support and champion women in their efforts to run, fund and grow their small businesses. Entrepreneurs can join business leaders at local events to help solve business challenges like lending and funding financial tools, legal questions, social strategies, recruiting and services like public relations and digital marketing. Sign up here to learn more about upcoming events in your area.
_________________________________________
[1] U.S. Small Business Administration
[2] FitSmallBusiness
[3] Actual fund availability depends on receiving financial institution and region. Visa requires fast-funds enabled issuers to make funds available to their recipient cardholders within a maximum of 30 minutes of approving the transaction.
[4] AT Kearney