7 ways to shop safer this holiday season
Digital commerce is booming — even for the bad guys. Avoid holiday scams with Visa's safe shopping tips.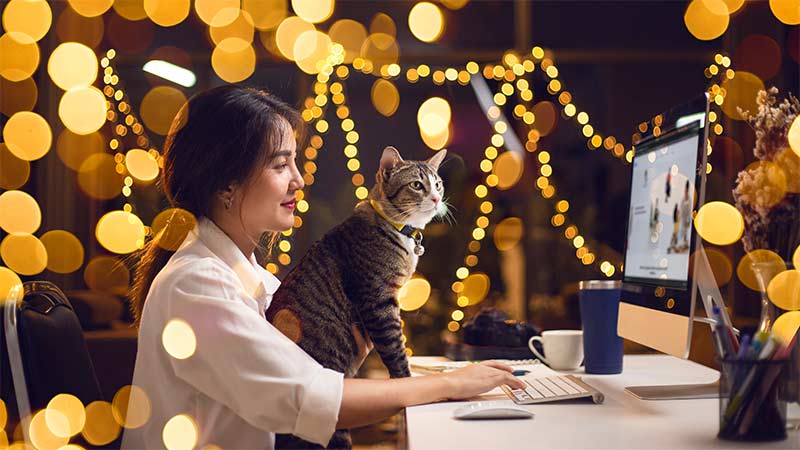 Finding the perfect gift can bring a spark of joy emblematic of the season. Falling victim to scams and fraud while shopping for that perfect gift can spark exactly the opposite. As more shoppers shift to digital payments, cyber criminals are finding more sophisticated ways to outsmart even the savviest consumer. Whether you're tapping and clicking to pay in person, relying on ecommerce, or ordering online for in-store pickup, taking precautions to shop safely in-store and online is as important as ever.
1. Become fluent in fraudulese.
Recognizing common words and phrases that scammers use to trick you into sharing your private information, such as an account number (otherwise known as phishing scams), can help you spot fraud before it happens. "Winning," "Free Gift," "Exclusive Deal," and "Act Now" are among the top language traps cited in Visa's Fraudulese: The Language of Scams report.
2. Check for authenticity.
According to Visa's Fraudulese report, nearly half of consumers are confident they can recognize a scam, yet 73 percent are likely to fall for one. More than 4 in 5 (81%) check the wrong details to determine the authenticity of an email, focusing on features scammers can easily fake like a company's name or logo. It's important to also check for an order number, an account number, and personalization, and whether the email comes from a valid address.
3. Pay securely online.
When shopping online, always check the URL to ensure it begins with "https". The "s" at the end confirms a secure connection. Setting up Click to Pay with Visa, too, adds an extra layer of protection. Visa uses advanced technologies and multiple layers of payment security to help protect your card against unauthorized use.
4. Pay securely in-app.
Use a strong password unique to each account or better yet, switch to fingerprint or facial recognition for account login and payments.
5. Pay securely in-store.
Use a payment card with a chip or contactless symbol on it, or a mobile wallet to protect your card data from being stolen in case of a data breach.
6. Update system and application software.
Install the latest software before shopping on your computer, tablet or phone. Staying up to date helps patch known vulnerabilities.
7. Turn on purchase alerts.
Receive near real-time notifications of transactions on your account to help confirm legitimate purchases and alert you to potential fraud.
---
As always, cardholders are protected by Visa's Zero Liability Policy — so you won't be held responsible for unauthorized charges processed by Visa.1
And if something you ordered doesn't arrive when it should, is the wrong item, or falls short of expected quality, cardholders can request credit back into their payment account. To request credit, follow these simple steps:
Contact the merchant as soon as possible to determine the status — if a new delivery date is acceptable or if an exchange can be made.
If not, you have the right to request a credit back to your payment account from the merchant.
If you don't receive a credit back from the merchant, contact your card-issuing financial institution as soon as possible to file a dispute claim, which starts the credit back process through your card issuer.
Life can be unpredictable. Keep the holidays bright and avoid the hassle of a fraud this shopping season with these safety tips from Visa.
---
To learn more about the language of scams, check out Visa's Fraudulese: The Language of Scams report.
---
To learn more about how Visa protects payments, visit our Security page.
1 Visa's Zero Liability Policy does not apply to certain commercial card and anonymous prepaid card transactions or transactions not processed by Visa. Cardholders must use care in protecting their card and notify their issuing financial institution immediately of any unauthorized use. Contact your issuer for more detail.