Discussion from Davos: working for positive change for women, everywhere
Female entrepreneurs are 250 million strong and growing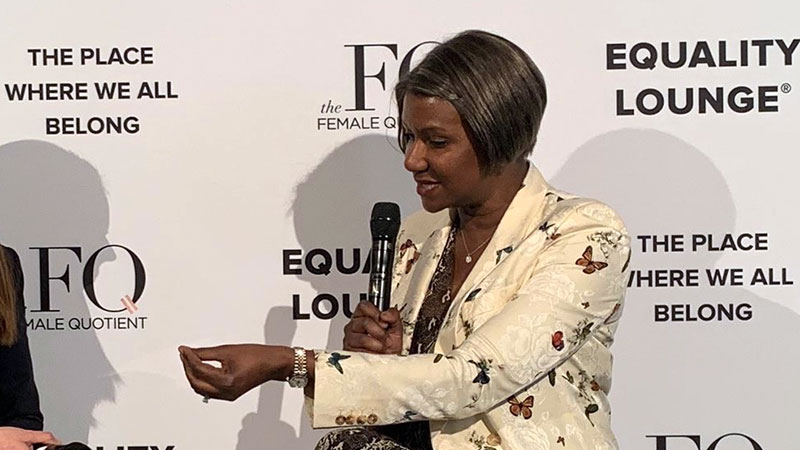 Visa's Suzan Kereere, SVP and global head of merchant sales and acquiring, joined other global leaders in Davos, Switzerland last week to discuss ways in which companies can narrow the gender gap and accelerate progress towards a more inclusive world. As the official sponsor of the Equality Lounge @ Davos 2020, Visa hosted panel discussions in partnership with The Female Quotient, a global organization dedicated to women's equality.
In her panel "The power of female sports for impact and driving change," Kereere discussed shifting the paradigm of how brands support the development and programming of women's sports. Our five-year partnership with the U.S. Soccer Federation (USSF) ensures focus on the U.S. Women's National Team and women's soccer programming and marketing initiatives.
On the "Women empowering economies around the globe" panel, Kereere discussed the barriers faced for small business owners to achieve funding and grow.
"Context is important," she said. "Women make up half the world's population, yet today they contribute just over a third of global GDP. There is a clear opportunity here, especially with female entrepreneurs… access to adequate financing is one of the key barriers women face when starting their own businesses."
But the good news is that female entrepreneurship is on the rise. Kereere called out that there are a quarter billion female entrepreneurs around the world and six in ten of them are self-financing their way to growth. "They are bootstrapping their way into business," she said.
Achieving equal pay and empowering entrepreneurship
Visa's women empowerment initiatives combine the power of our brand, our business and our network to help narrow the gap. Visa signed the White House's Equal Pay Pledge to help close the U.S. gender wage gap, and has been working towards achieving pay equality for male and female employees globally. Visa also helped form Employers for Pay Equity to implement best practices that address equal pay barriers, including unconscious bias in hiring and promotion decisions.
The World Bank reports a staggering $300 billion annual credit deficit for women-owned small and medium-sized businesses. She's Next, Empowered by Visa provides education, tools and services to female founders to help their businesses, and the communities in which they operate, thrive. The Visa Foundation also supports this work through a $20 million grant to Women's World Banking.
At the core of Visa's mission is a commitment to powering an inclusive digital economy, working to connect the world through the most innovative, reliable and secure payments network. Visa's women empowerment initiatives help to elevate the company as a world-class organization in support of a brighter future for women, and we're just getting started.
Read more about Visa's work to support women in business and payments and check out these recent accolades highlighting our efforts to lead inclusivity in business.