What do 8,000 consumers in 22 countries think about the future of payments?
From biometrics to neobanks, Visa report explores how people like to pay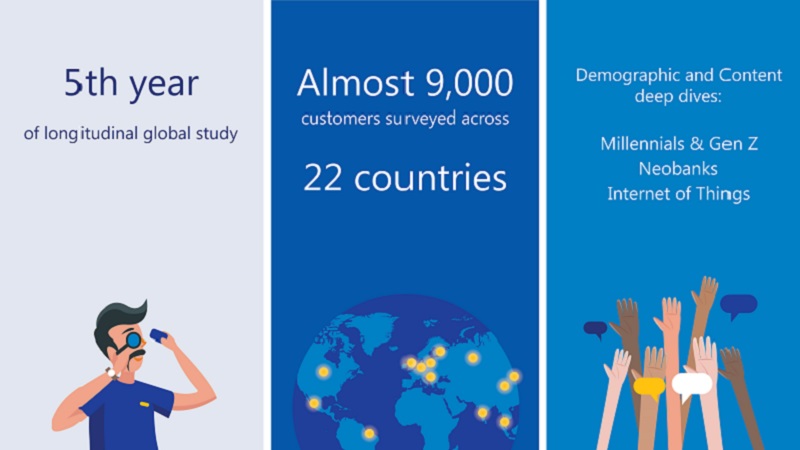 Consumers have an abundance of options when it comes to choosing how they want to pay and be paid thanks to the digital payment revolution. A new study shows that consumers--especially younger generations--are eager to use  "what's next" in payments technology, they are not adopting tech for tech's sake. Instead, Visa's new study found respondents are choosing personalized payment experiences they trust, solve an unmet need, and ultimately simplify their lives.
The fifth annual Global Commerce Unbound Report (GCU) was released today and studied more than 8,000 consumers in 22 countries to understand consumer payment behaviors, trends, and payment maturity versus innovation readiness. The results show the path to consumer-centric payments is not a linear path and differ greatly across geographies and generations.
Key findings:
Banking is changing: 77% of global respondents are interested in a neobank (digital bank). While banking apps have been around for years, 2019 was the first time Americans preferred in-app banking over in-branch baking.

Despite this, U.S. respondents had 39% lower awareness of neobanks, and 30% less interest in this new banking model compared to the global average
 

Consumer interest at the core: 51% of respondents' payment choice drivers were about human-centered needs, from control and convenience to simplicity and personalization

Showing the need for control, Gen Z use of debit has increased by 39% since 2017.
The use of mobile and desktop payments is on the rise both globally and in the U.S.
 

Payment maturity versus innovation readiness creates unmet demand:

Chile, Mexico, and Japan reported the greatest unmet demand. While the appetite for payment innovation technology is at parity with payment maturity in countries like Canada and the United Kingdom
Usage of traditional card-based payment methods is highest in India, China, Kenya, and Singapore
 

Interest in Internet of Things remains high globally:

46% interested in tap to pay for transportation
42% want to pay for things without leaving their car
41% hope to pay at retail with biometrics
 

QR codes and mobile app payments usage is high- cash is declining:

Millennial usage of QR codes and mobile app payments increased by 60%
Gen Z usage of QR codes has increased by 75% and mobile app payments by 50%
Globally, Both Gen Z and Millennials have reduced cash usage by roughly 14% percent
Based on the findings, the 'one size fits all' approach no longer applies. Businesses must be nimble enough to navigate the different payment preferences by market and demographic to remain competitive. For more detail on US findings, please see the full report. Register here for Visa's Global Commerce Unbound webinars February 25th, which are available to clients and employees to learn more about this study.