Access to financial services is needed for underserved communities
Visa and Filene Research Institute partner to help the financially underserved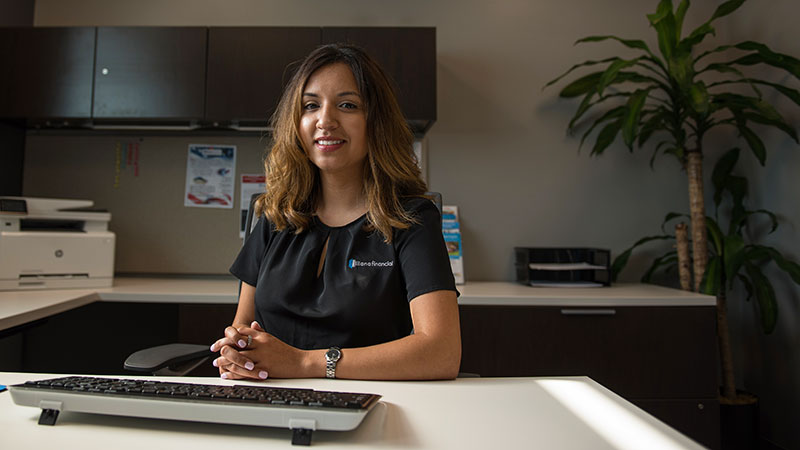 Download research from Visa, the Filene Research Institute and 40+ credit unions offering new insight into serving the financially underserved.
When I met Magdalena in Chicago, Illinois, she told me how she had achieved the American Dream to buy a house. After immigrating to the United States, she realized that the hurdles she encountered in reaching home ownership were ultimately due to her only having an Individual Taxpayer Identification Number (ITIN) and no credit history.
Magdalena's experience is unfortunately not unique. Even during this time of economic growth, many Americans are financially struggling, particularly individuals from communities of color who face systemic barriers to accessing financial services and credit that are critical to their well-being. These barriers are particularly pervasive in opportunities to establish good credit history, which is key to affordable credit.
A 2015 report from the Consumer Financial Protection Bureau[i] notes about 11 percent of the U.S. population was "credit invisible," and another 8.3 percent was effectively "unscorable" due to a lack of credit history. Black and Latino/a borrowers are more likely to have trouble accessing credit due to an "unscoreable" credit record or no record at all: 15 percent of Black and Latino/a individuals were credit invisible, and 13 percent of Black and 12 percent of Latino/a were 'unscoreable.' In low-income neighborhoods, credit invisibility rises to nearly 30 percent among adults compared to only 4 percent in high-income areas.
To help address these economic inequities, Visa partnered with Filene Research Institute and more than 40 credit unions in 2015 on the Reaching Minority Households (RMH) Incubator to identify, test and scale programs that more effectively reach and support financially vulnerable households and communities of color in the United States.
Today, the collaboration released new qualitative research, a project I had the opportunity to lead, which follows 20 participants, including Magdalena, over the course of 14 months to learn more about their experiences and engagement with one of three RMH programs in select credit unions: ITIN lending, and two small-dollar programs - Payday Payoff and QCash.
Magdalena represents one of more than 18,000 households who benefitted from the RMH program through her credit union. Family members suggested Magdalena look into Illiana Credit Union to help build her credit. Through Illiana, she was able to get a credit card, a series of ITIN personal loans, a truck loan, and critical advice she needed in order to improve her credit score and qualify for a home mortgage loan.
"I needed to start building my credit history. I wanted to do that so I could buy my house. [A staff member at Illiana] told me that in addition to the credit card, they could do a personal loan for me … They helped me out of a tight spot without having to pay so much interest."
As Magdalena's story reflects, the new research, Pathways to Financial Well-being: Qualitative Findings from the Reaching Minority Households Incubator, finds that with focus and intention, financial institutions can improve access to affordable financial services and build a sense of security, capability and resilience for their most financially vulnerable clients.
To aid these institutions in designing products and support services for consumers in need, the research also introduces a Pathways to Financial Well-being model which includes: Stability and Security; Access to Financial Services; Knowledge and Confidence; and Planning and Decision-Making.
The path forward for financial institutions is to reimagine their role as a service provider, coach and advocate to change lives in the communities they serve. The most effective financial inclusion programs consider the motivations of individual decision-making and incorporate institutional interventions to address the complex dimensions of financial vulnerability to ensure more long-term success.  
Today, Magdalena finds herself in a good financial state where she can start on the pathway to citizenship, attributing her success to her credit union and their support. Magdalena always paid her loans on time and often put a little extra money towards her principal so she could pay them off faster. Once she had built up a strong credit history, she was able to qualify for a mortgage from another financial institution to buy her home and achieve her dream.
According to Magdalena, consumers should "live life according to your priorities." She is also optimistic about her future: "I've paid off 90 percent of my debt. I'm going to continue on that; keep paying on them. Then after immigration [fees] and debts are paid, we're moving to another state, so I've got to start preparing for that ... We're looking forward to being able to go to a new place to see what kind of jobs we can look for…Do you know if there's another place like Illiana there?"
We hope that more financial institutions empower themselves and broaden the scope of how they serve people through actionable-empathy, so individuals like Magdalena have the support needed to follow their dreams.
About Denali Dasgupta
Denali is the Director of Data Strategies at Thrive Chicago. Her experience includes mixed-methods research, policy, and advocacy positions in the non-profit, research, and government sectors as well as service as a volunteer income tax preparer and financial educator.  She holds a B.A. in Linguistics from Yale University and a Master of Urban Planning from the Robert F. Wagner School of Public Service at New York University.  
[i] https://www.consumerfinance.gov/about-us/blog/who-are-credit-invisible/