Merchants and consumers turn to tap to pay as part of new daily routines
Contactless payments deliver safe and secure solution during COVID-19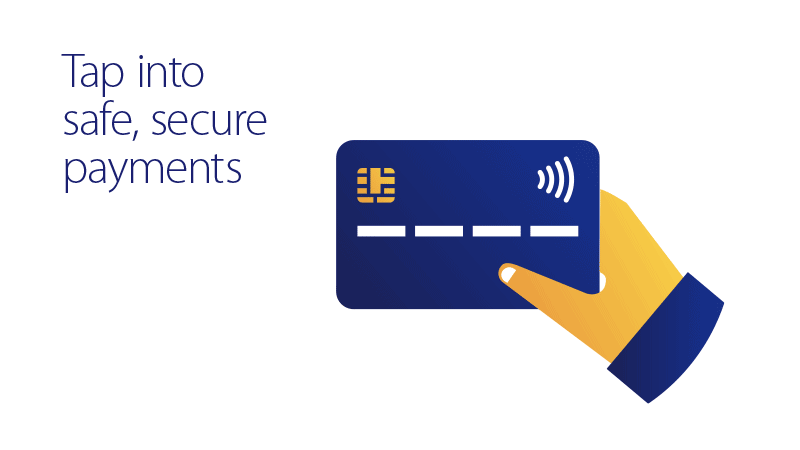 The COVID-19 pandemic has created unprecedented challenges for how we live. More than
a third of the world population
is under some form of "shelter-at-home" directive to help slow the spread of the coronavirus. While these measures and "social distancing" practices have reshaped much of daily life, businesses providing essential goods and services - like grocery stores, pharmacies, banks and others - need to stay open to support their communities. Now more than ever, merchants are looking to serve their customers safely.
Visa is committed to delivering safe, secure and reliable payment solutions that
meet the needs of merchants and their customers
. Contactless payments, or tapping to pay with a contactless card or mobile device, are fast becoming the preferred way to pay globally with nearly 60 percent of Visa transactions outside of the U.S. occurring with a tap.
Tapping to pay
enables a safe and secure experience without the need for customers to touch the checkout terminal. Not only is tapping to pay a safe and reliable solution, it is a secure one as contactless transactions are secured with dynamic EMV® Chip security technology that has
already proven to drastically reduce counterfeit fraud
.
While the full impact of COVID-19 on tap to pay adoption across the world is yet to be fully seen, early indications highlight a shift in consumer spend toward every day, essential segments where contactless usage is high such as grocery and pharmacy. In the U.S., this is leading to increasing awareness and usage among consumers who are looking to limit interaction during checkout during this time. Tap to pay transactions in everyday segments in the U.S. including grocery and pharmacy has grown more than 100% year over year. 31 million Americans tapped a Visa contactless card or digital wallet in March 2020, up from 25 million in November, with overall contactless usage in the U.S. growing 150% since March 2019. The U.S. now has the most contactless cards of any market globally at 175 million, with nine of the top ten U.S. issuers actively rolling out new contactless cards to customers. U.S. consumers have been quick to adopt these new cards; not only do more consumers have cards, they are using them regularly as contactless card transaction growth continues to accelerate.

Expanding tap to pay around the world


Visa has worked with payments industry partners and governments to support
raising contactless payments limits in markets around the world
that require cardholder verification on tap to pay transactions. More than 50 markets across Europe, the Middle East, Africa and in Canada have taken the important step to help more individuals utilize this safe and reliable way to pay. For example, in the UK alone in the first three weeks of April with the new increased contactless limit, we have seen an approximately 50% reduction in the number of times Visa cardholders needed to touch a checkout terminal to complete their transaction.

Delivering resources and best practices for the point-of-sale


Visa has developed new signage and collateral for merchants who have enabled a tap to pay checkout and are interested in raising awareness for how to pay this way with their customers. These materials are available at no cost for interested merchants
here,
in addition to best practice guides and educational resources for staff. Many merchants in the U.S., such as Pizza Hut, Southeastern Grocers, Subway, Walgreens and Whole Foods, have already implemented tap to pay best practices at checkout.
Merchants in the U.S. have the choice
to support a tap to pay experience without the need to capture a signature, which helps further limit physical interaction the checkout terminal. In fact, 90 of the top 100 tap to pay enabled merchants in the U.S. have already removed signatures.
As the impact of COVID-19 continues to reshape much of daily life and business, Visa remains committed to our core mission to connect the world to enable individuals, businesses and economies to thrive. Safe and secure payments at the point of sale will remain a key focus as we support the merchants who keep our communities going during this challenging period – and will continue to do so as our world gets moving again.