COVID-19 response update
Building on our commitments to our clients, communities and the global payments ecosystem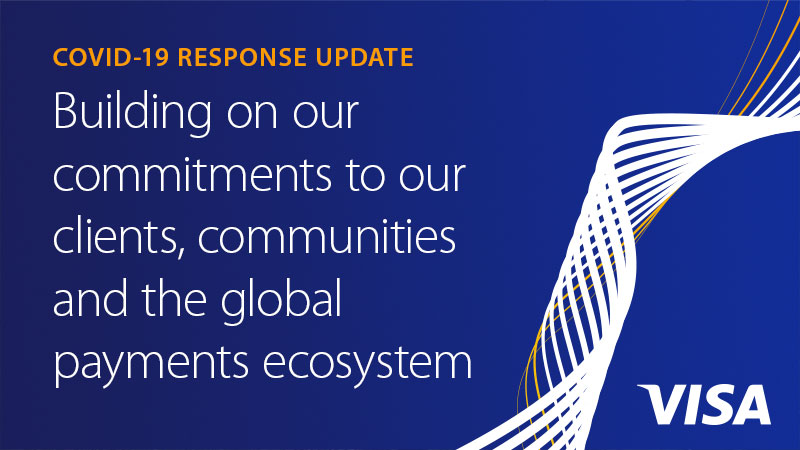 At Visa, we remain steadfast in our commitments to employees, clients and communities as the COVID-19 pandemic continues to impact our world in unprecedented ways. Over the past few months, it has become increasingly clear that our ability to enable money to move safely and seamlessly between consumers, businesses, financial institutions and governments is critical to containing the impact of the current crisis and supporting the global economic recovery.
In order to accelerate this critical support, we've instituted new actions in the U.S. which build on our numerous existing efforts, to enable individuals, businesses and economies to thrive. 
Bringing stability and minimizing disruption to the payments ecosystem
We will further delay previously announced U.S. interchange and fee changes for a year to April 2021. The exception is the planned interchange reductions in the supermarket segment will go forward. We believe this is the right decision to ensure the long-term stability of the digital payments ecosystem
We are also further delaying the date for gas station owners in the U.S. to upgrade their payment terminals to take EMV chip and contactless payments to April 2021. While we continue to believe EMV is the best way to decrease fraud, we recognize the supply chain and staffing challenges that are impacting the ability for gas station owners to complete the upgrade at this time.
Expanding efforts to help manage the increase of disputes  
As the COVID-19 pandemic continues to unfold, normal commerce has been significantly altered – with travel being interrupted and most events being cancelled all together. As a result, we have seen an increase in "disputed charges" between consumers, financial institutions and businesses, along with many merchants providing credits back to their customers' Visa cards.
To help support our clients, we are waiving COVID-related dispute fees. These fee limits build on our existing efforts to help the ecosystem manage the influx of disputes, including our COVID-19 Dispute Monitoring Program. Through Verifi, a Visa Solution, we continue to deploy new product functionality to help alleviate the strain of the increase of disputes on impacted merchants. 
Continuing to provide products and solutions that help businesses survive and thrive
We continue to leverage our scale and network combined with our existing products, payment solutions and expertise to help businesses find new paths in an increasingly digital-first and remote world.
Visa Prepaid products offer a secure and convenient way to access funds quickly and remotely. In the U.S., Visa supports more than two dozen state government programs, where unemployment insurance benefits are distributed through Visa Prepaid debit cards.
Tapping to pay with a contactless card or digital wallet remains among the safest and most secure ways to pay in-person at a physical checkout. Visa has developed new signage and collateral for merchants who are interested in raising awareness with their customers. Many merchants in the U.S., such as Pizza Hut, Subway, Walgreens and Whole Foods, have already implemented tap to pay best practices at checkout.  
We continue to help small and micro businesses get online faster by waiving monthly fees through June 1, 2020 for new clients who utilize our e-commerce gateway, Authorize.net. Additionally, Visa Direct continues to be a powerful, real-time payment solution helping small and micro businesses send and receive money quicker.
We are seeing that fraudsters are using COVID-19 as a way to lure consumers into sharing personal or payment information that can be used to commit fraud. Visa is helping to protect the payment ecosystem by educating account holders, sharing tips on how to identify and avoid financial fraud and phishing attacks.
Moving forward together on the road to recovery
We also remain deeply focused on supporting those directly impacted by the COVID-19 pandemic. In April, the Visa Foundation announced a commitment of two programs totaling $210 million to support small and micro businesses and to address the urgent needs of local communities following the spread of COVID-19.
As the impacts of the COVID-19 pandemic continue to reverberate around the world, we are united by our shared experiences and will undoubtedly benefit from each other's progress in navigating this new normal. As we move forward together, Visa will continue to expand and build on our efforts to support our clients, communities and consumers on the road to recovery.