Former intern is now a Product Manager working on the future of payments
Michelle Hou on growing her payments career, the importance of mentors and advice for working-from-home internships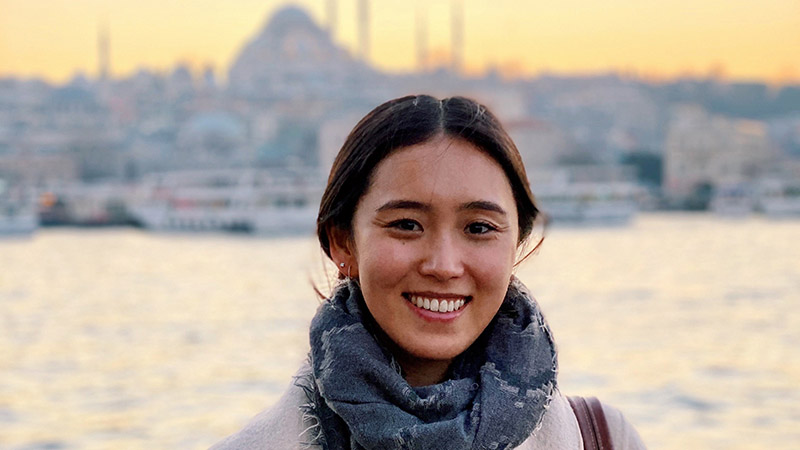 Visa wasn't part of Michelle Hou's plan. As a statistics major in college, she knew she liked working with data and was considering a range of industries like tech, finance and consulting; however, the payments industry was not on her radar. While looking through summer internship opportunities, Visa caught her eye. She connected with a recruiter who shared how Visa uses technology and data to make an impact on billions globally. "Despite the brand being so well-known, I realized how little I knew of Visa's business. I hadn't given the company itself much thought until this point, but I was intrigued and eager to apply."

Michelle was first selected for a summer internship and later returned through our New Graduate Development Rotation Program offering associates the opportunity to rotate through various parts of the business to gain cross-functional knowledge and experience. She spent two years on assignment in Marketing, Sales Operations, Product and Corporate Strategy. Now, as Product Manager working on Visa's product strategy for Visa Direct, she is helping shape one of the most forward-looking product segments of our business that allows individuals and businesses to send and receive money between billions of cards globally.
Why work at Visa fresh out of college, and what keeps you here?
People at Visa are eager to mentor and develop talent. Even as an undergraduate intern, I had the opportunity to own a project and present my findings to Visa's clients – making an impact early in my career. I've built a strong network of mentors and connections who have helped me grow as a young professional. My work has challenged me and helped me develop a wide range of skills.
What surprised you the most?
Working for a global company with a brand as ubiquitous as Visa has its benefits. In the first few years of my career I've already been able to work in Asia and Europe in addition to the U.S. Few companies can offer international business exposure to new college grads. I make sure to use the perspectives and connections I've gained through this experience whenever I can.
We just virtually welcomed a new group of summer interns this week. What advice do you have for these students about making the most of their experience at Visa?
A remote internship was probably not part of your plan. It may feel more challenging to get onboarded, so don't be afraid to ask questions to get what you need and take initiative to help your manager and team. Also, internships are meant to be a great way to get to meet people. Find ways to get to know your team and fellow interns virtually! Make the effort to reach out, attend virtual happy hours, whatever it may be.
What does inclusion mean at Visa?
Visa drives inclusion through our business and our culture. A key focus of our business is financial inclusion and creating solutions that help unbanked and financially underserved consumers thrive. We help small businesses and micro merchants around the world by developing payment solutions that enhance and scale their businesses. I'm excited to work on Visa Direct because we're looking to expand our payout capabilities beyond card, which could enable us to better serve these populations.
Within our company culture, we lead through inclusion and recognize that doing so brings new and different viewpoints that can only improve our global business. Diverse perspectives and cultural understanding are critical to delivering solutions that resonate effectively with consumers around the world.
What does Asian & Pacific Islander American Heritage Month mean to you?
As the daughter of parents who immigrated to the U.S. for graduate school, it took time for me to recognize my Asian and American identities not as separate but as one. It means a lot that Visa recognizes this month, because it shows how our company values diversity and the convergence of cultures.
Learn more about Visa's inclusive culture at Visa.com/diversity