Installments: convenient for consumers, smart for banks and sellers
Visa kicks off buy now pay later (BNPL) pilots in the U.S.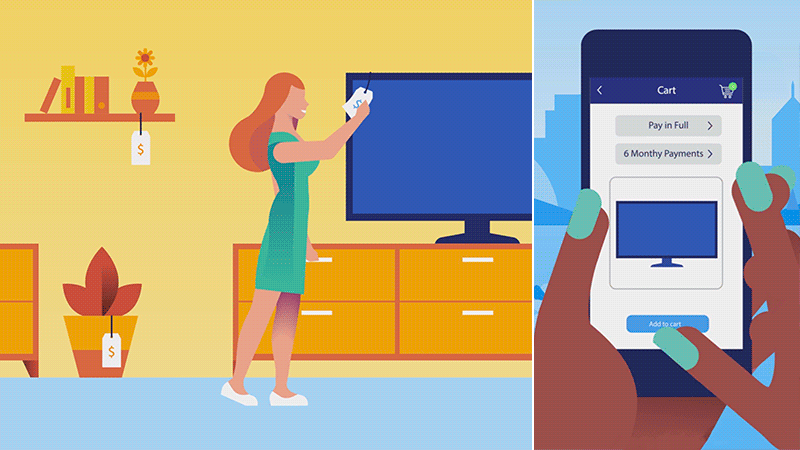 COVID-19 has accelerated an unprecedented shift to technology for consumers who want the convenience, speed and safety of digital technologies — from shopping online to tapping to pay, curbside pickup and in-app purchases.
You can add installment payments to that list. Paying in installments, or having the option to pay in a set number of equal payments for something at the point-of-sale, is the latest convenience offered by Visa and welcomed by a majority of U.S. millennials.
Visa's installment solutions are becoming a key element of Visa's strategy to help our clients and partners give eligible consumers more flexibility to pay by simply using their existing Visa credit cards at checkout.
Installments are attractive to sellers, with many seeing an increase in average ticket size and average conversion rate when installments are available as a payment option at checkout.
In this rapidly-evolving space, financial institutions are looking for ways to increase their accountholders' loyalty. With Visa's installment solutions, we are helping our issuer clients with several quick and elegant ways to respond to their customer demands for more choices in how they pay.  
Expanding the US Ecosystem
Through our relentless focus on digitizing payments, Visa is working at an accelerated speed and sense of urgency to kick off pilots in the U.S. and unlock new ways for partners and clients to interact with shoppers by giving consumers more choices of how they pay.
TSYS, Global Payments Issuer Solutions business, will be the first issuer technology partner to offer Visa's new installment solution at the point of sale where participating financial institutions can offer installment plans to their cardholders. Commerce Bank is the first bank in the U.S. to begin the installments pilot on a limited number of Commerce Bank Visa credit cards, leading up to commercial launch in Fall 2020.


ChargeAfter is the first partner to launch Visa installments in the United States with two of clients, 42nd Street Photo and Tire Agent, who are now offering Visa's installments solutions to their eligible U.S. buyers.


ChargeAfter is also working with Cybersource, Visa's global payment management platform, to bring installments payment capabilities to Cybersource's sellers worldwide.


In addition, The RoomPlace is offering Visa's installment solutions as a payment option for their eligible buyers.


Sellers who work with Kibo Commerce will soon be able to offer Visa's installments by deploying a customized app from Kibo's marketplace.
These U.S. pilots expand on the recent installments deployment in Russia. In June, Visa launched installments for purchasing goods with a Visa stand-alone installment card Svoboda issued by Home Credit Bank. The service is available for purchases at DNS, a major home-appliance retailer in Novosibirsk. Russian Standard Bank is the first acquirer to provide this innovative installments service on Visa cards in Russia.
We are continuing our installments efforts and launching a number of pilots around the world. If you are interested in becoming a part of the Visa installments ecosystem, please learn more about installments and connect with our team.