Visa shares progress in latest corporate responsibility report
Highlights include headway in sustainability, small business support and helping half a billion access digital payments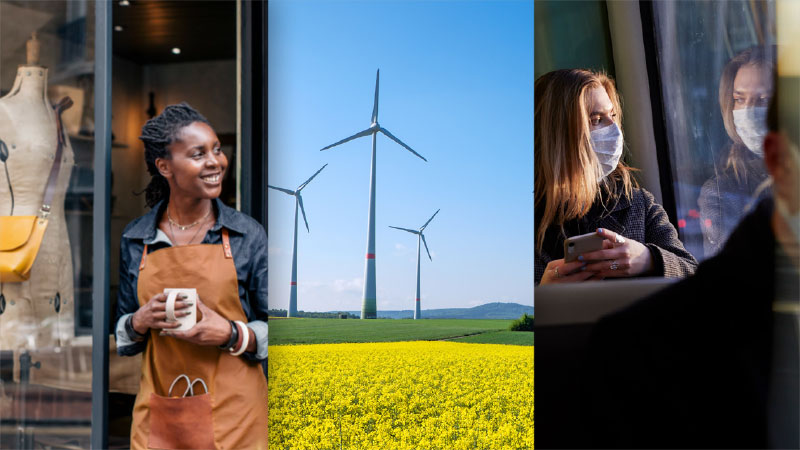 Today, we are proud to share our fifth annual Corporate Responsibility and Sustainability (CRS) Report, an annual update on progress against our commitments to corporate responsibility, sustainability and ethical leadership across Visa's most important environmental, social and governance (ESG) goals.
Through the combined efforts of our company and the Visa Foundation, we made significant progress in 2019 and the early months of 2020 toward our ESG goals and our continued work to enable individuals, businesses and economies to thrive.
As Visa strives to create a more inclusive, sustainable and equitable world for all, we acknowledge the world we now live in amid the COVID-19 pandemic is a different world than it was in 2019. Yet, we are committed more than ever to be a leader working collaboratively with partners to foster an inclusive economic recovery.
We invite you to download the report and read on for highlights below.
Empowering People & Economies
Visa believes inclusive economies lift up everyone, everywhere. The company continued to empower economic growth by supporting small and micro businesses (SMBs); expanding financial access to the unbanked and underserved; building financial capability; and strengthening our local communities. Progress includes:
Achieved our goal of helping 500 million unbanked and underserved people access digital payments accounts, including by offering products and solutions such as Visa Direct, scan-to-pay and contactless payments to merchants, individuals and governments
Strengthened our focus on building financial empowerment for SMBs through programs and partnerships, which included deploying new business and financial skills tools and resources in English and Spanish for SMB owners 
Maintained our commitment to women's economic advancement initiatives through programs including She's Next, Money Is Changing and Visa Everywhere Initiative-Women's Edition
Provided support through Visa Inc. and Visa Foundation to communities during times of crisis such as natural disasters, including the recovery efforts after Cyclone Idai in Mozambique, Cyclone Fani in India and Hurricane Dorian in the Bahamas
The Visa Foundation announced a five-year commitment of $200 million to support the long-term economic recovery of small and micro businesses with a focus on fostering women's economic advancement. In addition, the Visa Foundation committed $10 million to support immediate relief efforts of frontline charitable organizations such as public health and food relief in response to the pandemic.
Securing Commerce & Protecting Customers
Visa demonstrated our continued commitment to implementing a multi-layered information security approach that enables reliable, trustworthy and frictionless digital payment experiences. Progress includes:
Prevented approximately $25 billion in fraud using Artificial Intelligence, increased approval rates and reduced consumer friction in the payments ecosystem
Continued implementation of the Visa Token Service (VTS) which helps Visa consumers build and maintain digital payment experiences while protecting their sensitive information from fraud
Received the highest rating in our sector from Gartner Consulting during the company's 2019 cybersecurity program review
Opened a new Cyber Fusion Center in Singapore and strengthened our global capability to rapidly collect, analyze and leverage cyber threat intelligence information
Established policies and processes required for the implementation of the California Consumer Privacy Act (CCPA) and preparation for other pending privacy regulations
Investing in Our Workforce
Visa maintained our commitment to develop world-class talent, foster an inclusive and diverse culture, and offer benefits that promote the success of our employees. Progress includes:
Prioritized the health and safety of our employees during the pandemic by expanding opportunities for remote work, established specialized engagement and feedback initiatives, broadened benefit offerings and committed that there would be no employee layoffs in calendar year 2020 related to COVID-19
Expanded offerings through Visa University – our signature global learning platform featuring courses facilitated by company leaders – which offers over 80,000 learning resources
Encouraged employee engagement and development through the first-ever Visa Learning Festival, an interactive, three-day event focused on igniting curiosity
Enhanced our benefits programs for supporting employees' health, financial and overall well-being, such as offering access to an online wellness coaching service with healthy lifestyle, chronic condition management and emotional health modules
Created the Visa Black Scholars and Jobs Program in 2020, offering scholarships specifically for college-bound Black and African American students; upon graduation and completion of an internship, all recipients who have met their commitments will be guaranteed a full-time job with Visa
Signed the Business Statement for TransEquality during Pride Month to solidify Visa's support of legal protections for transgender people
Protecting the Planet
Visa continued to minimize the impacts from our operations while expanding efforts to inspire and empower sustainable living in commerce and consumption. Progress includes:
Achieved our goal to transition to 100 percent renewable electricity for our offices and data centers as of 2020, resulting in a nearly 90 percent decrease in Visa's Scope 2 emissions compared to a 2014 baseline
Reduced our absolute direct greenhouse gas emissions by 4 percent from 2018, and achieved a 79 percent improvement in direct emissions intensity per employee since 2009
Expanded our capabilities to track and manage environmental impact throughout the company's value chain by joining the CDP Supply Chain Program
Conducted a formal climate risk assessment in alignment with the Task Force on Climate-related Financial Disclosures (TCFD)
Co-founded Travalyst, a global initiative by the Duke of Sussex focused on advancing sustainability in travel, and Brands for Good, an initiative of Sustainable Brands to make sustainable living more attractive, rewarding and attainable; Visa also partnered with GlobeScan and other brands on a 25-country Healthy & Sustainable Lifestyles study of consumers
Operating Responsibly
Visa continued our commitment to operating as a responsible and ethical company by upholding the highest standards for integrity, compliance and corporate governance. Progress includes:
Continued to be recognized for responsible and ethical behavior, placing on the Ethisphere Institute's World's Most Ethical Companies list for the eighth consecutive year and earning the highest designation on the CPA-Zicklin Index for the fourth year in a row
Built upon a new Supplier Code of Conduct through activities such as developing onboarding procedures to ensure consistency across all regions where Visa operates
Maintained our position as a founding supporter and Advisory Council member of the Centre for Sport and Human Rights, facilitating collective action on specific human rights cases and building capacity in the sports ecosystem through new tools and training
Revised our Code of Business Conduct and Ethics to improve transparency and clarity
Where We're Going
Today, our world is grappling with a period of uncertainty and change. Between the health and economic challenges brought on by the COVID-19 pandemic, the urgent need to address climate change, and the ongoing goal of an inclusive and equitable society, our work is far from over.
Visa recognizes the complex challenges of the global economy that will require ongoing progress and work. During this period of recovery and beyond, it is important that Visa takes a steadfast and leading role in the collective work towards an inclusive and sustainable future. Through our partners, products and solutions, such as our upcycled high content card and our inaugural Green Bond offering, Visa is committed to the long-term rebuilding of our global economy and world.
As we look to the future, we will continue to take the necessary steps forward to create a more sustainable payments ecosystem and inclusive, equitable world for everyone, everywhere.