COVID can't keep these fintechs from helping small businesses
Visa Everywhere Initiative Pandemic challenge winners elevate entrepreneurs in Africa and elsewhere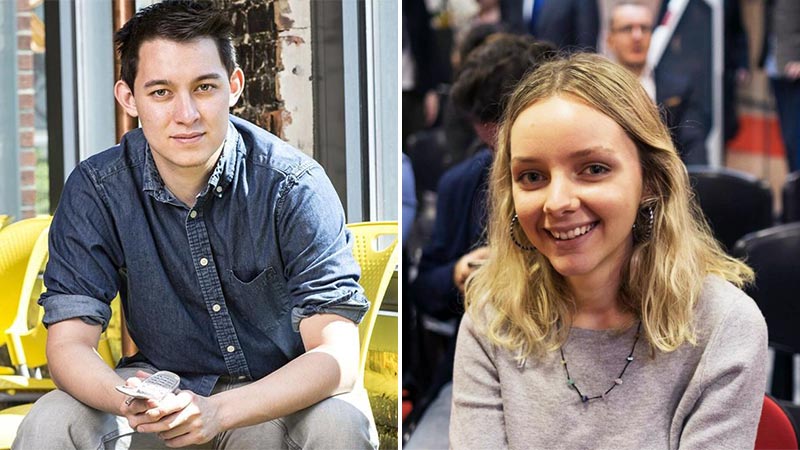 Daniel Yu went to Egypt as an American college student learning Arabic. But what he saw while he was there inspired him to start a company.
He noticed a problem as he walked around the village where he was living: shopkeepers lacked computers and POS systems that could help make selling their products easier. They did however have mobile phones that could employ two-way text messaging to more efficiently manage their inventory and connect to their suppliers.
That's how Sokowatch was born, and the African-based fintech now has the distinction of winning the most recent Visa Everywhere Initiative - Pandemic Challenge. Sokowatch is a platform that connects shopkeepers with suppliers via SMS or mobile app, allowing them to order products at any time and receive free same-day delivery.
On a continent where 90 percent of the economy[1] is made up of small businesses[1], Sokowatch is addressing a huge opportunity to support communities using the power of digital – not only to drive commerce but also to help with financing. The company recently rolled out capabilities to grant retailers access to credit and other financial services not easily accessible, leveraging the purchasing data they collect to extend credit lines so stores can buy goods and pay them back later.
"We've got about 15,000 shops in four different countries in nine different cities in East Africa who order from us on an active basis," Yu said on a podcast with Wharton Fintech.
"We are able to understand with real transactional data what the financial needs are of these shops," adding that many lack bank accounts or even smart phones. Sokowatch also offers an affordable financing program for first-time smart phone users.
At 26 years old, Yu is just one of the amazing young entrepreneurs who pitched Visa with their ideas for solving payments challenges. The most recent edition of the Visa Everywhere Initiative was created with COVID-19 in mind, asking startups around the world this simple question:
How would your startup help support small businesses to recover from the economic impacts of the COVID-19 pandemic and accelerate deployment, since timely access is so critical right now? 
Meet the Visa Everywhere Initiative Pandemic Challenge finalists
Jona Doda, the "Audience Favorite" winner, is supporting the small business economy during COVID-19 by making rental transactions safer and easier through automation. Most real estate agents and landlords are set up as small businesses, and the pandemic has led to a need for reduced physical interaction to protect communities. Doda is Head of Marketing for the U.K.-based RentProfile, founded in 2016 as a network of renters, landlords and agents to help prevent rental scams and facilitate easier, safer transactions.
For finalist Tracey Klein, it's all about helping small businesses improve cash flow during these challenging times. She's the SVP of Sales & Business Development at eGifter, a mobile platform for merchants to make it easier for customers to buy gift cards. Based in New York, the company was founded in 2011 by technology entrepreneurs seeking to help retailers and service providers grow their businesses through the power of digital.
For Charlie Wilson, another finalist, helping small businesses in these challenging times means taking cash transactions and moving them to cashless and contactless experiences. He's the Chief Revenue Officer of Greenbits, a retail technology platform that simplifies the complexities of regulated retail to create efficiencies and increase sales. The company is based out of California and Oregon and staffed by veterans of Silicon Valley, small business, technologists and compliance experts. 
Partnerships are powerful
Since its launch in 2015, the Visa Everywhere Initiative has expanded to reimagine the way money is exchanged on six continents and in more than 100 countries. To date, more than 7,000 participating startups have collectively raised over $2.5 billion in funding. Visa's mission to help individuals, businesses and economies thrive through the power of digital payments comes to life through the broad array of technologies and partnerships demonstrated by these four finalists.
Whether through VEI of through our global network of partnerships, Visa offers fintechs resources, programs and support to help them scale and bring new commerce solutions to life with speed and security. That includes Fast Track, a global program that streamlines the process of leveraging our network to shrink the time it takes to work with Visa from months to weeks. Fast Track grants access to Visa's ecosystem partners, online licensing and APIs, while offering a robust online education platform that breaks down the many ways startups can leverage Visa. This includes everything from digital wallets to disbursements to extensive go-to-market toolkits and access to expert advice to grow and scale. Getting started is as easy as taking a few minutes to create an account.
Since going global last year, Fast Track has already signed over more than 220 fintechs as part of the program. This includes Railsbank, a financial innovator that gives small businesses access to a simple, global API allowing them access to banking products and financial services around the world. Railsbank first connected with Visa as part of the Visa Everywhere Initiative program in Singapore last year, after which they joined our Fast Track program and received investment from Visa. They are currently focused on providing access to banking for small businesses affected by COVID-19. Co-founder and CEO Nigel Verdon joined a fireside chat during the virtual Visa Everywhere Initiative event.
Read more about partners in Fast Track across enablement, digital currency, consumer finance management and more. Find out more about the Visa Everywhere Initiative, including the upcoming virtual finals from LTA on LinkedIn for more about the finalists.
__________
[1]PWC report: Prospects in the retail and consumer goods sector in ten sub-Saharan countries (2016)