COVID changed the world, but it changed technology, too — for the better
Visa Back to Business report highlights trends in digital payments that are transforming how the world pays
COVID-19 has taken an enormous toll on the world, especially for the millions who are suffering from this terrible virus and the millions more who have lost friends and loved ones. It has also upended our lives. Personal and work connections are fully virtual. Schools have pivoted online. In-person shopping is limited. Travel, restaurant dining and live entertainment have all but ceased.
The world is forever changed by this pandemic, including the way in which commerce takes place. In 2020, eCommerce transactions surged as more people stayed home. Contactless payments increased as more in-person shoppers sought ways to avoid touching payment terminals or using germ-filled cash. Businesses of all sizes adopted new innovations like digital ordering and curbside pickup so they could serve customers while staying compliant with health protocols.
Now vaccines are being distributed and a return to some kind of normal is closer in view. Does this mean that when people return to offices, schools and restaurants that life will be more of the pre-COVID same? When it comes to spending behaviors, not likely given the drastic shift to digital in 2020.
A new global Visa Back to Business Study found that 82 percent of small and micro businesses ("SMBs") have embraced new forms of technology to meet changing consumer behaviors and shift to digital commerce. Here are five trends that we expect will only gain momentum in 2021.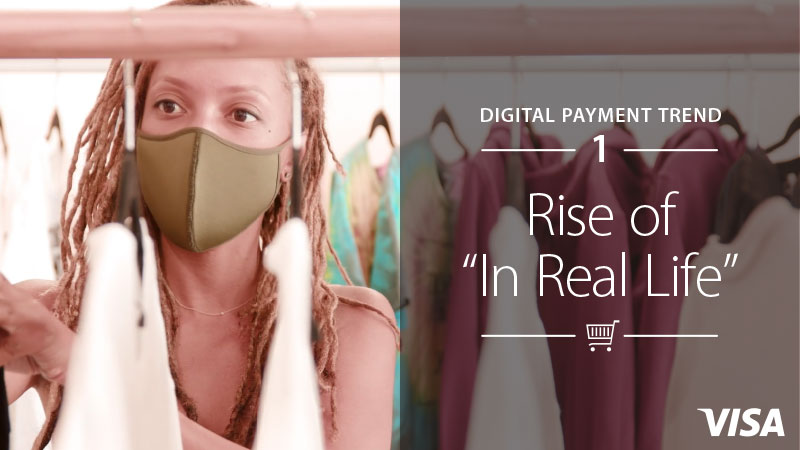 1. Rise of "In Real Life"
"We really didn't have a huge online presence up until the [pandemic shutdown] so when we closed the store for quarantine in mid-March, our online business really picked up," says Roslyn Karamoko, founder and CEO of Detroit is the New Black. Her Detroit, Michigan-based business is very rooted in the community as an apparel seller, art gallery and event space. But she acknowledges the pandemic forced a change. "It was a blessing for us in a lot ways to be able to build that business outside of the physical space," she says.
Karamoko and scores of other entrepreneurs like her are adapting in similar ways with online ordering, curbside pickup, new forms of delivery, touch-free terminals and other innovations to serve their customers with more convenience and less contact. The lines between eCommerce, mobile and the physical world have blurred into what is called "In Real Life" (or IRL) experiences. In some cases, the migration to digital has helped small businesses offset the loss of local, "walk-in" customers. Like many entrepreneurs facing the pandemic, Jim and Candyce Thueken of Tiki Botanicals in Columbus, Ohio, scrambled to get their products online. "Luckily, we did," they said "because we saw our online traffic increase 10 fold over two or three weeks."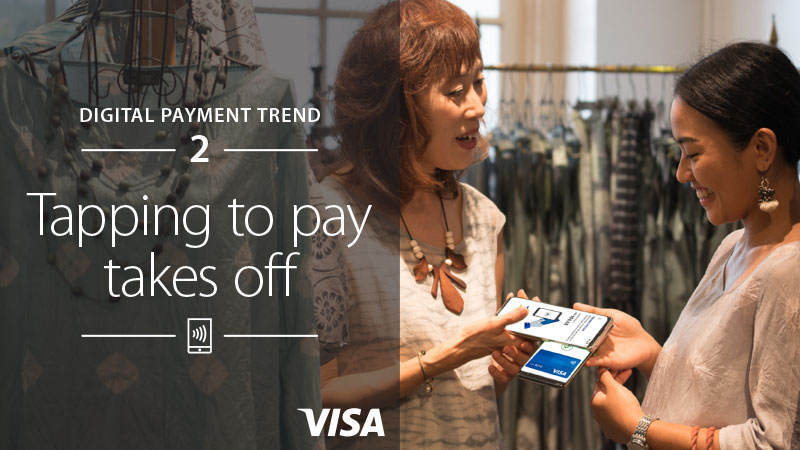 2. Tapping to pay takes off
The global rise of contactless payments in 2020 is showing no signs of slowing down in the New Year. According to the Visa Back to Business Study, two-thirds (65 percent) of consumers would prefer to use contactless payments as much as, or more than, they are currently. Nearly three in four (74 percent) of SMBs expect consumers to continue to favor contactless payments even after a vaccine is widely available. In addition to the public health benefit of not having to touch a terminal or hand over cash, contactless payments are convenient and secure and more consumers are realizing their ease (only 17 percent said they would revert to their old method of payment post-pandemic).
Similarly, Tap to Phone allows SMBs to accept Visa simply by downloading an app to their NFC-enabled Android devices, converting them into de facto payments terminals. With two billion Android devices globally and the statistics reflecting that in many emerging markets fewer than 10 percent of micro sellers accept digital payments, the technology could support a "new normal" where touchless payments accelerates and less cash changes hands.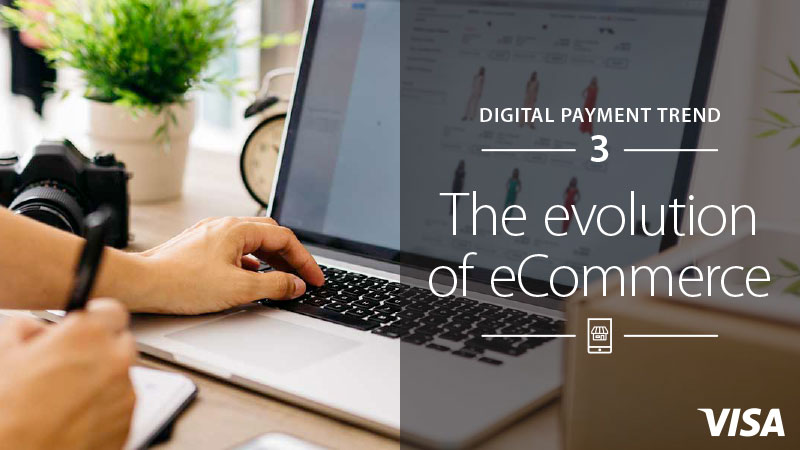 3. The evolution of eCommerce
SMBs have steadily increased their efforts to meet consumers where they are now: online. According to the Back to Business study, 82 percent of SMB owners have made updates to their operations to meet these new demands, up from 67 percent in summer 2020. eCommerce spending grew 30 percent year-over-year in the U.S. in 2020 and peaked as high as 100 percent in emerging markets, where millions of first-time buyers tried shopping online for the first time. Will this trend continue after COVID?
New Zealand may offer a clue. The country has not recorded any local COVID cases since November. Over the holidays eCommerce shot up 27 percent over last year, with Kiwis spending a record $585 million. New Zealand is, of course, the exception in a world where so many countries remain in lockdown. But it's reasonable to project that the convenience and benefits of shopping online could keep activity high in other countries.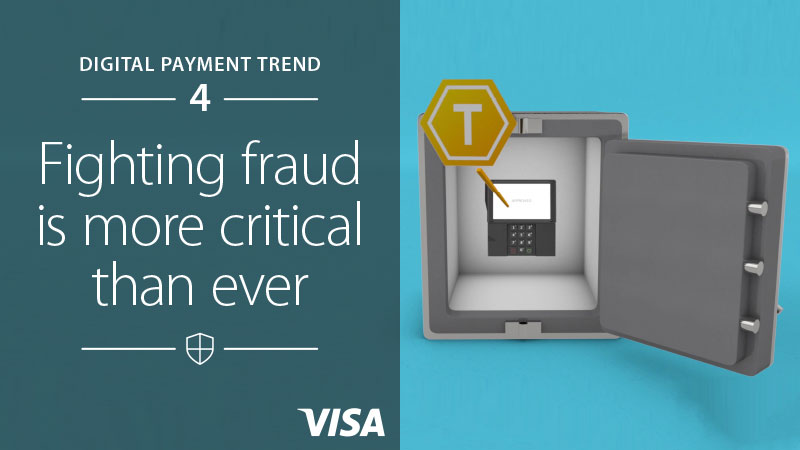 4. Fighting fraud is more critical than ever
Recognizing the significance of and responding to a potential fraud attack will continue to be a decided advantage for SMBs in 2021 as the shift to digital sales continues to increase. Tech-savvy business owners (52 percent) in the Visa study were more likely than their novice counterparts (39 percent) to invest in security and fraud protection.
But technologies like artificial intelligence and machine learning are available to help SMBs address fraud at the most important moment: before it happens. Visa Advanced Authorization, for example, analyzes more than 500 data elements to validate transactions in real-time and is used by more than 8,000 financial institutions in 129 countries. Last year we announced the issuing of our one billionth token, a technology that replaces a consumer's card-related sensitive information, such as personal account number, with a unique identifier that protects transactions. The Visa Token Service is live in more than 107 markets and used by Apple Pay, Google Pay, Netflix and many others to power digital commerce. Look for more investment in fraud-preventing technology and tools in 2021, especially among small and micro-business owners embracing new forms of tech to meet changing consumer behaviors.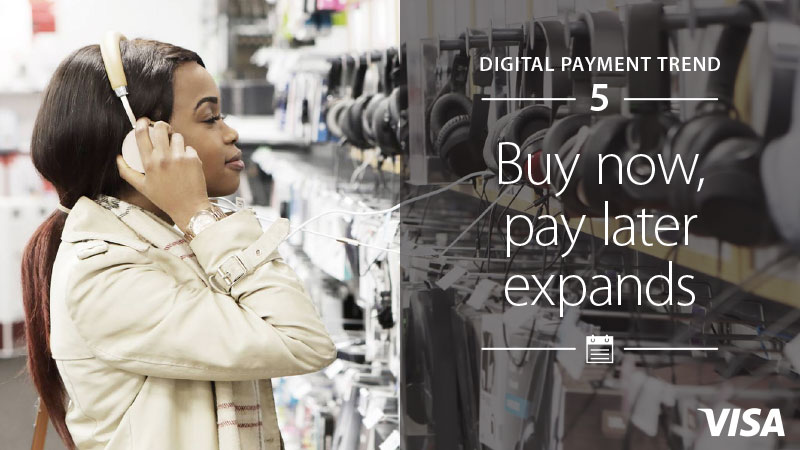 5. Buy now, pay later expands
Digital is not only trending towards transforming how we pay in a post-COVID world, it's also transforming when we pay. Our data shows that paying in installments, or having the option to make a set number of equal payments for something at the point-of-sale, has seen a 30 percent month-over-month increase in the number of unique users during the pandemic. The experience gives consumers access to small amounts of credit at very competitive rates, while merchants drive higher ticket sales and connect to a full-stack solution that requires very little integration. We expect to see continued growth in 2021 as more consumers take advantage of the flexibility and convenience of installment payments.
Digital is here to stay
The world of payments reflects the world in which we live, and that world is evolving as fast as the speed of tech. As 2021 brings hope with vaccines starting to be distributed, we are optimistic that these trends will continue. Speed, flexibility and convenience will keep driving customer expectations and habits into the new year and beyond. Digital technologies are here to stay and will become more important than ever not just to support the recovery of the global economy, but to power the engine of global commerce for everyone, everywhere.