Inclusion-Diversity-Equity-Access: an "IDEA" that accelerates performance
For Black History Month, diversity influencer Toni Wilson and Visa's Yesenia Hernández Plascencia explain why inclusion matters — and how companies can make it happen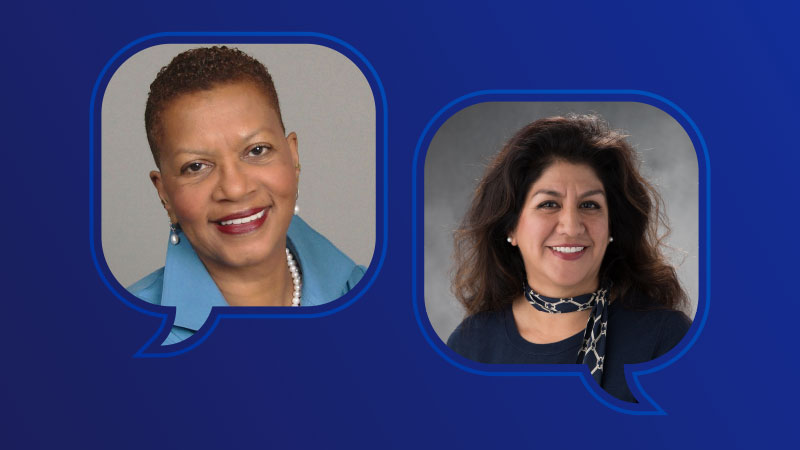 February is Black History Month — a time to celebrate the history and achievements of generations of Black and African Americans who dared to dream, build and inspire in the face of systemic oppression. Sadly, recent events have shown that discrimination and racial injustice persist in America. Visa is committed to doing everything we can to drive racial equality and bring lasting change for our people, community and company.  
The establishment of the Visa Black Scholars and Jobs Program, in partnership with the Thurgood Marshall College Fund (TMCF), is just one example of the progress we want to see. We have committed $10 million over the next five years to invest in the bright futures of college-bound Black and African-American high school students in the U.S. Selected scholars will receive annual scholarship assistance, mentorship, coaching and opportunities to grow their technical, professional and leadership skills. Those who meet program requirements will be invited to join Visa full-time after graduation. The deadline to apply to the Visa Black Scholars and Jobs Program is Monday, February 15, 2021.
Visa's Yesenia Hernández Plascencia leads inclusion and diversity initiatives at the company. She recently published an article about her own experiences growing up first-generation American and the power of opportunities for education. Yesenia sat down to talk with Toni Wilson, a diversity influencer whose perspectives and expertise have helped Visa employees educate themselves via Visa's "Race Talks" series. The two discussed the importance of uplifting the next generation of underrepresented talent  and how some of Toni's own career experiences have shaped her as an advocate for inclusion.

Yesenia: In focusing on Black and African American talent, Visa's goal is to drive early success, as well as learnings that will help inform our actions for other underrepresented groups. This is just the start. But we also have to think about how we measure our success in a data-driven way. As an expert in organizational psychology, how do you think companies can leverage data and metrics to accelerate fairness and equity?
Toni: The fact that [Visa CEO] Al Kelly is taking such a bold step in launching the Visa Black Scholars and Jobs Program in partnership with TMCF is an outstanding commitment and statement about the importance of "preparation through education." It points to the fact that education is a lifelong strategy that undergirds the principle of equity. If we are all on the same starting line with knowledge, it brings into focus the need for fairness. The question is, how do we know whether we're being fair and equitable? This is where the need for data and metrics comes into play.
Data and metrics tell the 'true' story of accountability and commitment. They paint a clear picture of whether or not the culture, processes and the people are truly invested in the spirit of inclusion and diversity. More importantly, if an organization is measuring the right things, these facts speak volumes about what is really happening (or not happening) inside the organization.
When setbacks or unrealized progress are called out, this provides an opportunity to learn what's getting in the way. The key here is to ask the right questions of the right people. Many organizations fail at listening and acting on what those deeper in the organization experience. Unfortunately, this is what cuts off communication and makes it easier for people who feel isolated to look elsewhere to realize their career aspirations.

Yesenia: Our CEO Al Kelly has been very vocal about the change he wants to see for our people, communities and company and has challenged us all to do our part. At Visa, one of our leadership principles is We Communicate Openly. What more can Visa and other large companies do to cultivate understanding and free exchange of ideas and perspectives?
Toni: [Business author and professor] Edgar Schein defines culture as "the way we do things around here." That's an understated description for a delicate and often complex interplay of values — how people see others behaving — that define workplace culture.
As more I&D efforts transform to address Inclusion, Diversity, Equity and Access, or "IDEA", the goal is to help employees and management become more self-aware and mindful of triggering behaviors and responses that diminish and marginalize others. For IDEA to succeed, a culture's values must be well-defined, understood and lived.

Organizations need to make sure employees understand core values. While they can't force people to adopt them, they do have the right to define them. Just as leaders must lead by example, organizations must also walk the talk with no daylight between values and actions. Culture should act as a roadmap for how decisions are made, how problems are solved and how organizations communicate.
As someone once said, "culture eats strategy for breakfast." Stated another way, if companies don't balance attention between the two, it's only a matter of time before ambitious goals are not met due to unresolved people-related issues. The only way IDEA succeeds is when each of us is willing to do the work versus demanding what work should be done by others.

Yesenia: At Visa, we've taken intentional steps to create safe spaces for open dialogue about race, active allyship and inclusion. The "Race Talks" series is one of them, but also through manager conversations and community groups like Employee Resource Groups (ERGs). We've made progress but have more work to do to get where we want to be. What are other methods that can help organizations foster a more collaborative culture?  
Toni: There are other ways an organization can bring broad ideas and perspectives to bear on issues or opportunities. For instance, [business author and consultant] Chris Argyis introduced an organizational concept known as "double loop learning."
Culturally in the U.S., we habitually run from success to success to success. Rather than just running to the next success, double loop learning argues for taking the time to look at the conditions that enable the success.
Was it the people? Was it the process? Was it the time? How can we replicate that in other ways and in other places in our organization? It invites learning, it takes patience, it requires us to have a critical but positive lens to ask ourselves how we can transform something from a one-time success into an organizational strength.

Yesenia: You have invested a career in inclusive organizations that has helped not only inspire people to open their minds, but to also spotlight the benefits to business goals, brand reputation and other measurable outcomes. What has your personal journey been like?
Toni: At times for me, as a Black woman, it has been personal, painful and humbling. IDEA work requires a lot of sacrifice, forgiveness and self-care that many don't realize.  But, in the end, working in this field has been an incredibly meaningful and worthwhile journey.
Progress to address IDEA issues can only be achieved when we are careful not to demonize people or get hooked on self-righteously seeing those with different perspectives as untrustworthy. Each of us has a piece of the solution to intolerance, indifference, bias, and exclusion. None of us is perfect.
Language is a carrier for many of the isms, racism, sexism, ableism, ageism…when you ask about intervening. It's not just about intervening around race. It's about intervening around anything that marginalizes a human difference. And knowing how to do that in a respectful way. It's very difficult to do.
But we can start in simple ways. Take some time to reflect on how you are showing up in your day-to-day interactions. Did you miss a voice, an opportunity to connect, an opportunity to speak up? Were you your best self?
Broadening our perspective is a journey for everybody. Go to museums, read books, read scholarly articles that challenge the way we see the world. Build authentic relationships with people who are different, who don't see the world in the same way you do. It doesn't mean that we have to agree with each other, but it will push us to a place of convincing ourselves that we see it is a holistic view, not a narrow and biased perspective.
---
Do you know a talented college-bound Black or African American student who would like to join the Visa team? Please share! Applications for the Visa Black Scholars and Jobs Program are open until Monday, Feb. 15, 2021. To learn more, visit the Visa Black Scholars and Jobs Program page.
---
Toni Wilson is an expert in the practice of diversity and inclusion for businesses, with more than 25 years of experience in Human Resources and as an advisor to many FORTUNE 100 companies and national nonprofits. Besides having a lengthy career as an HR executive leading positive change at organizations like Levi Straus and the California State Automobile Association, Wilson is an historian of sorts who looks to the past to inform a better future. She specializes in building workplaces that are less homogenous and more a reflection of society — workplaces that are proven to perform better because bringing together people with different perspectives, backgrounds and experiences tends to accelerate innovation and new ways of thinking.
---
Yesenia Hernández Plascencia is Vice President of Human Resources at Visa and leads inclusion and diversity initiatives at the company. She's been with Visa since 2015. With a strong background in the technology industry, Yesenia specializes in organizational design, leadership development, compensation strategy and driving key HR programs. Driven by a mission to help others realize the nobility in work, Yesenia inspires direct and honest conversations. She initiated the iBelong Council for Visa's Client Services (CS) group, whose purpose is to drive an environment where every CS employee can be their authentic self.
As part of her responsibilities to drive key inclusion and diversity initiatives, Yesenia oversees a cross-functional team on point to develop and execute programs that help retain, attract and build community for underrepresented talent at Visa.