Recovery looks brighter for countries that embrace digital
Governments that support the digitization of small businesses likely to fare better post-pandemic, according to new report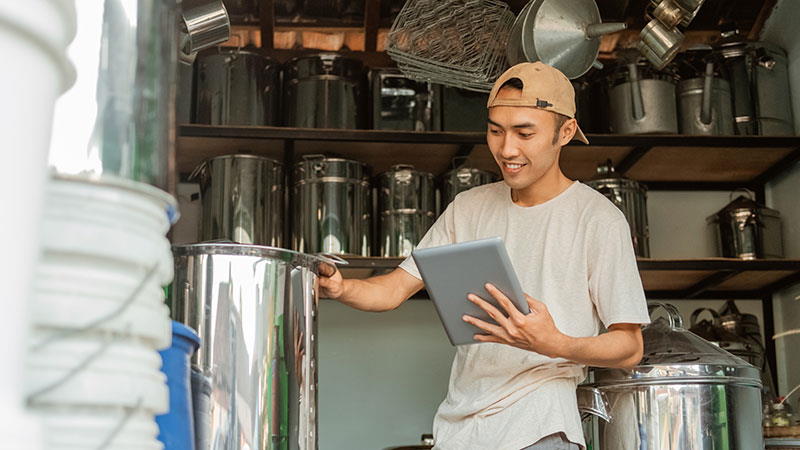 It's no secret that micro, small, and medium sized enterprises (MSMEs) have been adopting technologies at unprecedented rates to cope with COVID-19. But now, more MSMEs in developing countries view access to technology and related infrastructure as critical to their ability to recover from the pandemic. This is according to the Small Business in the Digital Age: Recommendations for Recovery and Resilience, a new report from the Visa Economic Empowerment Institute (VEEI) that surveyed 3,000 firms in Brazil, Colombia, Malaysia, Philippines and South Africa.
We talked about these trends and more with Barbara Kotschwar, the executive director of the Visa Economic Empowerment Institute (VEEI) and Akshay Chopra, vice president of Innovation and Design in CEMEA. It's clear that countries around the world are not only accelerating adoption of digital, but that MSMEs that embraced digital payments before and during the pandemic performed better in 2020 than those who relied on cash-only face-to-face transactions. Our conversation follows.
Top needs of micro, small and medium businesses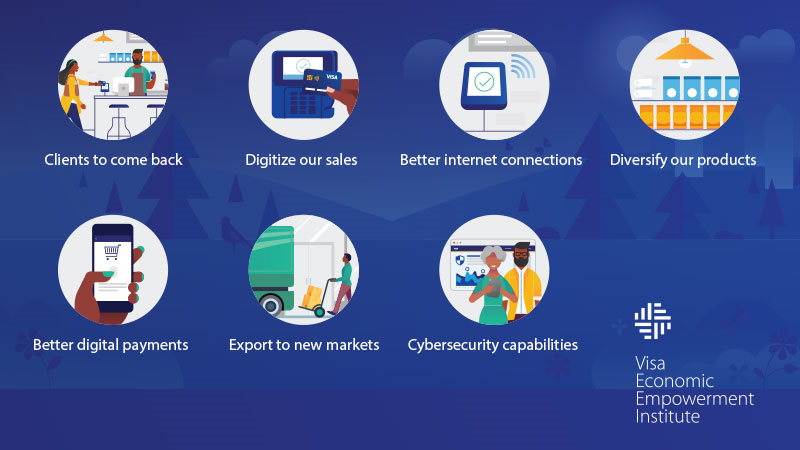 Even before the pandemic, there was a consumer shift toward digital and touch-free payments. What trends are you seeing as a result of the pandemic?
Akshay: There has been a tectonic shift in where people shop. E-commerce is seeing up to double-digit growth in most of our markets. The trend of how customers are paying has really changed as a result of the pandemic too. In the UAE for example, 96% of consumers are taking steps to keep their credit card clean, making them the most likely of all markets to do this. The switch to contactless is a huge trend that's gaining momentum, but it's a part of a larger trend called low-touch commerce.
Saudi Arabia is a real hotbed for digital growth. The government issued a mandate to reach 70 percent non-cash retail transactions by August 2020. By March 2020, contactless payments grew to 82 percent of total transactions. What can we learn from this example?
Akshay: It's no accident that we're seeing these kinds of trends come out of Saudi Arabia. The government wants to make sure that there is a great deal of innovation happening and that they're not just passively enabling it, but actively encouraging it. A couple of weeks back they came out with a whole construct on how they want to enable open banking in their country, which is not common in this region. Regulators who have that forward-looking view of innovation are going to make a huge difference in recovery.
According to the VEEI report, how can governments support MSMEs during the COVID-19 crisis?
Barbara: We surveyed 3,000 businesses across sizes and across sectors in five countries: Brazil, Colombia, Malaysia, the Philippines, and South Africa. One of the factors that we found to be quite significant was government programs that helped small businesses gain access to technology that could help them digitize their business. In our survey, an overwhelming majority of MSMEs prioritized help in digitizing their sales channels, access to better Internet connectivity, and improving their digital payments capabilities. Many of the surveyed companies said that these would be the most helpful forms of assistance in the next three to six months and into the future.
According to the VEEI report, how can governments help accelerate the road to recovery for MSMEs?
Barbara: You can't overemphasize the importance of cybersecurity, and particularly prioritizing cybersecurity capabilities for small businesses. Small businesses tend to be strong drivers of employment and innovation across the globe, and we really need to make sure that they are protected from the increasing cyber risk. In order to do that, there needs to be a real concerted effort to make sure that there's an open payment ecosystem across the world. Competition is good. We need strong standards, particularly for cybersecurity, and we need a secure, reliable way to enable the use of broad digital payments.
On a macro level, there's going to be much more emphasis on building up basic infrastructure, including electricity, Internet connectivity, and cellular broadband. All of these need to be in place as we enter this digital era of business. That's the big challenge to governments and international organizations that help governments. There needs to be a sort of Marshall Plan for digitization across the globe.
As Al Kelly pointed out at his panel on digital trade last week at the World Economic Forum's annual meeting, while digital enablement does not guarantee an end to poverty, the digital transformation of the global economy will bring more people into the economic mainstream and empower equity in the digital economy, creating new opportunities to bring small businesses into the fold. Governments and businesses must rise to the occasion.
To learn more about small business recovery trends, visit the Small Business in the Digital Age: Recommendations for Recovery and Resilience eport.