Building Black wealth with Visa Crypto APIs: meet First Boulevard
The founders behind the inclusive neobank make it a personal mission to level the financial playing field for Black Americans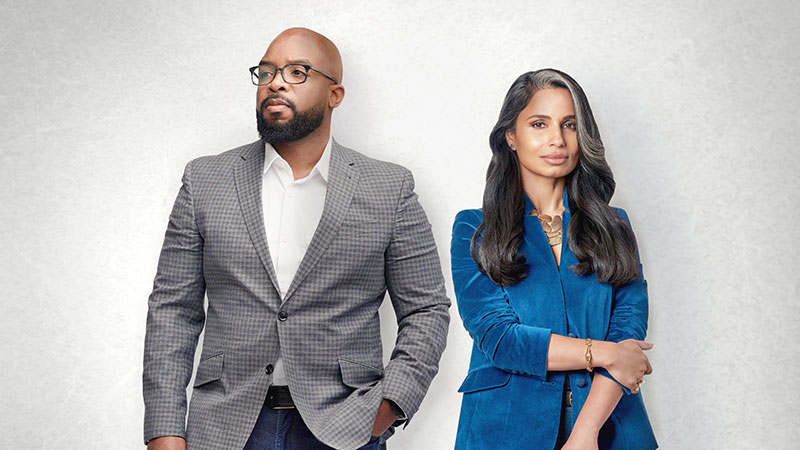 Mothers of color everywhere heard the voices of their own sons when George Floyd called out for his mom before he died at the hands of police in May 2020. "That could have been my son," said Asya Bradley, Founder and COO of First Boulevard, an inclusive digital neobank. "I remember the flashback quite clearly and seeing the face of my own son there and thinking this could easily happen to one of our children."
That's when Bradley, a serial entrepreneur in the fintech space, decided definitively to take action in the only way she knew how: by building generational wealth for the Black community. She connected with friend and peer Donald Hawkins, who was expecting his first son at the time and felt equally compelled to do something to drive lasting change.
"Donald and I have both been pretty outspoken in terms of the challenges that the melanated community faces in terms of access to financial services," said Bradley. First Boulevard was born just months later. "I see First Boulevard as a movement, not just a neobank," she added.
The Black community in the U.S. represents $1.4 trillion in Black consumer spending, yet the average Black American family holds less than 15 percent of the wealth of the average white American family[1].
"For Black America, 85 percent of us bank exclusively from our mobile phone," said Hawkins, Founder and CEO of First Boulevard. (He referenced a Pew Research Center Study on the Digital Divide.) He added that digital banking has been a safe zone for many from the biases that in-person banking has historically shown.
"There are biases in terms of who's building the product too," said Bradley. Instead, the leadership team at First Boulevard is two-thirds female, two-thirds Black and 100 percent BIPOC (Black, Indigenous, People of Color). "When you are building a product by the community that it's going to serve, you can be sure that when we're building out these products, representation matters," added Bradley.
Inclusion through the power of digita

l

First Boulevard will be first to pilot Visa's new suite of crypto APIs, which will enable their customers to purchase and trade digital assets held by Anchorage, a federally chartered digital asset bank.

"Black America only has 1.6 percent of all the stocks in the stock market right now, compared to 91.6 percent of white Americans," said Hawkins2. "Visa was really thoughtful about partnering with us because we care about the education side of it. We put together a robust financial education program to show our members exactly what cryptocurrency is, its volatility, different types of cryptocurrency, what the heck is blockchain, so we can help them make actionable decisions that are good for them."

First Boulevard will do that by incorporating financial education with bite-sized "playlists" that their consumers can listen to in order to learn key concepts about money and investing, all with a non-jargon approach that anyone can understand.

"People want a conversation," said Hawkins. "They want regular people to be there, to show them that 'Hey, I understand that you've been in the debt trap. I've been in it too. And now I'm leading a company to help you and a lot of other people get out of it and hopefully help younger generations not even get into it at all.'"

First Boulevard will also launch a First Boulevard Visa Debit card, which offers digital-first features like early access to wages with Early Direct Deposit, a Cash Back for Buying Black™ program, and financial education and budgeting tools to improve spending habits.

"There are so many different entities that focus on underserved communities, but they typically don't look like the communities that they serve," said Hawkins. "I would say our secret sauce is representation. When people see that someone who looks like them, from a similar geographic and demographic background, has somehow built themselves to the point where they can help others, it makes it a little bit easier to trust."

Looking ahead, Bradley and Hawkins are working with organizations to help their customers access funds for career development and are even considering local lounges in key cities like Atlanta, Charlotte, and Oakland.

"I think it's a matter of moving the money out of just this general economy that really hasn't served Black America," said Bradley, "into a place where we're not just trying to reclaim that $1.4 trillion of economic impact from the Black community, but add the $1.5 trillion from the Latinx community, add the $1 trillion in the Asian community and combine it all to the point where we all are finally understanding that, "Hey, something really bad happened in America and it's about time that we all kind of rolled up our sleeves and combat the issue."

On March 25 Donald Hawkins will join our virtual She's Next 2021 event to celebrate the Black community and women entrepreneurs. Inspiring women and men will discuss their personal experiences and the necessary work ahead to champion, educate and inspire the Black community and women business owners.

 

This event is hosted in partnership with The Female Quotient, a female-owned business committed to advancing equality. All interested small business owners can register here.

 
---
1 FederalReserve.gov: Disparities in Wealth by Race and Ethnicity in the 2019 Survey of Consumer Finances
2 Bloomberg: Five Charts that Show The Extent of Black Wealth Gap in the U.S.