A sustainable future: Visa pledges net-zero emissions by 2040
Sustainable commerce supports Visa's commitment to build back better as the world reopens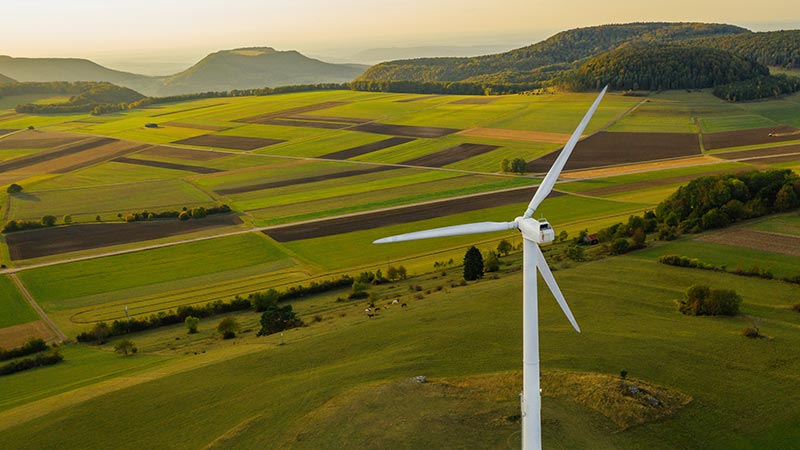 As we approach Earth Day 2021, and as the world begins to recover from the COVID pandemic, the momentum continues to accelerate behind the movement toward urgent action on climate change and the transition to a low-carbon economy.
At Visa, we're committed to playing a leadership role in climate action. Today, we are continuing to share our vision, new commitments and expanded initiatives to support a sustainable future.
First, we're proud to announce that we have achieved carbon neutrality across our operations for 2020, and we commit to maintain that going forward. This achievement, which includes the footprint from our scope 1, scope 2 and employee commuting / business travel components of scope 3 greenhouse gas emissions, is the result of ongoing energy efficiency initiatives, our transition to 100% renewable electricity and limited use of carbon offsets to cover our residual footprint. Our carbon offsets portfolio includes projects spanning our geographic regions, such as forest preservation in the U.S. and Canada, reforestation in Brazil, renewable energy in Turkey and clean cookstoves in India and Uganda.
Second, we're looking broader and longer-term by committing to net-zero emissions by 2040, a timeframe at least 10 years ahead of the Paris Climate Agreement. In addition, we're joining likeminded industry leaders in signing The Climate Pledge, co-founded by Amazon and Global Optimism. We also are committing to set Science Based Targets at the 1.5 degree Celsius ambition level and have joined the Climate Business Network, a World Wildlife Fund initiative to accelerate efforts to net-zero. Our new net-zero commitment, complemented by our signing of The Climate Pledge and joining the UN Race to Zero and WWF Climate Business Network, is aligned with emerging global standards and will include working across our value chain to achieve this goal.
We also recognize that our opportunity for and commitment to positive climate impact go beyond the formal definitions of greenhouse gas emissions scopes in international protocols. In fact, we believe some of the greatest positive impacts we can have to support the transition to a low-carbon economy and sustainable commerce involve harnessing the power of the global Visa network as well as our products, services, network, data, brand and payments expertise to help inspire and empower others.
As a global payments technology company whose network connects billions of consumers, millions of merchants and thousands of financial institutions, we continue to expand our initiatives toward being a climate positive company by embedding sustainability across our business. Today, we announced our new collaboration with the Cambridge Institute for Sustainability Leadership (CISL) to identify new opportunities to apply electronic payments capabilities and the Visa network toward realizing a sustainable future.
To mark Earth Day, we want to highlight some of our additional innovative partnerships and initiatives: 
Sustainable Payment Cards
We're continuing to help bring alternative card materials forward to reduce the environmental footprint associated with first-use PVC plastic. In 2020, Visa and CPI Card Group launched Earthwise, a payment card made of up to 98 percent upcycled materials. We also continue to support our financial institution clients with additional sustainable card material options.
Sustainable Accounts
We're expanding our partnership with ecolytiq to bring to financial institution clients "sustainability-as-a-service" offerings in consumer carbon footprinting, context-based education and access to high-quality carbon offsets. Visa's Fast Track Program has helped the launch of next generation issuers, including those providing climate-focused accounts.
Sustainable Consumer Behaviors
We're continuing to help remove friction from sustainable behaviors in daily living. Visa currently is working with more than 400 transit agencies around the world to support public transit use through digital payments acceptance. We are also supporting the global transition to electric vehicles, including by partnering with the largest operators of EV charging stations to further enhance customer payment experience at charging stations with Visa contactless cards. In addition, we are helping advance sustainable travel and tourism through our founding partner role with Travalyst.
Sustainable Consumers
Visa continues to support stakeholders in commerce in understanding consumer barriers and drivers of sustainable living behaviors. Last week, we announced our continued role in the third annual GlobeScan Healthy & Sustainable Living Study of consumers spanning 30 markets. We also continue to serve as a Founding Partner of Brands for Good.
Inspiring Lifestyles
We also see the opportunity to use our brand presence to support efforts to inspire sustainable living, such as serving as lead sponsor of season one of the popular Netflix series Down to Earth with Zac Efron, a travel show that helps viewers explore healthy, sustainable ways to live.
We know that urgent action is needed to address the climate crisis. For Visa, actions start within our operations and broader value chain, and they expand to initiatives across the payments ecosystem. As we continue through 2021, we remain hopeful for the opportunity to build back better, and we're committed to helping restore our earth today and for the long term.