LGBTQ+ organizations benefit from Chase, United Airlines, Visa partnership
Alyssa Chen (she/her), Senior Director at Visa, is wielding the power of Visa's business to help make a difference for her community.
Marked by joyful celebrations, Pride Month is an opportunity to share the impact of the LGBTQ+ community. But it is also a time to commemorate the Stonewall riots, where "the shot glass heard around world" brought together so many in the fight for LGBTQ+ rights. While this was not the beginning of the movement, it did help catapult it forward.
Since then, every year, people around the world come together to commemorate, advocate, and celebrate Pride. In that spirit, United Airlines, Chase, and Visa are coming together to support The Human Rights Campaign, StartOut, and The Trevor Project with a campaign that will drive donations to these organizations because of their impact for the community. From June 1 – June 30, card holders of United GatewaySM Visa Card, UnitedSM Explorer Visa Card, United QuestSM Visa Card, United ClubSM Infinite Visa Card, United ClubSM Visa Card, UnitedSM Business Visa Card and United ClubSM Business Visa Card will be rewarded for donating to LGBTQ+ organizations in celebration of Pride Month. Learn how you can participate.
But who drives these partnerships? That's where Alyssa Chen and other members of the Merchant organization at Visa come in. Alyssa's role coupled with her passion for diversity makes it possible to transform business initiatives into opportunities to support inclusion for everyone, everywhere.
Choosing a company with purpose
When Alyssa Chen graduated college, she knew exactly the kind of company she wanted to work for. "I was looking for an organization that prioritized its impact beyond its core business priorities. I was drawn to Visa not only because it was uniquely positioned to help at a large scale, but because it also had a strong social vision that aligned with my values."
Working on the U.S. Travel Partnerships team, Alyssa's had the opportunity to manage and support several key strategic travel partnerships with prominent corporations like United Airlines. While these partnerships have been rewarding and fascinating, the fulfillment of her work has also been shaped by her involvement in Visa's Employee Resource Groups (ERG) and other efforts to drive inclusion and diversity.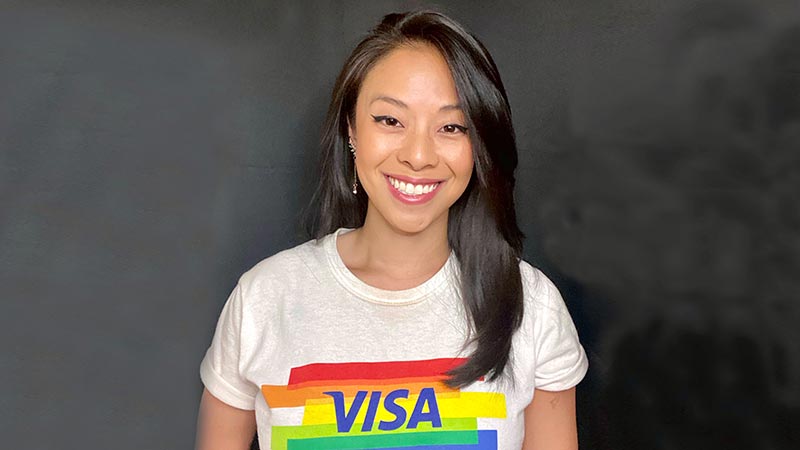 "I have had the pleasure in helping expand Visa's commitment to our social values and mission. Since joining in 2013, I have been part of the New York Inclusion and Diversity Committee, been a co-chair of the New York Visa Women's Network and, for the last three years, I have been a chair of the Visa New York Pride ERG," said Alyssa
As chair, she launched the first New York Visa Pride events and organized the first ever Visa contingency to march in New York City's Pride March. To her, this type of involvement felt instinctive.
"Shortly after transferring to the New York office, I joined the Inclusion and Diversity Committee. I was particularly excited to bridge new connections between Visa and the local LGBTQ+ community. Our office was smaller back then, and we didn't have a Pride committee or ERG. I wanted to see Visa be a part of the community that I identify with. Knowing how much Visa values an inclusive workforce, it seemed like a natural next step to advocate for and establish a New York Pride ERG. This is what led me to chair the ERG and it has really grown tremendously from there. It's been extremely encouraging to see Visa's support of Pride and recognizing the importance of this moment for the LGBTQ+ community."
Launching the partnership
For Alyssa, making Visa's latest partnership with United Airlines and Chase a reality was a team effort. Working together with Cecilia Hammond, Senior Director, and Michael Riley, Senior Account Executive, they leveraged their existing partnership with United Airlines and seized the opportunity.
"We recognized that both United and Visa were actively engaged during Pride month and throughout the year with Pride ERGs. In speaking with our primary contacts at United, we started tossing around ideas of how we can do some type of unique activation since there are so many opportunities to support the LGBTQ+ community," she said. "Once we started building out this idea specifically for the Pride campaign, I reached out to the Global Visa Pride Committee to recommend organizations that we felt were doing incredibly impactful work."
With the launch of the campaign, Alyssa and her team are already thinking about future opportunities like this one. "Ceci and I sit on a social justice task force within our North America Merchant organization, and a key objective is to identify more opportunities to collaborate with our clients and partners where we're mutually prioritizing initiatives around inclusion and diversity," Alyssa said.
"I'm just really proud to be an employee of Visa. I've been part of our Pride ERG for many years now and every single year, Visa's commitment to the community grows larger. We're always becoming more thoughtful about leveraging Visa's size and scale to positively influence change.
---
Visa believes economies that include everyone everywhere, uplift everyone everywhere. Learn more about our support of the LGBTQ+ community through our commitments to important global initiatives that advance progress toward acceptance for everyone, everywhere.