Calling all fintechs driving financial inclusion around the world
Early-stage startups focused on delivering better access to low-income customers and micro and small enterprises can now apply to Visa's Inclusive Fintech 50 program.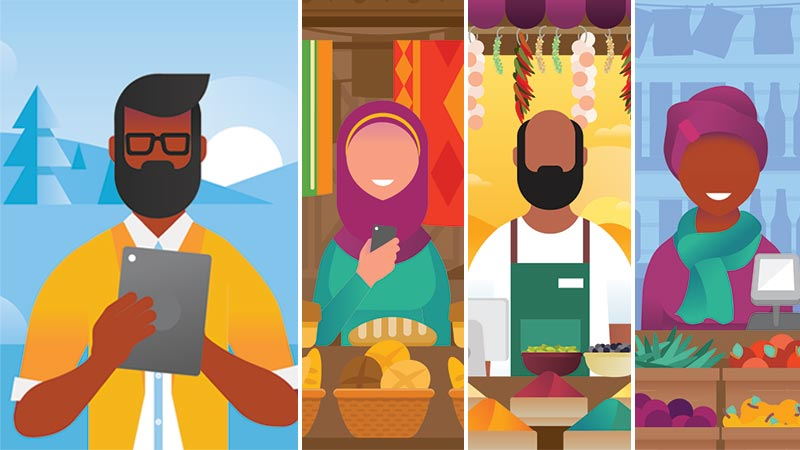 There is a digital revolution taking place in the financial inclusion space. Emerging fintechs are finding innovative solutions to barriers to access — access to safe, secure financial services such as a savings account or a business loan via mobile phone.
Inclusive Fintech 50 (IF50), an initiative sponsored by Visa and organized by the Center for Financial Inclusion (CFI), gives early-stage fintechs that are making financial inclusion a reality around the world the awareness and access to networks that will help them elevate their businesses. Now in its third year, IF50 will open applications on June 28, and close at the end of July 26. Winners will be announced in October and will receive select benefits including being able to customize and co-brand Practical Business Skills, Visa's global digital platform that delivers free educational resources for small and micro businesses (SMBs) in support of their recovery efforts. Winners will also automatically pre-qualify to participate for Visa Fintech Fast Track, a program that helps to speed up the process of integrating with Visa and its ecosystem of partners.
Visa's on-going support of SMBs, including digitally enabling 50 million worldwide, is part of the company's long-term commitment to financial inclusion. Past IF50 grant winners, including Fonbnk, SoLo Funds and Neat, have gone on to participate in Visa's Fintech FastTrack program. Here is a little background on recent winners.
Banking beyond borders
Fonbnk enables borderless banking for just over 1.7 billion unbanked people around the world. Users can access, earn, transfer, pay, and save money easily, from the comfort of their mobile device. Using Fonbnk's Airtime Wallet and a prepaid mobile SIM card (with a verifiable online identity), anyone around the world can have a free global debit card instantly.
"Programs like Inclusive Fintech 50 and Visa Fintech Fast Track helped us develop contacts and networks and realize our product vision and dreams. I've found it invaluable, everything from our introductions to issuers to giving us significant credibility with partners outside of the program."
—   Christian Duffus, founder and CEO Fonbnk and Inclusive Fintech 50 grant winner
Loans when they need it
According to SoLo Funds, Seventy-eight percent of American workers live paycheck to paycheck, often forced into borrowing money from family or friends, or taking loans from payday lenders that average 400 percent APR. SoLo Funds found a better way to borrow and pay back. Borrowers can secure affordable small-dollar loans via SoLo's peer-to-peer mobile marketplace, which connects borrowers to lenders. Lenders earn "appreciation tips" while borrowers set their own payback terms and receive funds same-day.
Simplifying international trade
Neat's financial services platform makes the world of trade more accessible to entrepreneurs, small and mid-size enterprises and startups. Businesses can quickly, simply and securely incorporate in Hong Kong and  an account to receive and transfer multi-currency funds, issue corporate cards to employees, integrate with accounting and payment gateways and more. Bonus: the fully online application process takes about 15-minutes to complete. Since launching, Neat has more than 30,000 businesses set up a Neat account to expand and trade internationally.
---
Are you a fintech focused on making the world a better place? To apply to IF50 today, visit https://www.inclusivefintech50.com/.