Every business global, every payment digital
How digital payments make money work better for everyone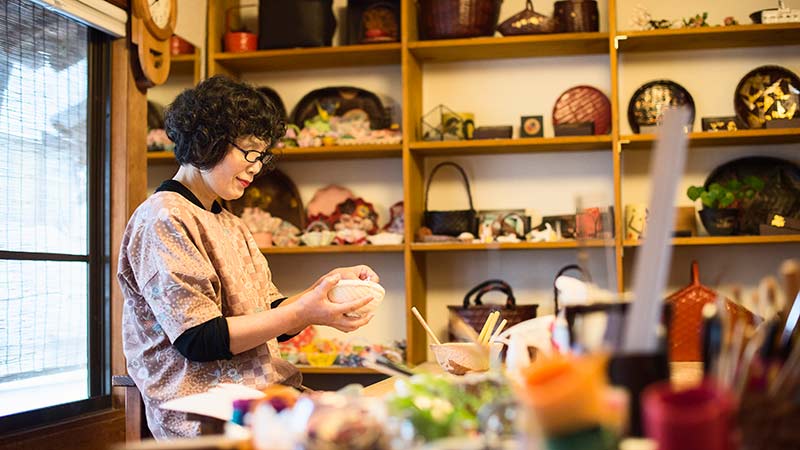 Before the advent of digital payments, the number of consumers most small businesses could reach was limited in large part by geography, or by business hours, or by some combination of the two. Today, digital payments give small businesses access to a truly global market, expanding potential reach from the number of people who might walk into the shop or salon or cafe on a given day to any of the more than 3.6 billion customers on the Visa network around the globe. In a boon for both consumers and merchants, digital payments have made it possible for every business to be a global business, with the tools and technology to easily and securely accept payments 24 hours a day, 7 days a week. 
Governments, too, are encouraging the use of digital payments, seeing in them operational improvements around payment disbursement, access to the financial ecosystem for unbanked and underbanked constituents, and a huge cost savings — nearly $1 billion in savings to taxpayers over the last decade according to estimates by the U.S. Department of the Treasury.1 As the global economy evolves, Visa continues to invest in new and innovative ways to make money work better for everyone.
Better for consumers
We all know that, 18 months in, the COVID-19 pandemic has changed the way we do a lot of things. It has changed the way we work. It has changed how we communicate. And it has most certainly changed the way we make purchases and do business — in some ways, permanently.
In a survey of small businesses and consumers in nine different regions around the world, the Visa Back to Business global study found that nearly 70% of consumers say the way they pay has changed forever, with a preference for curbside checkout and contactless payment methods gaining in popularity. That's almost 7 in 10 consumers who say they have little interest in going back to shopping the way they used to. And this shift has more to it than just pandemic precautions. Digital payments give consumers the power to make purchases anywhere they want, whenever they want, with consumer protections like the ability to dispute fraudulent charges that cash simply doesn't have. In short, digital payments power an easier, more convenient, and more secure way for consumers to get the products and services they need.
Better for businesses
At the most basic level, for small businesses, access to digital payments means access to more customers, which means access to more (and often bigger) sales. Not only do digital payments make online selling possible, they also often increase revenue. Between digital payments being significantly faster to process than cash transactions, the average credit card transaction being nearly twice the average cash transaction, and the average debit card transaction being nearly 50% larger than the average cash transaction,2 businesses see an average revenue increase of 17% just for enabling digital payments.3
Accepting digital payments also turns out to be less expensive than accepting cash. After accounting for costs associated with processing, securing, managing, and transporting physical money, as well as losses from things like employee theft, inaccurate cash handling, check fraud, and expensive loss-prevention services, cash is around 28% more expensive to accept per dollar than digital payments.3 And that doesn't account for the untold revenue lost from the more than 75% of customers who prefer card or other digital payments over cash who just keep walking whenever they see a "cash only" sign in the window.4
Better for everyone
For digital payments to work for everyone, they need to be reliable, secure, and easy to use. As stewards of the trusted engine of global commerce, we are constantly investing in the security and reliability of our network, as well as the user experience for consumers and merchants. Over the last five years, we've invested nearly $9 billion in systems resilience, fraud management, and cybersecurity, and helped prevent an estimated $25 billion in fraud per year.5 As more and more commerce moves online, the shift to digital payments is cemented, and threat actors become more sophisticated, investments like these will help keep the network running in a way that continues to make money work for everyone.  
But building a better future of money will take more than just security and reliability. It will also take constant innovation. That's why Visa continues to make investments that benefit the wider global economy and all its participants — from working to bridge the legacy financial system and the emerging digital asset space,6 to powering new kinds of installment solutions that benefit consumers, merchants, and financial institutions alike.7 Because making money work better for everyone means working to grow and strengthen the entire payments ecosystem, each and every day.
---
1 Steinhoff, Jeffrey. "Embracing the Future of Government Payments—Federal and State Agencies Continue to Reduce Paper Checks," AGA Corporate Partners Advisory Group, Research Series Report, September 2021.
2 Kim, L., Raynil, K., & O'Brien, S. (2020). 2020 Diary of Consumer Payment Choice. Online at https://www.atlantafed.org/-/media/documents/banking/consumer-payments/diary-of-consumer-payment-choice/2020/dcpc2020_tables-pdf.pdf
3 Visa: "Cashless Cities: Realizing the Benefits of Digital Payments" Online at: https://usa.visa.com/dam/VCOM/global/visa-everywhere/documents/visa-cashless-cities-report.pdf
4 Coyle, K., Kim, L., & O'Brien, S. (2021). 2021 Findings from the Diary of Consumer Payment Choice. In Federal Reserve Bank of San Francisco. Online at: https://www.frbsf.org/cash/publications/fed-notes/2021/may/2021-findings-from-the-diary-of-consumer-payment-choice/
5 Visa, "Investing in the ecosystem: Visa is committed to a secure and resilient global payment network" 24 December 2019 Online at: https://usa.visa.com/visa-everywhere/blog/bdp/2019/12/24/investing-in-the-1577207091483.html
6 Gu, Catherine. (2021) "Making digital currency interoperable: Visa shares new thinking on cross-chain interoperability" Visa. 30 September 2021 Online at: https://usa.visa.com/visa-everywhere/blog/bdp/2021/09/29/making-digital-currency-1632954547520.html
7 Visa, "Installments," Online at: https://usa.visa.com/partner-with-us/payment-technology/installments.html