Startups, start your engines
Visa Everywhere Initiative 2022 enrollment now open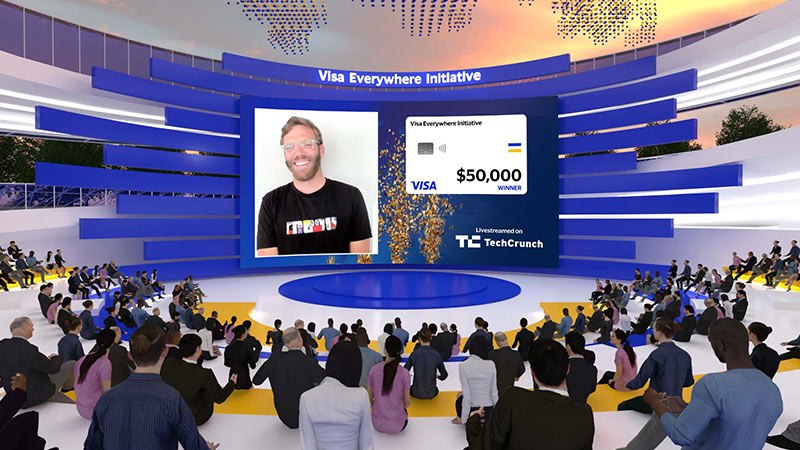 With more prize money being offered than ever before, the Visa Everywhere Initiative (VEI) — a global pitch competition judged by Visa executives, clients and partners—is looking for innovative startups who are driving economic growth across the world.
With this year's applications now open, the Visa Everywhere Initiative has expanded to showcase those startups using cryptocurrency and Visa Direct, Visa's real-time1 money movement platform, in innovative ways. Five finalists from around the world will meet in Qatar for a global competition in November 2022, with winners gaining first-hand exposure to key fintech constituents across banking, merchant, Venture Capital (VC) and government sectors, as well as monetary prizes and the opportunity to partner with Visa and its expansive client ecosystem.
Opening doors for early-stage companies
Fintechs and other payments innovators are transforming the way we pay, making it easier for more people to access the money they need when they need it — and during a pandemic year, more seamless access to those funds has become more critical than ever. In past years, the Visa Everywhere Initiative has given some of the most promising innovators in the payments space a shot at accelerating their growth.
"The Visa Everywhere Initiative opened doors that a year-old company could never have imagined — the direct access to executives, talent, and support from Visa was monumental," said Moov Founder and CEO Wade Arnold, the 2021 Visa Everywhere Initiative Global Winner and Audience Favorite.
Arnold designed Moov to make it easy for developers to accept, store, and disperse money, all from a single platform, and, by winning four Visa Everywhere Initiative competitions, totaling $95,000 in prizes, he is bringing this vision to life. Other 2021 finalists  included startups dedicated to expanding access to the unbanked, including Finerio Connect, a robust open banking API in Latin America and PearlPay, a Philippine-based fintech bringing digital banking solutions to rural banks and their customers.
New U.S. Special Editions spotlight inclusivity
The Visa Everywhere Initiative is now a network of 8,500 startups around the world and growing. Since its 2015 launch, the program has helped startups in more than 100 countries collectively raise more than $16 billion in funding, addressing one of the biggest challenges that entrepreneurs face in their startup years. Every year, we've expanded the Visa Everywhere Initiative to include unique startups solving unique problems in the world of payments. This year, we've intentionally focused on reaching a more diverse group of innovators. In the U.S., the Visa Everywhere Initiative 2022 Special Editions will spotlight Black, Women and LGBTQ+-founded startups during Black History Month (February 2022), International Women's Month (March 2022), and Pride Month (June 2022), respectively.
Who should apply for the Visa Everywhere Initiative?
Now is your chance to build on a dream. The program is currently seeking innovative and ambitious entrepreneurs who are uplifting communities by solving payment and commerce challenges faced by businesses of all sizes and sectors, including but not limited to:
Enabler of Digital Services and Digital Issuers
Blockchain & Cryptocurrency
Crowdfunding
Banking as a Services
BIN Sponsors
Issuer / Processors
Program Managers
Digital Issuance
Blockchain & Cryptocurrency
Alternative Lending
Personal Financial Management
Money Transfer & Remittance
Digital Banking (aka Neo Banks)
Digital Wallets, P2P &Transfers
Employee Benefits
Payables
Corporate Cards (aka expense management)
Value Add for Merchants and/or Consumers when it comes to Finance
Data & Analytics
ID, Authentication & Security
InsurTech
Loyalty
Merchant Services & Tools
Process & Pay Infrastructure
Retail Technology
Other
Small/Medium-Sized Business
Money Movement (disbursements, Intra-account, p2p vendor, payments)
Acceptance (e-commerce, mobile acceptance)
Risk Management (chargebacks, etc.)
Brand Management (Community building, etc.)
Other
Win more with Visa Direct
Do you already have a partnership with an acquirer, and are based in North America, LAC, or CEMEA? Visit our Resource Center for more information about how Visa Direct can help you win even more.
Prizes
More than $500,000 in monetary prizes will be awarded word-wide, and the overall winner, second-place winner, and third place winner will be eligible to win the Audience Favorite prize. Visa does not acquire any equity from Visa Everywhere Initiative competitors as part of this competition. Learn more about the competition prizes: Visa Everywhere Initiative.
Ready to introduce your startup to a global stage? Applications now open to join our network of fintechs and startups.
Visa Everywhere Initiative regional competitions and timeline:
CEMEA
Applications close: April 4, 2022
Finals event: June 8, 2022 (live-streamed on TechCrunch)
North America
Applications close: March 31, 2022
Finals event: June 1, 2022
Europe
Applications close:  June 14, 2022
Winner announced:  July 8, 2022
Asia Pacific
Applications close: June 14, 2022
Winner announced: July 8, 2022
Latin America
Applications close: March 18, 2022
Finals event: on July 12, 2022 (live-streamed on TechCrunch)
U.S. Special Edition Black American
Applications close: February 6, 2022
Winners announced: February 28, 2022
U.S. Special Edition Women
Applications close: March 8th, 2022
Winners announced: May 30, 2022
U.S. Special Edition LGBTQ+
Applications close: June 5, 2022
Winners announced: June 30, 2022
Qatar Global Finals: November 2022
---
Submit your application to the Visa Everywhere Initiative: applications now open.
---
1 Actual fund availability varies by receiving financial institution, receiving account type, region, and whether the transaction is domestic or cross-border.