What I wish I knew: Honey Mama's
About rejection, staying true to self, and thinking bigger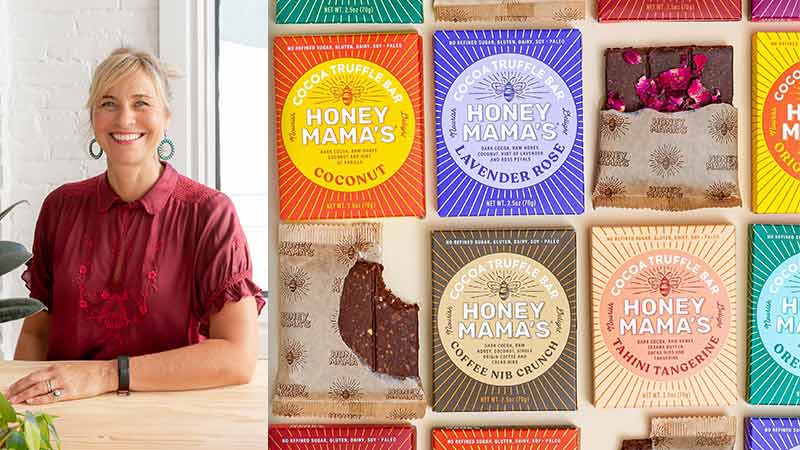 A big part of entrepreneurship is having the courage to take a chance on an idea. Starting a business means entering the unknown, for better or (and often, and) worse. For many small business owners, there are both wins and plenty of losses as they seek to establish themselves and grow. In What I Wish I Knew, founders a few years into their journey reflect on how they might have done things a little differently early on, sharing their experiences with a new generation of would-be entrepreneurs.
First up is Christy Goldsby, founder of Honey Mama's, maker of paleo-friendly and gluten-free cocoa truffle bars. Here, she shares her story of building a wholesale and direct-to-consumer business from scrappy beginnings in her hometown of Portland, OR.
---
Years before Honey Mama's, I owned a bakery and roasting company called Blue Gardenia with my mom, my sister and my husband. What started as selling baked goods at the farmer's market over time transformed into a really beautiful brick-and-mortar space. But running it took a lot out of all of us and at the time, I had two young children and ultimately decided to step away from it. 
I loved the community aspect of the business and got to thinking about a way to focus on a very simple product that could reach more people through the food conversation that's happening on grocery store shelves, and still encapsulate that pearl of community I'd kept from my time at the bakery. 
While I was figuring this out, I did a cleanse to support a friend who was trying to manage an autoimmune disease and through that, discovered she had celiac disease, before anyone really knew what that was. The cleanse had made me feel like a different person. I couldn't believe how much it impacted my mental and physical health. I decided for a business concept I wanted to blend this world of comfort food and community with my passion for wellness. And that's where Honey Mama's came from: the idea that food can be a fundamental tool for wellness.
Take rejection in stride
I started Honey Mama's at the Portland Farmers Market and it was an immediate success. The farmers market judges who decide which vendors can sell at the market had turned down a few different ideas I'd applied with previously (A Fresh Juice company, A Cultured Vegetable company). Then I dropped off the chocolate truffle bars and they called me right back and said, "We'd love to have you join the market. These are delicious! Get down here."
That pre-launch win allowed me to test the products to a global audience at the renowned market. It was a great seeding ground for product and brand awareness and getting feedback. It felt like the universe was giving me a "yes!"  because I had tried other things and definitely knew what "no" felt like when trying to start a business.
We've since gone from working out of a corner of someone else's bakery kitchen, to a small commercial kitchen, to a 12,000-square-foot manufacturing plant in the heart of Portland. We completed a $10.3 million Series A funding round this fall and today employ more than 60 people. Our latest win? Honey Mama's is now available through Whole Foods Global, on the cusp of major retailer expansion and super exciting new innovation. 
More than getting used to rejection, there are a few other things I wish I knew before I learned them.
Know when to pass the baton
I wish I had known when it was time to let go of certain roles and hire new people a bit quicker, and not to resist the idea or even feel like I'm failing simply for asking for help. I wish somebody would have said to me, "Look, you're not good at this" so that I could have moved on quicker. 
Hiring Honey Mama's CFO Ed Shearer and a few years later CEO Jared Schwartz made a great impact on the growth trajectory of the company. And although it can be challenging to let go of certain roles, I also see it as one of my strengths as I grew the company the first few years, to know when to hire the right people for the roles I wasn't good at for the health and full potential of the company to be achieved. Amazing people who can offer strengths that complement yours. And certainly in business that becomes so impactful because it's the survival and it's the thriving of a company.
Stay true to yourself
I had the fortunate experience of meeting an angel investor early on through a friend. I didn't know anything about the investment world or even how that would impact my company. I was fully bootstrapped, just going for it. This networking opportunity helped me raise money through friends and family and then pitch to potential investors outside my circle.
Facing investors and being comfortable sharing my story took time. I wish that I had known to just be myself. I didn't get a degree in economics or understand the financial world and I wish I had known that it's okay to not know everything and to just to continue to be yourself. As a matter of fact, that's the most important thing.
Celebrate the everyday, but think bigger
Nearly nine years into the business, I have learned to appreciate the everyday wins. My dad passed away unexpectedly in 2016 and I was very close to him. That impacted me in a way that made me want to be more present in general but especially to stay true to who I am, be proud of that, go for what I want and always recognize that at the top of every mountain you will find the base of a new one so keep working and celebrate with the small wins and enjoy the process.
In terms of thinking bigger, I knew that I wanted to have an impact on the conversation around food as medicine. But as the company has grown, bringing on the right people for the right jobs has allowed me to feel that it is manageable and very exciting to continue to expand and inch toward bringing a clean, indulgent treat to more people nationwide. It has been an amazing journey to learn how business and partnering with investors functions, and experiencing the growth from being a mom-and-pop, to a regional, and now a national company.
And despite some of the setbacks, I don't regret anything about the learning experience that comes with being an entrepreneur. It's been a rewarding and satisfying experience.
---
Find more resources for your business at Visa's Small Business Hub.