Future proof: Digital transformation
Five tips to speed your business' digital transformation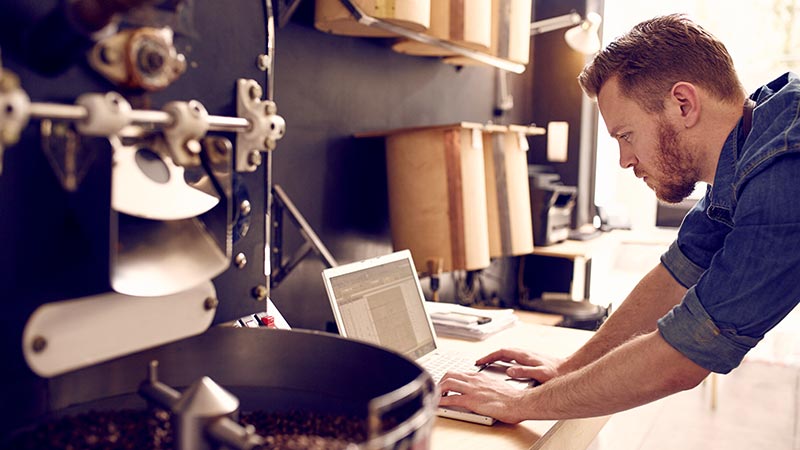 Over the past few years many small business owners have had to reimagine their business models. From gym owners pivoting to online classes, to restaurant owners opening online retail businesses, to a prescient kite maker who saw e-commerce coming nearly two decades ago, small business owners have embraced digital commerce as a way to future-proof their businesses. And while all face unique challenges, having an online presence is key to thriving in the digital future.
Of course, "going digital" does not have to be a full reimagining of your business. Resources exist to help businesses quickly add or refine digital commerce experiences with or without an established web presence.
Here are five tips from the Authorize.net team to get your business online — or make your digital presence even better.
Digital transformation tips
1. Make a website (or have someone make it for you)
Create a simple website to reach your customers. While many turnkey solutions are available, it's important to prioritize a website provider that works with your payment management system so it is easy to set up online transactions. You can find a number of certified solutions in the Authorize.net partner directory.
2. Turn on eCommerce capabilities
Make the most of your business website. If it started out as solely a blog or a marketing site, adding eCommerce capabilities and accepting online payments can make it a onestop shop. Not only will this help you better serve your current clients, it also gives you an opportunity to expand your customer base nationally or globally.
3. Try alternative digital payments options
Not everyone's business translates 1:1 with an eCommerce storefront. Whatever the shape of your business, there's a digital payment option that fits. For instance:
Digital Invoicing: With simple digital invoice options, it's easy to email invoices so customers can pay online and pick up later (it also helps you get paid faster). This is a great option for service businesses, such as appliance repair or online yoga classes.

Virtual Terminal: This lets you take an order over the phone and process using an online point-of-sale (POS) system.

Mobile Point of Sale: With the iOS and Android mPOS app, you can key in payments and skip the signature — a great solution for today's preference for no-contact payments.
4. Reimagine checkout experiences
For businesses that depend on "in-store" clients, there are still ways to adapt to digital-first needs. With CyberSource's Secure Acceptance Hosted Checkout, let your customers book services and pay via a link sent to their phone. This new touchless commerce experience has helped many businesses continue operations, increase customer satisfaction and ensure employee safety during times of social distance.
5. Pay Now, Pick-Up Later
Enabling curbside pick-up and delivery is a win for consumers as well as retailers large and small. Not only does it help maintain inventory flow and employment, but it gives those war of in-person shopping a safe and easy alternative. CyberSource's eCommerce payment solutions have enabled merchants to offer just this kind of contact-free curbside pick-up.
Visa's Authorize.net platform gives small businesses a 360-view into customers' payment preferences and offers integrated digital payment solutions, fraud detection tools and more. It provides powerful new ways to make smarter decisions, drive revenue and engage with your customers through payments.
Across the globe, all businesses are adapting to a shifting consumer preference landscape — one that both keep customers happy and employees safe. Getting your business online has likely never been easier — and it not only equips you to meet the preferences of customers today, but also sets your business up for the emerging digital future.
---
Find more resources for your business at Visa's Small Business Hub.