How to build trust in the digital economy
People-centered financial services could help many more communities thrive in a digital economy.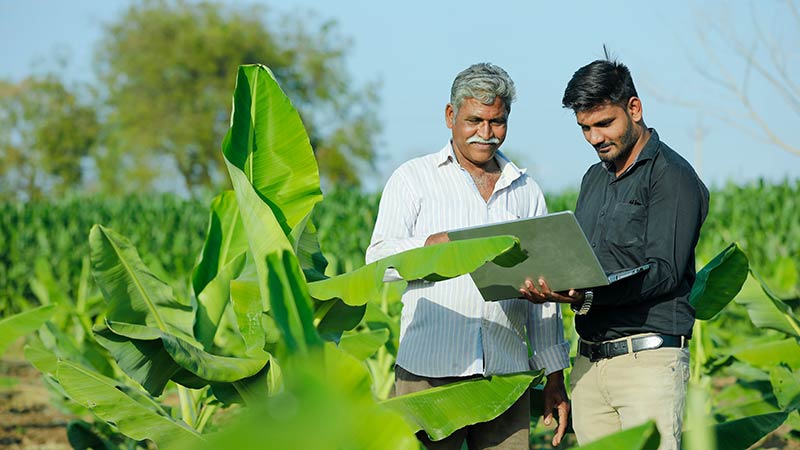 In the next decade, 70% of new economic value will be driven by digitally enabled technologies says the World Economic Forum. And while great strides have been made to bring modern financial tools to communities around the globe, many in those communities don't yet reap the full benefit of those tools. Some people and businesses have limited access. Others, unfamiliar with new technologies or having been burnt by predatory lenders or scammed in the past, simply don't trust the very tools that stand to increase opportunities to earn, save, invest, and get quick access to emergency support in the digital economy.
A new report, Bridging the Divide: Skills for Digital Financial Equity and Inclusion from Devex and Visa looks at ways public and private partnerships can have the greatest impact on trust in emerging technologies as economies become increasingly digital. The findings show that while infrastructure and access remain critical, knowledge, confidence and trust are key to enabling more people to use digital finance programs and services — services that can ultimately enhance their lives and livelihoods.
Devex polled nearly 1,200 international development professionals across sectors ranging from agriculture and economic development, to gender and migration, to digital and financial inclusion. Most respondents (95%) agreed that digital tools and services, such as mobile payments, e-commerce, online banking and e-government payouts have the potential to advance socio-economic inclusion and equity around the world. Nearly two-thirds of respondents said that more people in their beneficiary communities are enhancing their livelihoods through the digital economy than five years ago. Yet, while communities are participating more than they once were, respondents called out that there's still much room for improvement.
Lack of trust in digital finance is still a major barrier to success. In the Philippines, for example, 39 percent of adults cite lack of trust as a reason for not shopping or banking online.1 Understanding how digital finance works and having the skills to effectively use convenient, secure and reliable digital services can, in turn, build greater trust in them.
Here are a few ways public and private sector leaders can build trust in digital financial tools among their communities:
1. Keep people at the center of product, program and communications.  
Understanding the community you work with is key, including discerning cultural norms and language. Put yourself in their shoes. By talking directly to the people who stand to benefit, develop a nuanced understanding of what methods, tools and sources of information will have the greatest impact on your target community. And when it comes to product information, design with newcomers in mind. Make it easy for everyone to understand.
2. Build skills to cultivate trust.
Seven out of 10 survey respondents believe that digital financial skills are very important to improving the livelihoods and well-being of their focus communities. That said, skills programs should be people-centric and engaging — and should not be intimidating. For instance, one digital financial literacy campaign focused on improving the economic lives of rural women in low- and middle-income countries uses audio lessons on topics like opening a mobile money account and setting up a business ID to reach women with a variety of lifestyles, family scenarios, and experience levels.
3. Partner with trusted community leaders. 
Sometimes, word of mouth works better than traditional marketing, and what folks hear from their friends is more trusted than what they hear from an organization they don't really know. Informal and local networks — community influencers, peers and neighbors—are often viewed as the most trusted sources of information on digital financial technologies in developing communities, rural groups and other newcomers to digital financial services.  Older people and underrepresented communities are often targeted by criminals or predatory lenders, so a healthy skepticism around new offerings is understandable. And while training, particularly on how to recognize phishing emails and other common scams, can give individuals the skills to interact online safely, community endorsement of a service can be key.
4. Leverage local knowledge.
There isn't a one-size-fits-all solution to helping folks new to digital financial tools see their immediate benefit — or trust that they're worth using in the first place. More than speaking the language or empathizing with the audience, organizations that work closely with a given local community day-in and day-out can gain far greater insight into the needs, aspirations, and history of that community. Partnering with these kinds of local organizations can help ease anxieties around outsiders and better establish credibility for digital newcomers.  
As the world becomes increasingly digital, more needs to be done to ensure efforts to support broader, meaningful participation in the digital economy are effective, sustainable, inclusive, equitable and scalable. Critical to this work is identifying and understanding essential needs within a community by getting on-the-ground feedback about what they need and why, and forming partnerships with trusted community leaders and organizations. By creating a people-centric approach, institutions can build successful programs that engage and uplift communities — and ultimately prepare them for a digital-first global economy.
---
To learn more, read the full report from Visa and Devex: Bridging the Divide: Skills for Digital Financial Equity and Inclusion.
---
1Bridging the Divide: Skills for Financial Equity and Inclusion