Ask a fintech founder: Tommy Nicholas, Charles Hearn and Laura Spiekerman
Alloy founders on risk, competition and the future of payments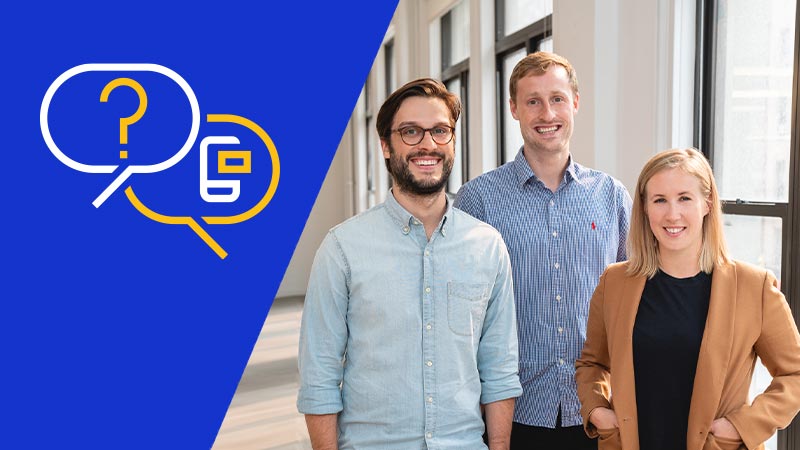 Friends since high school, Tommy Nicholas and Charles Hearn have been long time collaborators. In college, they launched an app for finding the best drink specials in their city. Charles was the tech lead while Tommy handled the partnerships and sales, eventually learning to code. That led to both friends scoring a job at a payments company in Virginia, where they met Laura Spiekerman, a business development expert. Not long after, the trio noticed a gap in the market that could help fintechs and banks not have to reinvent the wheel.
"In 2015, around the time APIs or modular building blocks in financial services were coming around, there was this idea that a fintech developer or product manager shouldn't waste their energy, time and resources on building something that everyone has to build," said Charles. "Instead, they should focus on something that's really making their product the best savings app with an amazing UI, something that they are uniquely positioned to do."
That same year, the soon-to-be cofounders took the leap and launched Alloy, a global risk platform that helps banks and fintechs automate decisions around onboarding, transaction monitoring and credit underwriting. Now a team of 275, Alloy  recently went global in 40 countries. Here, we chat with the founders about entrepreneurship, working with the Visa Fintech Fast Track Program, and what keeps them up at night.
What is your Alloy elevator pitch?
Tommy: Our mission at Alloy is also our elevator pitch. When we talk about risk, we mean preventing fraud, credit losses and compliance violations for retail financial services products. The hardest thing to do in financial services is to make them both safe and seamless for users. Our mission is to build all the tools, expertise, best practices and integrations to make that really easy to do, really effective and really efficient.
What's one thing you wish you knew when you started Alloy?
Charles: The biggest non-intuitive thing to me was how much you should invest in your earliest customers. I give Tommy credit for doing that, even though I thought it was a bad idea at the time. And I actually don't think it was because he thought it was a great idea.
Tommy: Compulsive.
Charles: Yeah, obsessive with our customers. I was very impatient to get to some sort of scale because in my mind I was like, 'I have to get to a million dollars in annual revenue to raise an X round. That looks like X number of clients.' It's unintuitive if you are trying to get to scale, but those earliest customers are really critical for acting as references. The first one who's happy gets you to the next five and the next five gets you to the next 20. One customer who is over the moon about you is, in our experience, much more powerful than three customers who give you a B plus. One of the things I remember hearing from investors, even in our series A, was 'XYZ customer said you're the very first bill that they pay because you're just so important to them.' I would double down there.
What does success look like for your company?
Charles: Success for us is more consumers and small businesses having better financial lives. We think the path to getting there is increased competition in the industry. That means lower fees and more products. And we don't believe that happens only in fintech. We think that happens with banks as well. We want to see banks participate in that competition.
Is Alloy helping increase competition?
Laura: We're helping community banks compete against the biggest banks. We're helping the biggest banks compete against each other. We're helping fintech companies compete with banks. We're helping banks compete with fintech companies. We just want everyone to build really great small business products because that's going to lead to better outcomes for consumers. The conversation 10 years ago was, "Fintechs are going to eat the banks' lunches," and that hasn't really happened. At the same time, you're still seeing a lot of really successful consumer fintech companies exist. So it's a battle that continues to play out. Ultimately, consumers can benefit from this increased competition.
How are you working with Visa to help fintechs launch faster and compete in the space?
Tommy: In many ways, the most important thing that Visa does for their customers is help them build trust and help them ensure that they adhere to standards that allow interoperability between financial institutions. One of the foundational elements of that is compliance, fraud prevention, and risk prevention. Historically, with the Visa Fintech Fast Track program, we've made our product available to help fintechs launch a program quickly with the support of Visa and its enablement partners. That's the foundation, but we have a lot more we hope to do.
What keeps you up at night?
Charles: Nothing, everything's fine. [laughs]
Tommy: I'll give you two answers. First, there are a lot of things in the fintech space that are working. Products are becoming more global, more digital, more effective, and they're in a lot of people's hands. There are fintech companies with millions of users and making real money. If we pull back too much on the investment side because public markets and private markets decide fintech doesn't work, there's a lot of innovation that could go away.
Second, one of the threats that's actually making investment hard is fraud. When you launch a digital checking account, the minute that you do that, there is an opportunity for someone to commit fraud. They might have created an identity to commit fraud on your bank via synthetic schemes; they might have stolen somebody else's identity; they might just be somebody who commits fraud. The worst possible version of that is that trust breaks down in the ecosystem and people take products offline or don't innovate because they're so worried about fraud. Those two things keep me up at night, the investment environment and then fraud.
How is Alloy combatting that problem?
Tommy: I very rarely hear of somebody using Alloy that was even worried about fraud because we got people so far ahead of the pack. What we've invested in over the last year and a half is future-proofing, making it so that anyone who integrates Alloy can deploy any countermeasure instantly against fraud they might see in the future of any kind and ensuring that we have holistic coverage against every kind of attack that our customers are seeing. And I think that's paid off.
What do you think the future of payments looks like? What are you most excited about?
Laura: We announced that Alloy is going global in 40 countries this year. We think the cross-border payments space is the next frontier. We're really excited about trying to facilitate everything that we've done in the U.S., including safe and seamless account origination and transaction monitoring, for fintechs and banks outside of the U.S.
Charles: The other thing I'd add is financial products or payment services, specifically for healthcare, will rise. We're seeing some really exciting services and companies developed around better healthcare payments, but we still have a long way to go. But that's an area where we're going to see some pretty incredible, life-changing applications.
---
Learn more about accelerating your growth with the Visa Fintech Fast Track Program.