What is open banking?
Speed and convenience are accelerating open banking adoption around the world. But what exactly is it?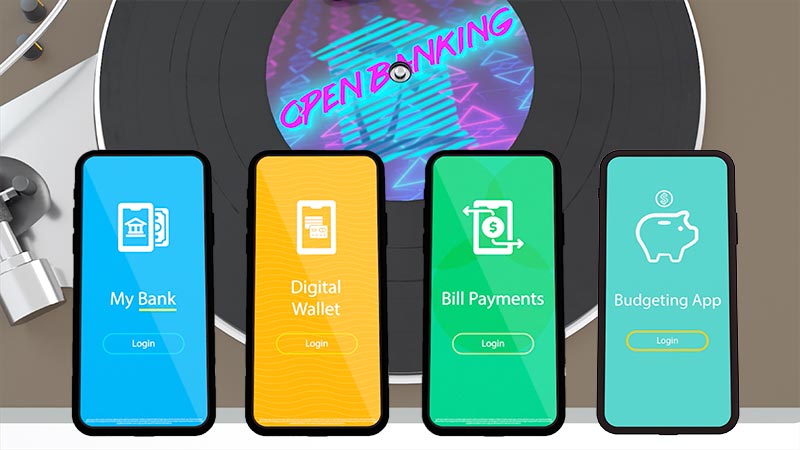 Open banking is designed to make our lives easier by allowing consumers and businesses to enable third-party apps to access financial data instantly and securely. Use an app to pay back friends after a night out? Open banking makes that process seamless. Transfer money between accounts at different institutions to buy stocks? Open banking takes the friction out of that transaction, too. Use a budgeting app to track spending? You get the idea.
In all of these cases and many more, open banking allows you to access innovative digital banking and financial services through the web or any smart device. 
In all likelihood, you already use open banking, even if you didn't realize it. Visa's Open Banking Consumer Survey shows that 87 percent of U.S. consumers use open banking to link their financial accounts to third parties, yet only 34 percent of U.S. consumers are aware that open banking enables these services.1
How open banking works
Consumers and businesses can authorize a digital app to access their financial data through application programming interfaces (APIs). These APIs allow a company's software to "plug into" and access information from the software at another company in real-time. Third-party aggregators like Tink, a Visa Solution, act as a bridge between account providers (such as banks, brokerages and credit unions) and the kinds of third-party apps you might use to track your budget, trade stocks or pay back friends, making those services accessible all from the convenience of a connected device.
Open banking gives consumers and businesses a fast, transparent, and accessible way to track, spend, borrow, and invest their money. A small business owner, for example, might connect her business account to her lender to help apply for a business credit card with special offers and rewards, or access a business loan — without having to compile years of statements. She might also streamline backend operations and analyze her finances more conveniently. 
Likewise, financial institutions can give their customers better insights and more convenient services through open banking platforms, while fintechs continue to innovate, design and build better consumer and business solutions and experiences through open banking technology.
Trust is foundational to open banking 
Open banking is focused on empowering consumers and businesses with better financial services and experiences, all of which start with trust. Trust is built on the value that open banking powered services can deliver by building safe and secure connections. It's reinforced through transparent consent management practices that give consumers the power to authorize an app's access to their financial data and rescind that access at any time.
In the U.S. and Canada, Financial Data Exchange (FDX), a non-profit technical standards body, provides standard tools for secure and reliable consumer data access, which could increase the adoption of open-banking API frameworks worldwide. FDX is working to align the industry around one common, interoperable open banking API called FDX. Regulatory bodies in the U.S. and other parts of the world are also considering how best to ensure that financial service providers support competition and innovation while protecting consumer data.
The future of open banking 

As consumers, businesses, financial institutions, and governments realize the benefits of open banking, demand for innovative ways to harness data have come to light. Open finance could make broader data, such as from mortgages, pensions and insurance, more accessible by trusted third parties, with consumer consent. The adoption and expansion of open banking could also mean more opportunities for unbanked communities to engage in a secure global economy. Ultimately, open banking could uplift more communities around the world by helping them better track, spend, borrow and invest in their future through innovative digital services.
---
Want to keep up to date on what Visa is doing in open banking? Visit Visa Open Banking. 
---
1 Visa Open Banking Consumer Survey, n=1,500, representative sample of U.S. population based on Census Bureau. Administered digitally, April 2022.