What I wish I knew: Brown Toy Box, Inc.
On building a brand, creating a strong network, and selling to a national retailer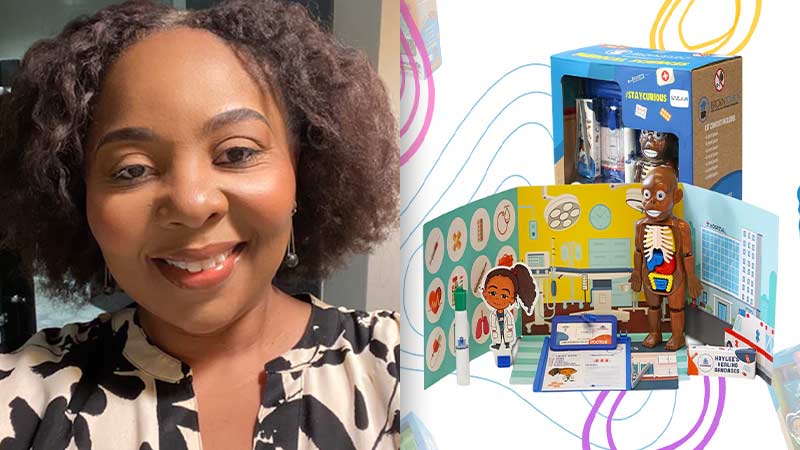 A big part of entrepreneurship is having the courage to take a chance on an idea. Starting a business means entering the unknown, for better or (and often, and) worse. For many small business owners, there are both wins and plenty of losses as they seek to establish themselves and grow. In What I Wish I Knew, founders a few years into their journey reflect on how they might have done things a little differently early on, sharing their experiences with a new generation of would-be entrepreneurs.
Terri-Nichelle Bradley is CEO and Founder of Brown Toy Box Inc., an educational toy company that centers and celebrates Black children and play. Here, she shares her first big break with a national retailer and how her hard work and perseverance finally paid off.
---
After my mom passed away, I was in this phase of looking for my purpose in life. I'd just gone through a divorce, and I was at Stone Mountain near my home in Atlanta and I asked God, "What should I be doing?" And what I heard back was, "Look at your life."
I was reminded of growing up in St. Paul, Minnesota in the '70s. My mom didn't graduate from college but she was smart and emotionally intelligent. She made sure that her three Black daughters saw themselves positively represented in play. If she couldn't find a brown Barbie, then she would make a brown one. We had Black art in the house, Black-centered magazines and all these wonderful examples of excellence around us.
When I became a mother myself, it was really important for me to find those examples of representation in everyday life. At that time, there was this conversation about a lack of diversity in STEM (science, technology, engineering, and math) and how it was a talent and pipeline issue. That didn't really make sense to me so I did my research.
I learned that it was really about early exposure to STEM. And how do we get early exposure to STEM? For me, that was through play. At Brown Toy Box, we create toys, books, games, and content that help Black children see themselves positively represented in STEAM (including art).
I started the company in my living room, with my four kids helping me pack boxes. At first, I didn't think I could do it, as a single mom, because we had sports and cheer and all these different things I had to pay for. But they said to me, "Mom, it's your turn. You've sacrificed enough." Last year, we evolved from a subscription box company to a toy company and our first sale was to Target, where we are sold in store and online this holiday season.
Have a story to tell
I'm relentless. I'd done a pitch competition with New Voices Fund and Target. I got fourth place, but what I really got was the names of the supplier folks at Target. I started following them on LinkedIn and one day they were having office hours so I signed up. I don't think they were expecting a deck presentation, but they were going to get one. I started my career in corporate communications crisis management. That really helped me understand what drives people and helped me to create a narrative for my brand, which included the vision for Brown Toy Box, what I would do, how I would do it, and ensure it really conveyed this sense that you can trust me to do it. Investors are really investing in who you say you are and that you can do what you say you can do. My passion for this work and my purpose in this work is undeniable. Soon after that meeting, they introduced me to the toy buyer. And a few days later, they told me they wanted me in every store. That's when I went on my quest for fundraising.
Never give up on a dream
The process of fundraising was the most difficult process I've ever experienced. I had purchase orders upwards of half a million dollars in hand and I just couldn't access funding. I had great credit, I went to all the incubators and accelerators, I talked to everyone. I ended up getting my first investment from women-owned Coralus - SheEO, which was enough to build a prototype. But I still needed a significant investment to meet my goal.
I was ready to give up when I ran into one woman I knew at Atlanta Wealth Building Initiative. She asked about the Target deal. I said, "I don't know if I'm going to make it. I can't believe that I'm so close to realizing my dream and this thing could die on the vine because I can't access capital." She said, "Terri, I will help you." She was on a mission. She got CDFIs engaged and she got Invest Atlanta, the economic development arm for the city of Atlanta, engaged. It was because of five women-led organizations that I got the capital that I needed.
Assemble good advisors
If I didn't have the network that I had, it wouldn't have happened. I would've been another person who had this great product, this great idea, this great opportunity, and it just wouldn't have happened. It was only because I had a strong network. And that's what I always tell friends who are starting up. Wherever you have a knowledge gap, you need to have an advisor who can fill that gap until you can afford to bring somebody on your team. People who will tell you when you're right and tell you where you need to pivot. For me, it's about having a great group of advisors, whether it's for manufacturing or operational strategy, to lean into and ask questions. I am a LinkedIn queen and I met almost every single one of my advisors there. I shared my mission and asked for 30 minutes of their time and 9 out of 10 said "Absolutely."
Be a good brand partner
I knew for sure that if I got the capital, I was only going to have one shot. I was not going to have the money to rebrand, so I pitched to Target that we would co-divide the packaging so we can make sure that it fits my customer and the Target guest. And they really appreciated that. I had a call with my buyer recently who said to me, "I really love our partnership." That's because we over communicate. We're very transparent. If there's something that's wrong, we tell them. I think a lot of times brands try to hide it. So I would advise that if you're a consumer product and you do have a retail partner that you be a good partner.
Have a good support system
Entrepreneurship is so tough. Those days when you just don't have the drive, you need those people who can tell you that what you're doing is important. All of my friends are entrepreneurs. I met a lot of them through the incubators and accelerators. We support each other. We share contacts and relationships and opportunities. I also have some amazing men who have served as advisors and they've become friends. It really was because they believed in the mission of our company and they believed in me as a founder. And because I'm fun and we have a great time. And being able to be vulnerable enough to say, "I don't know what I don't know." My kids are so proud too. They see how far we've come and there's so much more that we're going to do. They're excited to see the realization of not just a dream, but really hard work.
---
Find more resources for your business at Visa's Small Business Hub.