Ask a fintech founder: Amber Buker, Totem
On community wealth-building, working with impact investors, and financial parity for indigenous people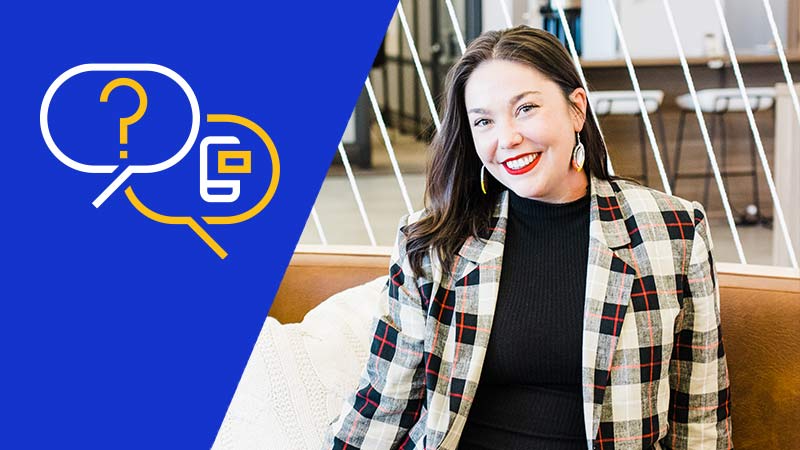 There are 574 federally recognized tribes in the contiguous United States and Alaska, all with different social, cultural, and economic distinctions. Yet Native Americans are more likely to be credit invisible than other Americans. The number of Native American households that are unbanked is three times higher than the national average.1 Historical systemic barriers have run deep and many Natives must travel three times farther on average to reach a bank branch.
Amber Buker, member of the Choctaw Nation, sought to access a tribal benefit program that would help her with the down payment on her first home. "The process was super broken," she recalls. "When I called the tribe, they told me it didn't exist, even though it did. I got transferred to all the wrong people trying to figure out how to qualify. I decided to tap my community banker that approved my mortgage loan to see if they could call the tribe on my behalf, but they refused, and I was stuck."
Amber was never able to take advantage of that program — a program designed to specifically help people in her community. "It set my home buying journey back by several years." She wished there was a bank that understood what it is to be Native. "It could have gone really differently," she notes.
As a lawyer, Amber helped banks build out their fintech platform, advising bank CEOs about fintech, technology and strategy. "Just enough to be dangerous and know that there was an opportunity to build Totem," she jokes. Amber is now CEO and co-founder of Totem, the only digital bank that serves to build wealth for Native communities.
Here, Amber chats with us about her mission to create better financial opportunities for the nearly 3 million Native Americans in the U.S. and beyond.
What was the aha moment before starting Totem?
Amber: When I moved back home to Tulsa a few years ago, I did successfully buy a house all on my own. Of course, at that time, we saw digital banking explode with stimulus funds being distributed and people needing to access a bank account who didn't have one before. At the same time, we saw what we call neobanks entering the market. There are several now for Black Americans, Latinx folks, LGBTQIA. But as I was looking around the space, no one looked like me. To this day, I only know a couple of Native folks in fintech. The combination of my past experience with what was going on in the moment, I realized if anyone's going to build this for us at this time, it's going to be me.
What differentiates Totem from other financial services?
Amber: Neobanks primarily rely on interchange revenue and a direct-to-consumer model. We are pretty different. We knew that to best serve our potential market, Native Americans in the U.S., we wanted to work through tribes. Tribes provide an abundance of services to their members, and they're a trusted resource. We have the opportunity within our mission to work with tribes to get our products into the hands of their people. Not only does it give us an aligned B2B2C distribution model, but it also provides additional revenue opportunities for us.
For example, we're looking to white label the Totem app for individual tribes so that they can put their language, their colors, their benefit programs on it and use it as a tool to communicate with their people. We are also helping tribes manage the payouts of benefits, for things like burial assistance to help buying a car or a home, as was the case in my story. But they're still distributing those benefits in really difficult and antiquated ways that are slow, subject to fraud, and have a lot of fees for the end user. We're saying let's distribute those benefits directly into Totem accounts so that you can provide a long-term financial tool with FDIC insurance. And by the way, getting those payments, they're much faster and cheaper.
You're a lawyer by trade. How has your experience been navigating the venture community as a fintech founder?
Amber: People ask me all the time, being a female founder, what that was like in terms of my experience raising capital. And I always laugh and say, 'I didn't even have to deal with the issues of being a female founder because I had to get over the much higher hurdle of being an indigenous founder and educating folks about our community.' I've had to answer questions like, 'Do you have smartphones?' 'What is a reservation?' I jokingly call it Indian 101 questions that take up so much time when you're trying to relay to someone what your business does. It's just so much harder when it's built for an industry and a people that are largely invisible.
How have you been able to overcome those obstacles?
Amber: Working with impact investors who primarily funded our pre-seed round definitely helped. All of a sudden the conversations moved a lot more naturally. Impact investors who are working with unbanked and underbanked populations just kind of naturally understand a lot of the systemic barriers that stand in the way of folks accessing really basic financial services.
How are you helping to build wealth for Native communities?
Amber: Our mission is to create a new tradition of Native wealth building. We're using modern tools and technology to help our people participate more fully in the modern economy. Working with our tribal partners, there's a customer relationship there, but we're also giving back. Every time one of their members uses their Totem card, the tribe is getting a piece of that transaction. We're giving back to the community. We want to uplift tribal communities, uplift our people, and luckily, everything that we're doing is designed for that.
How are you working with Visa?
Amber: Visa is our card network, and we are very excited to be a part of the Visa network. The expansion of the banking-as-a-service space [has created] a lot of competition for companies like mine. We just really enjoyed the process of working with our rep at Visa. Shout out to Rick [laughs]. He understood our business right away. He was so excited about what we were doing and our mission, and that really pushed him to work really hard to advocate for us within Visa. We got some really great incentives and just really great service.
What does success look like to you?
Amber: I was first speaking with our lead investor, they're called Raven Indigenous Capital Partners based in Canada, and as the name implies, they're an indigenous fund. We have a concept in Native American communities, which is about seven generations. We always want to think about seven generations ahead. And they asked, in seven generations, what do you want your progeny to be saying about you? And I said, I don't want them to know my name at all. I want it to be so common for an indigenous person to own a home, to have a good credit score, to be able to buy a car, that they don't think about it at all. That's really our vision that seven generations from now, Native Americans, like myself, will have parity when it comes to just participating in the financial system at the same level and rate as everyone else.
---
Learn more about working with Visa at Visa + Fintech.
---
1 https://www.fdic.gov/analysis/household-survey/2019report.pdf