Startup advice for new entrepreneurs
Winners of the Visa Everywhere Initiative share their secrets to success.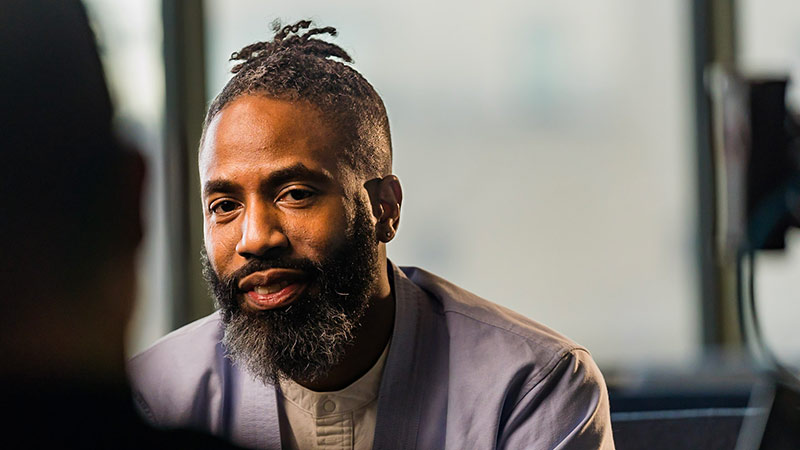 ---
There's still time to sign up for Visa Everywhere Initiative 2023, a global open innovation program for startups. Since 2015, almost 12,000 companies across 100 countries have taken part in this pitch competition, judged by Visa executives, clients and partners. Think your startup has what it takes? Find the deadline for your region and register here.  
---
Entrepreneurs dare to take a chance on a dream. But entrepreneurship can be a lonely journey. Connecting with other founders can help open doors and keep you informed. We recently spoke with Visa Everywhere Initiative winners, our annual pitch competition for emerging startups, who all have reached a point in their journey where they've learned a thing or two worth sharing. Here are a few tips for folks just starting out: 
1. Remember your why.
"The most important thing when you start anything is to remember who you are and why you started on the path that you started on in the first place," says Cylton Collymore, CEO and founder of Zimbali Networks, an organization on a mission to drive financial inclusion globally. "Over the last several years, there were times when other things were shinier, other things seemed like it would be a faster route and sometimes I went in those directions. But I always came back to center."
2. Don't reinvent the wheel.
"A lot of individuals in the startup space, or just entrepreneurial in general, try to reinvent things that are already laid out," says Collymore. But that's not always the best way. "There's a wheel. Figure out how you can use that wheel," adds Collymore. "Take all of that learning and then add you into the mix. And when you add you into the mix, your customers will come because your customers have options for the business in other places, they don't have options of you." 
3. Listen to your customers.
"If we didn't listen to our customers and what they truly wanted, we wouldn't have pivoted and we wouldn't have this billion-plus-dollar opportunity in front of us," said Rachel Knepp, co-founder of Mozaic, a payment platform for creatives. "Allow the data to come in and then make the decisions from there," she adds. "That's how we've built all of our products is just really client feedback."
4. Get used to hearing "no."
"One thing that you quickly learn is that you don't just go to a meeting and close in that meeting," says Fabien Lamaison, founder and CEO of bunny.money, a banking app that allows customers to save while donating to their favorite nonprofits. "Investors want to learn more. They want to speak with you several times, do some diligence, look at your data and analyze and make their own opinion. They also come back with questions. When they challenge you, it's likely a positive thing because they're getting interested in what you are doing. Momentum effect is definitely key."
5. Hire good people.
"The team is everything at this stage," says Knepp. "We're a startup, but we're growing and looking for team members who have an entrepreneurial heart, who have that grit, are resilient, and are really mission-oriented." Be clear about the role and your expectations, ask targeted questions, try group interviews to ensure a good culture fit and quiz your candidates on challenges they may face on the job. Look within your network, too, for recommendations from people you trust. 
6. Talk is literally free.
"Relationships are worth more than cash," says Collymore. Incubator and accelerator programs, your local chamber of commerce and business events and pitch competitions like the Visa Everywhere Initiative are great ways to connect with your industry, meet other business owners and network. "A lot of times they'll tell you where the pots of gold are. They'll even walk you over to it. If you're not a relationship builder, you're not a business person. That's your number one job."
7. Be comfortable not being the smartest person in the room.
"At the forefront of my journey, I still think I know nothing [laughs]," says Rodney Williams, president and co-founder of SoLo Funds, a community fintech platform. "I continue to learn and I'm comfortable with not being the smartest person in the room. What we have done at Solo, and all of the ventures that I've been a part of, is to surround ourselves with great people."
8. Create an inclusive environment.
"I would say that the diversity that we bring to the table is really key," says Knepp." It's really unique to building better ideas, more profits, to all of these things that are really great for business." Hire talent with unique skills, backgrounds and experiences and create a space where they are treated with respect and their ideas are heard. 
9. Do your homework.
"When I was accepted into the Visa Fast Track program and really dove into Visa technology and the future of payments, my mind went as fast as it could possibly go in terms of learning," says Williams. The Visa Fintech Fast Track program gives fintech companies a jump start, allowing them to onboard to Visa's global network and programs seamlessly. "I absorbed so much during that process, so that when I started SoLo Funds, I felt like I had a lot of tools and the knowledge that no one in my community had. It felt like I had a competitive advantage."
10. Enjoy the journey.
"Most of us are striving for something, and that could be wealth, that could be success, that could be admiration…Happiness is something you gotta figure out. I think I've learned to just be happy," says Williams. "I would tell younger Cylton to stay on your path and don't waiver," adds Collymore. "Because at the end of the day, it's not really about money, it's not really about recognition. It's about completing your mission to do the thing you were meant to do." 
---
Learn more about the Visa Everywhere Initiative. Looking to compete? Find the deadline for your region and register here. 
---