Being a brand: Lucia Diaz and The Art of Representation
On playing to your strengths, remembering your "why," and not taking "no" for an answer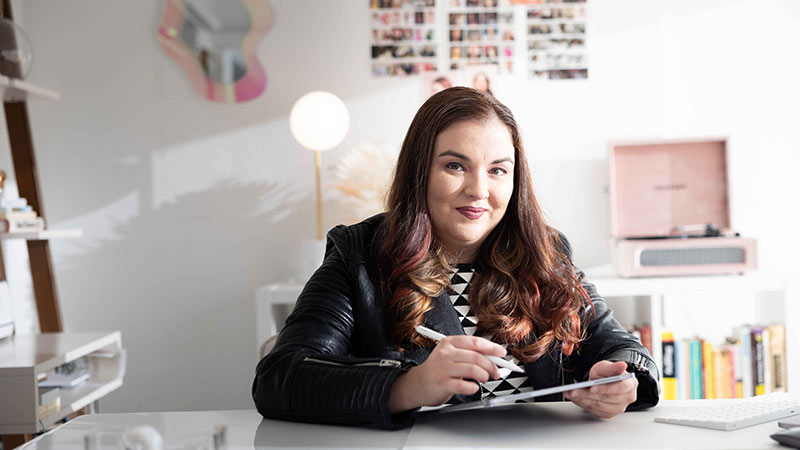 Crafting mini art galleries in old shoe boxes as a kid in Miami was the early start of Lucia Diaz's art career.
"I would draw on big sacks of coffee on my grandfather's farm, and one day, he's like, here's a sketchbook," says the first-generation Colombian-American artist.
"I just remember how fiercely he believed in me."
Today, Diaz has partnered with some of the world's most recognizable luxury fashion and lifestyle brands, and is using her position to lift up other artists. This Hispanic Heritage Month, Diaz has curated a show of 100 LatinX artists at the The Oculus Center in NYC, and moderated a panel at the United Nations Science Summit about the digital art exhibit. 
"Presenting to the UN, it's a dream," says Diaz. "My mom, in tears, said, 'How is it that we migrated to this country and now you get to speak to delegates from not only all over the world but delegates also from Colombia?' It's really powerful."
Diaz's art focuses on representation and a celebration of all Latinas. "I want people to understand that we're much more than what is portrayed in Hollywood. We have so many amazing, powerful, strong leaders. I want us to feel seen and celebrated. That's the essence of my brand," she says.
To support her mission, Diaz hosts a podcast called The Art of Representation, featuring Latina experts and trailblazers who cover topics like personal finance, investment, mental health and creativity. Her ecommerce site features stationery of her art and is in the process of rebrand. She's learned a lot along the way. Here are just a few of her tips for others building a brand that's true to themselves:
Don't take "no" for an answer.
Despite having a buttoned-up business plan and a 790 personal credit score, Diaz was unable to secure a loan because she lacked any established business credit as a new entrepreneur. Frustrated by the dead-end, she decided to reset on her mission, her "why," and reached out to her mentor, who suggested she look into grants. "I applied to every single grant that I qualified for and sent grants that I don't qualify for to my friends who are entrepreneurs. I created an army of people who just send grants to each other," she laughs. That led to a blog she shares with other entrepreneurs about grant options, the application process, and her motivating tips. "I applied three times before I received my first grant, and four times to a major accelerator before getting accepted. I just don't take no for an answer."
Leverage AI and technology.
"I automate as much as I can," says Diaz. That means using scheduling tools to book dates with her podcast guests and schedule her social media posts across platforms. Not a natural writer, she leans on AI to help develop interview questions and draft emails and speeches.
Block time for business and creative.
Lucia starts her day engaging in activities that help expand her mind. "I do a lot of journaling, meditation and then I go off to the gym and I listen to my favorite audiobooks," she says. "I tend to have a much better day and feel less burned out if I start my morning focused on me." Diaz also dedicates Wednesday mornings to grant applications and Fridays to nourish her artistic side. "I don't take any calls or answer emails. I don't post anything on Instagram. I leave my phone in a safe so I can focus on my art."
Play to your strengths.  
"People shouldn't be afraid to let go of parts of their business that they're not best suited for. I don't know how to code. I always try to learn but I realize if there's someone who can do it 10 times better than you, do it." For her ecommerce site, Diaz hired a developer to do all the backend. "My contractors took care of my web design, my branding, my photography, my copywriting too," says Diaz.
Say yes to yourself.
Diaz started her career as an in-house art director for a major ecommerce company. But she wasn't satisfied. "I realized that the life that I had there is the dream that my parents had for me, not the dream that I had. Even though I'm grateful that I got to that level, I realized I much more enjoy making people smile." Her first entrepreneurial gig happened by chance. She was getting her makeup done at Saks Fifth Avenue when her husband revealed that she was an artist. One in-store event later, where she sketched original portraits of customers, she became the local Saks artist in residence. "When I give the illustration to that client who comes to shop at that brand, it's the best feeling in the world. Because it's something that they didn't expect. It's really the art of the brand. How can we connect the consumer and build trust with that brand?"
Don't pause for perfection.
Lucia credits her husband for giving her the push she needed to start her own business. "I wanted to present the perfect prototype or the perfect item, or the perfect gift with purchase to them so they would hire me. And they were just fascinated with my Instagram. I didn't even have a website," she says. "I think the biggest advice I would give to a creative entrepreneur is don't wait to have a website, just go pitch yourself. I didn't need a website to work with Chanel, DVF, all of these major household brands. They saw that I was capable of the work because I showed them what I could do."
---
Stay informed with tools and small business resources at the Visa Small Business Hub