Ability to succeed: how to work your desk job like an athlete
Paralympian and Visa employee shows that athletes are defined by more than accomplishments on the field.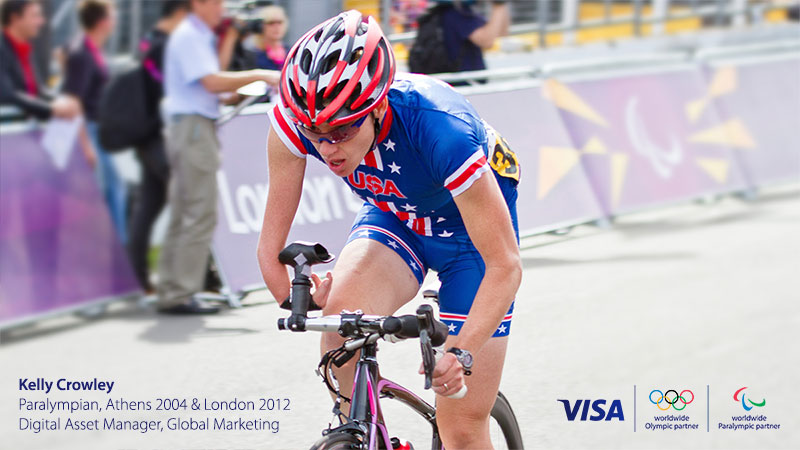 Visa is a worldwide partner of the Olympic and Paralympic Games, supporting athletes to achieve their dreams on the field of play as they inspire the next generation to reach for theirs. The skills that make Olympians and Paralympians successful in sport extend to the workforce as well. After the Games, a number of these elite athletes have taken the opportunity to join Visa through our Olympian and Paralympian Business Development Program, where they are placed in business-critical rotational assignments and gaining broad exposure to strategic aspects of our business.
Paralympian and program participant Kelly Crowley shares how she has been able to invest in her career at Visa and make an impact that is felt everywhere.
What was your experience like as an athlete prior to joining Visa?
I am a two-sport Paralympic medalist (two-time Gold, Swimming, Athens 2004 and two-time Bronze, Cycling, London 2012) and retired professional cyclist. I turned down an opportunity to swim in college because I was told the Olympic Games were for "people with natural talent" meaning "your funny little arm is a disadvantage you cannot overcome." I quit sports, immersed myself in college and set my sights on a career path. I was graduating with a Master's degree in Public Policy when I saw the Sydney 2000 Paralympic Games swimming events. That discovery caused a 15-year detour in my work plans. Over the course of my sport career, I won dozens of national championship titles, set two world records and won one world championship. I also managed to keep one foot in the workforce, juggling my training around a number of different jobs along the way.
What has your experience been like through the Olympian and Paralympian Business Development Program?
This program is one-of-a-kind. Lots of Olympic and Paralympic sponsors employ athletes, but the opportunity we have here like everyone at Visa to develop business skills and invest in an actual career is unparalleled. Over the past two years, I've had the opportunity to rotate on 6-month assignments through Marketing, Government Engagement, Product Communications for Visa Direct, and the Sponsorship team. Along this journey, I've developed business leadership skills, contributed to major projects, and, as co-lead of ViAble, our employee resource group for people with a disability, have found not just a job but a career with deep meaning. I just completed my rotations and will be starting the next chapter of my career at Visa in Global Marketing.

As a Paralympic athlete, you're no stranger to intense competition and hard work. What motivates and drives you every day?

My sports career taught me about goal setting. To be successful, I had to learn how to break a big project into little pieces and figure out how to find meaning or accomplishment in everything, especially the mundane or tedious daily tasks. I quickly saw that consistent accomplishments, no matter how small, eventually leads to something big. So now, every time I check a thing off my daily to-do list, there's this zing—the thrill of knowing I'm inching closer to a big goal. I live for the moments when I get to cross something off my list. And I may or may not add things to my lists just so I can cross them off…
What impact are you making at Visa beyond your formal role?
Beyond the rotational program, I'm co-lead of ViAble, Visa's Employee Resource Group that represents the needs and contributions of employees with both visible and invisible disabilities, as well as parents, caretakers, and allies. We organize events to raise awareness of this community and their contributions, and to advocate for the needs of employees. Our goal is to help create a workplace where everyone has the opportunity to excel.
I'm also very excited to help spread the word about our partnership with the Olympic and Paralympic Games. When you look at our company values, products, innovation centers, partnerships and rotational programs, our business is set up to help the world make progress in ways not many other businesses are. I'm trying to do my part by raising awareness for what athletes go through as they leave one career and launch another. I want to show that Paralympians, Olympians and other retired professional athletes are defined by more than what we accomplished in our first careers on the field.
Learn more about Visa's inclusive culture at Visa.com/inclusion