Back on track: 88% of surveyed riders expect contactless option on transit
Visa helps launch global projects to bring contactless payments to riders, announces new Urban Mobility Open Payments Forum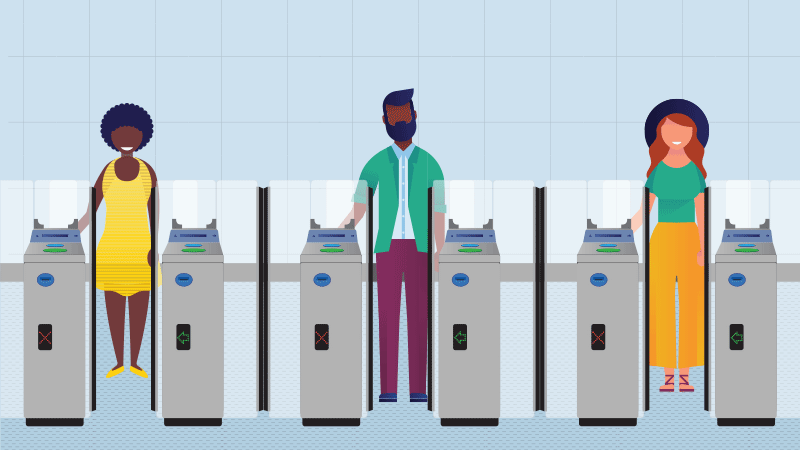 COVID-19 brought many daily routines to a grinding halt. With prolonged stay-at-home orders, once-packed subway cars, buses and trains no longer experienced rush hours; across the world, transit operators had to cut back services to balance the drop in ridership.
Now, as vaccinations become more readily available some cities have started to get back to a sense of normalcy. The gradual push toward reopening has sparked people to prepare for a return to many of their pre-COVID routines. Visa's "Future of Urban Mobility" survey shows 84 percent of respondents who have decreased their ridership since the start of the pandemic plan to use public transit at the same level they did pre-pandemic1.
While riders are ready to get back on track, expectations for their transportation experiences have changed. In many communities, mask-wearing, social distancing, and contactless tickets and payments have become the norm, and the data suggests many of these behaviors and expectations are here to stay:
Passengers are putting safety first
Visa's Future of Urban Mobility Survey found that 68 percent of surveyed respondents are very likely to wear a mask on public transit regardless of current guidelines, and 38 percent want to reduce contact with common surfaces whenever possible.1
Tap to Pay is here to stay
Contactless payments have emerged as the method of choice for consumers looking for more touchless interactions in their daily lives. According the Future of Urban Mobility Survey, nine out of ten riders (88 percent) expect their local transit systems to offer a contactless option for payments and ticketing.1
A green generation embraces public transport
Most young adults conscious of sustainability efforts incorporate public transit as part of their sustainable lifestyles. Commuting has become an important facet of the everyday lives of younger generations. Re-imagining a transit system that aligns with the needs and values of Gen Z and millennial riders will be vital to getting back to pre-COVID levels of travel. 
More than a third (35 percent) of Gen Z respondents identified public transportation as their main method of transportation, more than any other generation. And more than half (53 percent) of millennials reported using public transit as their primary method of transportation for getting to and from work, as well as running everyday errands (52 percent).1
Global Momentum
As transit riders prepare to return, Visa has been driving growth and accelerating new projects and partnerships designed to bring contactless payments to the forefront of every transit rider's experience.
In order to address the bigger need for accelerated global accessibility of open loop transport payment systems, Visa has joined forces with the International Association of Public Transport (UITP) to create the Urban Mobility Open Payments Forum. The new forum will be aimed at helping cities create efficient, inclusive, and sustainable door-to-door travel experiences, enabled by simple, convenient, and secure open loop payments systems.
Today, Visa has over 450 live contactless transit projects around the globe, most recently announced with Monterey Salinas Transit (MST), Sacramento Regional Transit (SacRT) and in Portugal with Metro do Porto, who have partnered with Visa and Cybersource, a Visa solution, to integrate tap to pay options providing riders a simple, easy and secure means of travel.
---
To learn more about Visa's global urban mobility initiatives, please visit: https://usa.visa.com/visa-everywhere/innovation/global-urban-mobility.html
---
1 Visa "Future of Urban Mobility" survey: June 2021 (conducted by Wakefield Research among 9,000 adults who take public transportation in nine markets: US, Singapore, Australia, Canada, UK, Mexico, S. Africa, Italy and France)